If you've ever searched for information on digital marketing, chances are you've come across Legendary Marketer.
Legendary Marketer is a comprehensive catalog of courses, videos, and coaching for anyone looking to build a high-ticket online business.
If you're willing to do the work, Legendary Marketer will provide you with an actionable framework to follow. It also focuses on the mindset you need to succeed, which many programs lack.
Here's a rundown of what Legendary Marketer teaches.
What Does Legendary Marketer Teach?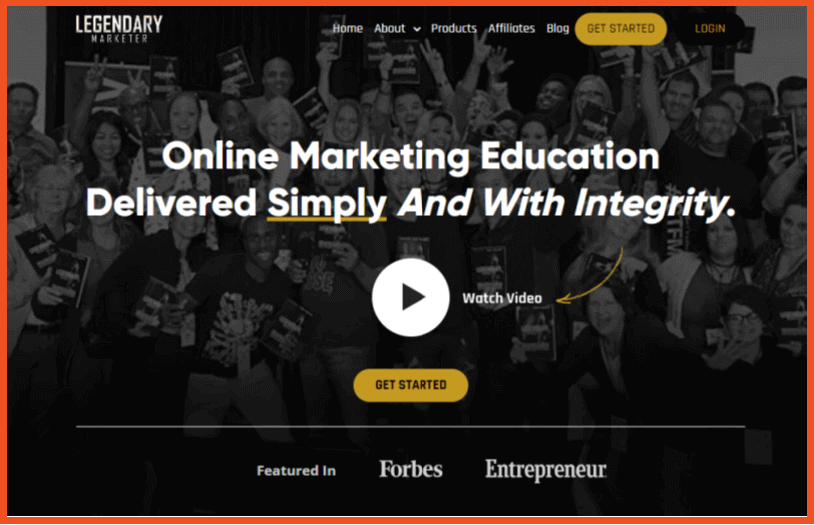 If you've been on the fence about whether or not these programs are a good fit for you, it depends. Some of the programs have excellent content in them, especially the 15-day business builder challenge.
Others might not be a good fit, depending on your goals.
While the main component of Legendary Marketer is running a high-ticket affiliate marketing business, there are also other courses, private coaching, and mastermind groups.
Affiliate Marketing of High-Ticket Products
One of the main concepts behind Legendary Marketer is affiliate marketing. 
And more specifically, finding products that offer very high commissions so that you only need to make a handful of sales each month to earn a living.
Both the 15-Day Business Builder Challenge and the Affiliate Marketing Business Blueprint cover affiliate marketing topics
It's always a good idea to start with the 15-day challenge since it's only $7. It will give you an idea of what to expect from the higher-priced courses and a taste of the LM teaching style.
And if you're wondering if Legendary Marketer has an affiliate program that students can sign up for, they do.
LM offers a great affiliate program with high commission payouts on multiple product tiers. Many marketers apply what they learn from Legendary Marketer to promote the program itself.
As an affiliate marketer, you can earn anywhere from $18-$2,850 from making one LM sale.
But of course, you can apply the information from the affiliate marketing courses to any affiliate product.
How to Create and Sell Digital Products
Legendary Marketer also teaches how to create and sell digital products. Most of their teachings revolve around selling high-ticket products so that you only have to sell a few to make a liveable wage.
In the Digital Products Business Blueprint, they teach how to choose and create a product, marketing, taxes, inventory management, and more.
How to Run a Successful Coaching or Consulting Practice
Legendary Marketer has a course that teaches how to bundle your specific knowledge into a thriving coaching or consulting practice. 
Whether you're a seasoned coach or brand new, you can take this course.
This course teaches you how to choose a niche, find clients, pitch yourself, deliver your services, and scale your business.
The digital product you create can be audio, video, text, or a combination of three. After completing the material, you'll learn what platforms are best suited to sell your product and how to find your first customer.
How to Organize in-Person Events
In my opinion, one of the better courses from Legendary Marketer is their Events and Masterminds Business Blueprint. It's hard to find comparable material, and this one is packed full of actionable advice.
In this LM course, you'll learn how to organize live events or mastermind groups. 
The course covers how to find a venue, who to hire, how to cut costs, and how to set up an atmosphere for growth.
A Successful Mindset
One of the best things about the Legendary Marketer courses is that you're encouraged to develop your mindset as much as you are your business plan.
If you've ever started and stopped on a business idea, you already know how critical perspective is.
You can get a taste of some of the mindset material in the 15-Day Business Builder challenge.
Coaching and Mastermind Groups
If you sign up for any business blueprint courses or the 15-day challenge, Legendary Marketer will present you with an opportunity to purchase coaching or join a mastermind group.
Personal coaching is ideal if an external force, like a coach, helps you reach your goals. You can also join the mastermind group at an additional cost to interact with others going down the same path as you.
Both of these will boost your likelihood of success.
If you're not sure about either of these options, the Legendary Marketers club for $30 per month is a good alternative. With this subscription, you'll get a chance to be part of a Facebook group and participate in weekly Q&A sessions with 6 and 7-figure marketers.
Final Thoughts
Legendary Marketer teaches the ins and outs of creating and running a high-ticket online business. The main focus is affiliate marketing, but there are courses on digital products, coaching, and in-person events.
While Legendary Marketer lays a framework you can follow, it won't work unless you put in the hours.
Despite how some marketers promote LM, it's not a get-rich-quick scheme. To have a successful business using Legendary Marketer teachings, you'll have to put in the work, which can take a lot of time.