Legendary Marketer is a catalog of courses and training videos that cover online business.
The primary income model teaches high-ticket affiliate marketing.
If you're wondering if you can make money with Legendary Marketer, you can.
Aside from applying what you learn through the courses, you can also sign up as an affiliate. Here's what you should know.
How to Make Money with the Legendary Marketer Affiliate Program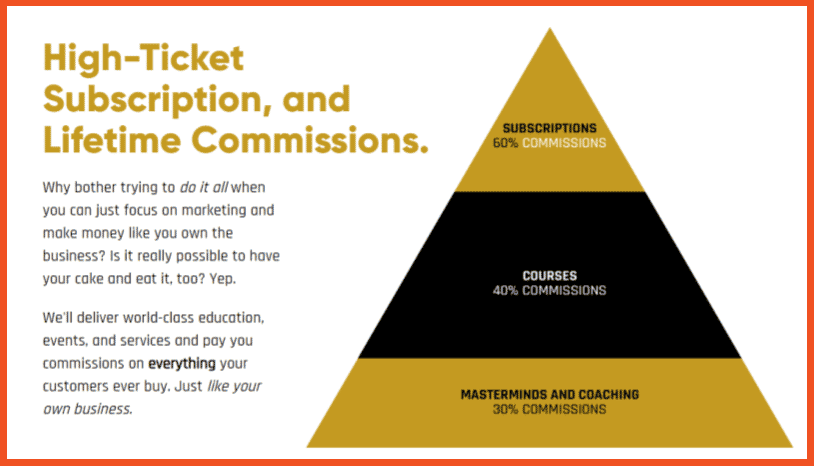 One of the main ways to make money with Legendary Marketer is through the affiliate program.
Many students take the 15-day challenge or Affiliate Marketing Blueprint and apply what they've learned to promote Legendary Marketer to prospective new students.
And while this might seem like a pyramid scheme, it's not.
You can apply the material taught in Legendary Marketer to any high-ticket product – not just the course itself. 
But since the Legendary Marketer affiliate program is pretty decent, many marketers choose to promote it.
Legendary Marketer Affiliate Payout
Legendary Marketer offers many products. Their entry product starts at $7, and prices go up to $9,500. They have several courses to choose from and products that vary in price, making this an easy program to promote.
One of the best things about this affiliate program is that once a referral buys a product, they are tied to you. 
So, for instance, if you referred a person to the $7 Business Builder Challenge and they went on to purchase a $2,500 course, you get a commission for both.
But as far as commission rates go, their program isn't as clear-cut as some. Instead, Legendary Marketer has two commission structures: basic and pro.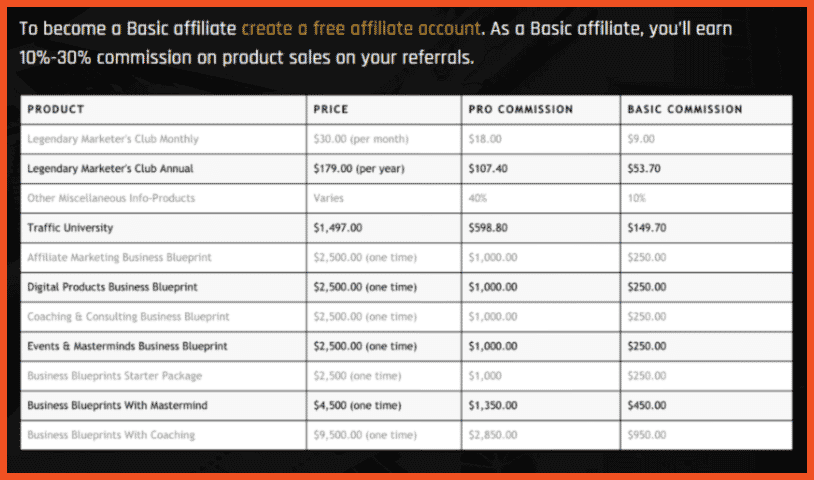 To become a pro affiliate, you must pay $29.95 per month but receive much higher commissions.
Here's the commission structure for basic affiliates:
Subscriptions – 30% commission

Courses – 10% commission
Here's the commission structure for pro affiliates:
Subscriptions – 60% commission

Courses – 40% commission

Masterminds and Coaching – 30%
Aside from the higher commissions, pro affiliates also get more income opportunities, advanced affiliate training, and an integrated autoresponder.
Can Anyone Sign Up for the Legendary Marketer Affiliate Program?
No, not anybody can be an affiliate for Legendary Marketer. To be approved, you'll first need to complete at least five days of the 15-day challenge. After the fifth day, you can apply, and the team will review your application.
If you want guaranteed approval, you have to purchase a Business Blueprint.
Either way, it's a good idea to take one of the courses or challenges before you apply so that you have product knowledge.
Is Legendary Marketer a Pyramid Scheme?
Legendary Marketer is not a pyramid scheme or multi-level marketing. You can sign up to be an affiliate but will only make money through the people you refer – there is no downline.
Legendary Marketer sometimes gets confused for multi-level marketing because so many promote it. But, this works like any other affiliate program – you earn money when a referral clicks your link and makes a purchase. You can't build a "team."
You can increase your chances of making sales by creating content like Legendary Marketer reviews, affiliate marketing tips, and sharing your experience.
Other Ways to Make Money with Legendary Marketer
Legendary Marketer focuses on making high-ticket sales. This strategy ensures you only need to make a few monthly sales to pay your bills. While the main premise is affiliate marketing, there are courses on other topics too.
If you want more ways to earn, you can take a course on one of the other topics:
Digital Products Business Blueprint – If you've ever thought of creating a digital product like a course, ebook, printables, custom plans, etc., this course will teach you how to bring your idea to life, the best platform to host your product, and how to make your first sale.
Coaching and Consulting Business Blueprint – This course focuses on honing your coaching practice. You'll learn how to refine your message, pitch, and scale your business.
Events and Masterminds Blueprint – If you want a unique way to earn extra income, running in-person events or masterminds groups is an option. Legendary Marketer has a course that will show you how to put on live events, save money, find the right venue, and more.
You can also sign up for mastermind groups and private coaching to help push you toward your goals. 
Final Thoughts
Legendary Marketer isn't a scam; if you want to make money through the program, you can. They offer a decent affiliate program with 10-60% commissions.
And the best thing is that once you refer someone to any LM product, you get a commission from future transactions.
The biggest downside to the Legendary Marketer affiliate program is that you must pay a monthly fee to receive higher commissions. While the monthly fee is small, it may deter brand new marketers.