If you've spent time in the online marketing space, you've probably heard of David Sharpe. He's the founder of Legendary Marketer and a well-known entrepreneur.
I met David at an event a while back. He was very down-to-earth and a genuinely good guy. It wasn't until after meeting him that I checked out some of the Legendary Marketer courses – which turned out to be good.
Here's a little about David Sharpe and what he does.
Who is David Sharpe?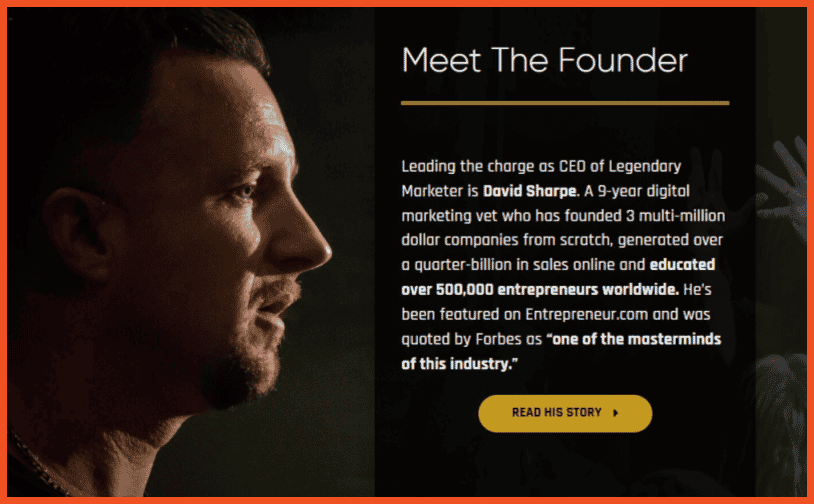 David Sharpe is a well-known internet marketer who owns three multimillion-dollar businesses. He is most notable for Legendary Marketer, an online school for digital marketers.
One of the things that makes David relatable is his rags-to-riches story. David dropped out of high school after becoming a teenage father and drug addict. He spent ten years dealing with drug addiction.
He eventually got clean and turned his life around.
David went on to master network marketing and offer tips to fellow entrepreneurs. He saw a need for a digital marketing school which led to the creation of Legendary Marketer.
What is David Sharpe 15 Day Challenge?
The David Sharpe 15-Day Challenge is Legendary Marketer's 15-Day Business Builder. It's the entry-level product from Legendary Marketer.
But don't be confused – just because it's entry-level doesn't mean it's not a good place to start.
The 15-Day Challenge from David Sharpe is one of the best low-price courses I've ever seen, and I've been in this space for a long time.
What Do You Learn in the 15-Day Challenge?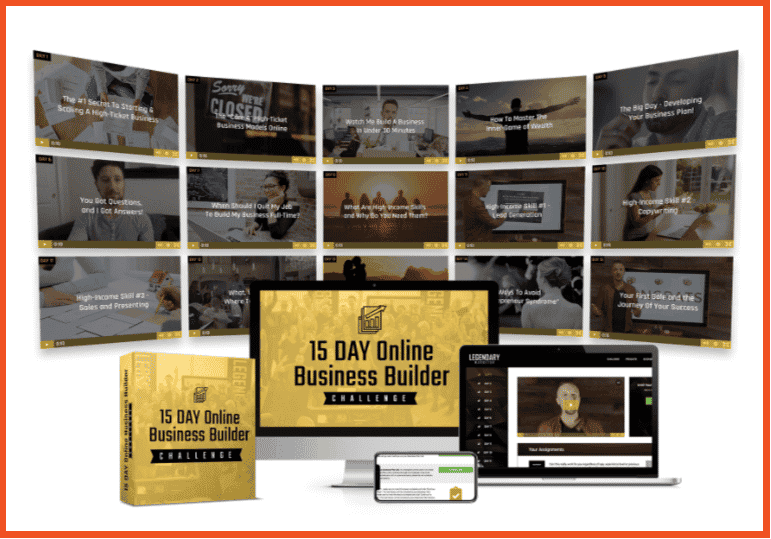 The 15-Day Business Builder Challenge delivers 15-days worth of content to take you from zero to a business plan.
The challenge focuses on high-ticket strategies with an emphasis on affiliate marketing.
If you're unfamiliar, affiliate marketing is like old-school sales, but it's done online and is FAR more passive.
Here's a quick overview of how affiliate marketing works:
You start by finding a product you'd like to promote. Then you check to see if the product has an affiliate program. If it does, you can sign up and receive special affiliate links.
You post these links on your blog, social media, YouTube, etc. Then, when someone clicks your link and makes a product purchase, you get a cut of the sale, known as a commission.
For high-ticket affiliate marketing, you focus on finding products that pay high commissions – this way, you only need a few sales to make a decent monthly income.
For example:
If you're promoting a vacuum and receive a $20 commission for each sale you make, you'd have to sell 100 vacuums to earn $2,000. But if you were an affiliate for a course that paid you $500 per sale, you'd only need to make four sales for that same amount.
David Sharpe argues that making a high or low-value sale is equally challenging, so you're better off focusing your efforts on high-value.
The 15-Day Challenge helps break things down in an easy-to-understand way. It focuses on the four high-ticket business models, lead generation, copywriting, sales, outsourcing, mindset, and more.
The challenge has videos, assignments, and a lot of bonuses.
What is Legendary Marketer?
Legendary Marketer is David Sharpe's company. This company focuses on online business with affiliate marketing as the primary strategy. Other topics include creating digital products, coaching, in-person events, and getting traffic.
Legendary Marketer has products that start at $7 and go up to $9,500. Some of the most popular products are the 15 Day Challenge and the "Business Blueprint" courses.
Is Legendary Marketer a Business Blueprint?
Legendary Marketer has four business blueprint courses. These courses teach you how to create an online business from start to finish. The blueprints are on the following topics: affiliate marketing, digital products, coaching & consulting, and events & masterminds.
(These aren't get-rich-quick-schemes. Instead, they are a blueprint you must follow and put in the work to succeed.)
Where is Legendary Marketer Located?
Legendary Marketer is located in St. Petersburg, Florida. You can find their current contact information on their website, including a mailing address, email address, and phone number.
Is Legendary Marketer available Worldwide?
Legendary Marketer is not available worldwide. Due to payment processors, there are dozens of countries where Legendary Marketer is blocked. You can see the complete list here.
Is Legendary Marketer Affiliate Program Worth It?
The Legendary Marketer affiliate program pays commissions that range from 10-60%, depending on your status: basic or pro. Pro affiliates get higher commissions but must pay a fee of $29.95 per month.
Since Legendary Marketer pays decent commissions, it's a good program to be a part of if you have an audience interested in affiliate marketing.
Final Thoughts
David Sharpe is an online marketer with over nine years of experience in the industry. He owns three multi-million dollar companies, including Legendary Marketer, and is known for the 15-Day Business Builder Challenge, Legendary Marketer's entry-level product.
David has helped over 500,000 entrepreneurs with their online journeys. He created Legendary Marketer to fill the gap and offer a schooling system for new online business owners.