Online Social Media Jobs That Pay $30/Hour
Availability to start this week
Make $25-$35 Testing New Apps
Just need access to phone/tablet
5+ hours per week available
If you love to play games on your phone or are looking for an easy way to make money, you've probably come across Rewarded Play.
This app claims to reward users for playing games and allows them to cash in points for gift cards to popular retailers.
But as good as it sounds, is this app worth your time?
Find out in our Rewarded Play review.
What is Rewarded Play App and How it Works
Rewarded Play is a game rewards app created by Influence Mobile, Inc. It's available only on Android. 
If you're wondering if Rewarded Play App is legit, it is.
This app has amassed over 100,000 reviews on the Google Play store, with a healthy 4.3 out of 5 stars.
Here's a rundown of how the app works:
Download the app to your Android

Look through the available games on the app, and download the ones you like

Play the games and hit achievements to earn points

Cash in your points for gift cards
The concept of Rewarded Play is straightforward. And while you won't earn a ton of money from playing games, it is a legit way to accumulate a few extra gift cards each year.
Here's a deeper Rewarded Play review:
Download the App to Your Phone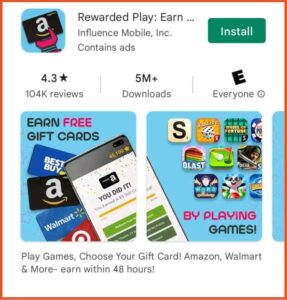 Head to the Google Play store and download the Rewarded Play app to get started.
Once you download the app, you'll need to create a profile. To do this, you'll answer questions about your gender and the decade you were born. 
Answering these basic questions will earn you 5,000 points.
Install Apps for Points
After answering basic questions, they'll prompt you to install and open three apps. 
I chose Yahtzee, Solitaire, and Scrabble. Once you select a game, you'll be redirected to the Google Play store to download it.
You'll earn points for simply installing the apps and then extra points for your time playing them.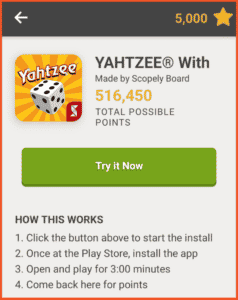 As you can see, for Yahtzee, I can potentially earn 516,450 points. (Although, that amount is much lower when you deduct the purchase rewards.)
Play Games and Then Return to the App
You'll earn the bulk of your points by spending time playing games and reaching new levels.
So, after you play the game you've downloaded, head back to the Rewarded Play app to see your point credits.
You can also complete surveys to earn points and enter Amazon gift card drawings.
Cash In Once You've Earned Points
After signing up, the app will give you ways to earn enough points for a $5 gift card within seven days. Once you've hit those points, you can cash in for a gift card.
It takes 45,000 points to earn a $5 gift card, 90,000 points for a $10 gift card, and 225,000 points for a $25 gift card. However, different stores have different card amounts tied to them.
Pros and Cons of Rewarded Play
Rewarded Play is a legit app. However, it will not make you rich, help you earn a full-time income, or is something you can rely on for consistent money.
But, if you play many games on your phone or pick up a game when you need to pass the time, it's worth it.
Pros of using Rewarded Play:
Earn gift cards for playing games

Easy to download and get started

Wide game selection

Simple terms

Wide selection of gift cards
Cons of using Rewarded Play:
You have to choose from their game list

Minimal earnings

You can't cash out for Paypal cash

You can only earn 5,000 points per day (About $20 per month)
Bottom line: If you have pockets of time throughout your day where you need to pass the time, this app is worth a look. It's also an excellent app to download if you regularly play games on your phone.
What Games Are Available on Rewarded Play?
For Rewarded Play to be an app you'll use, there have to be games on it that you want to play.
So, if you're wondering what games you'll come across, here's what's currently available:
Family Island – Farm Game Adventure

EverMerge: Merge 3 Puzzle

Merge Dragons!

Royal Match

Design Home: House Renovation

Bingo Blitz – Bingo Games

Dice Dreams

Clockmaker: Math 3 Games! Three in Row Puzzles

Homescapes

Solitaire Tripeaks

Scrabble Go

Game of Thrones Slots

Monopoly Bingo Bash

Caesars Slots

Merge Mayor

Wizard of Oz Slots
While that might not seem like a vast selection, the games are very different, so there's something for everyone. There are traditional games like Scrabble, Yahtzee, and Solitaire and very niche choices like Homescapes and Clockmaker.
What Gift Cards are Available on Rewarded Play?
A rewards app isn't worth downloading unless it has rewards you'll use. Fortunately, Rewarded Play offers a wide variety of gift cards.
They offer gift cards to the following merchants:
eBay

Adidas

Zappos

Wayfair

Walmart

Ulta Beauty

Tim Hortons

The Home Depot

Target

Spafinder Wellness

Sephora

Regal Entertainment

Red Robin

Pottery Barn

Panera Bread

Nordstrom

Nordstrom Rack

Nike

NFL Shop

Multibrand Giftpax

Maggiano's

Macy's

Kohl's

Groupon

Gap

Fandango

Fanatics

Chipotle

Chili's

CVS Pharmacy

Best Buy

Bath and Body Works

Barnes and Noble

BJ's

Athleta

Applebee's

Amazon

MC Theaters
While they offer gift cards to popular retailers like Target, Amazon, and Walmart, there is no Paypal or cash option.
Most of the retailers have $5 and $25 gift cards. The $5 gift cards are 45,000 points, and the $25 gift cards are 225,000 points. Some retailers also offer $10 gift cards which cost 90,000 points.
How do You Claim Gift Cards on Rewarded Play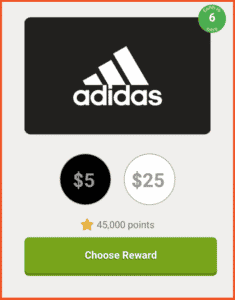 Once you've racked up at least 45,000 points, you can claim your first gift card on the Rewarded Play app.
Here's how:
Open the Rewarded Play app and select the menu in the top left-hand corner

Select "rewards" from the menu

Choose the gift card you'd like and click the green "choose reward" button.

When the reward is available, you'll receive a notification in the app
Unfortunately, your gift card rewards can take 14 days to process.
Apps Like Rewarded Play
If you're looking for more apps that will help you earn gift cards by playing games or doing small tasks, here are some to check out:
Mistplay – This app works on the same concept as Rewarded Play. You download games, then play them to earn points. You can cash it in points for gift cards or Paypal cash.
AppStation – Again, AppStation is almost identical to MistPlay and Rewarded Play. You download games and earn rewards based on the length of time you play them. Then, cash in rewards for gift cards. 
Swagbucks – With Swagbucks, you can earn money searching the web, playing games, printing coupons, and watching videos. 
InboxDollars – InboxDollars is similar to Swagbucks. With it, you can earn money from internet searches, surveys, gameplay, and by reading emails.
GameHag – If you prefer playing games on your computer, you can earn rewards with Gamehag. However, Gamehag also has a mobile app you can download. Once you sign up, simply choose a game to play and complete quests to earn points.
If you're looking for the best way to earn Amazon gift cards, check out our list here. We've reviewed over 30 apps and websites that will reward you with Amazon gift cards for grocery shopping, playing games, listening to music, and more. 
Frequently Asked Questions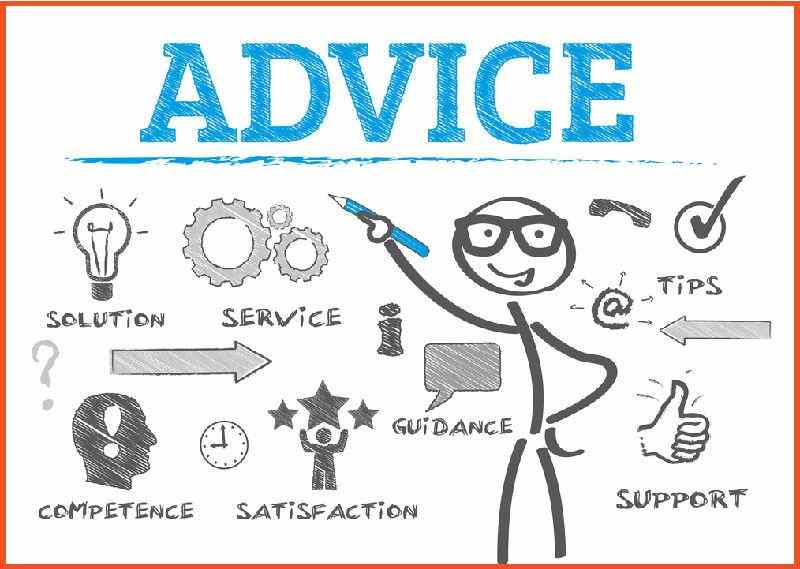 Is Rewarded Play Safe and Legit?
Yes, Rewarded Play is both safe and legit. The app never asks for any identifying or sensitive information, and neither do the games. However, read through the user agreement before downloading if you're worried about what the app might track.
As far as being legit, Rewarded Play does what it says it does. This app will pay you in gift cards for playing games – but don't expect to earn more than $20 every month.
Rewarded Play vs. Mistplay: Which is Better?
Rewarded Play and Mistplay are similar Android apps rewarding users for playing games. Since they are so similar, the best one depends on what games you most enjoy playing. However, there's no reason you can't download both apps.
Rewarded Play vs. AppStation: Which is Better?
AppStation and Rewarded Play work similarly. You can earn rewards for your time playing mobile games with both of them. And while they do have some of the same game options, there are also a few differences. For example, AppStation has CandyCrush Saga while Rewarded Play does not.
What Countries is Rewarded Play Available To?
Rewarded Play is available to Android users in the United States and Canada.
Rewarded Play Review: Final Thoughts
Rewarded Play is a legit app with great reviews. You can download and play various games to earn points. You can then cash in those points for gift cards to places like Walmart, Target, Amazon, etc.
While Rewarded Play isn't going to bring you much money, it's an excellent app for those who play games on their phone a lot or are looking for a productive way to pass a few minutes each day.
The downside is that even if you hit the daily reward allowance, you'll only make about $20 worth of gift cards each month.