Online Social Media Jobs That Pay $30/Hour
Availability to start this week
Make $25-$35 Testing New Apps
Just need access to phone/tablet
5+ hours per week available
If you like money-making apps, you've probably come across Coin App. 
It focuses on geomining and is MUCH different from the standard make-money apps.
Instead, it allows you to earn when you're on the move driving, walking, or jogging.
And to be honest, the lingo Coin App uses is a bit hard to understand, so we'll do our best to break it down in simple terms.
Here's a full Coin app review – how it works and if it's worth downloading.
What is Coin App and How it Works
Founded in 2019, Coin App gives users a way to earn rewards for verifying geospatial data while they travel. Traveling includes daily movements like jogging, walking, going to work, and more.
You can even earn for sitting at your house or "homebase."
To put it very simply, Coin App rewards you with a digital currency for sharing your location information.
Which might have you wondering – why would any company give me money for nothing?
But, don't worry – they aren't.
The Coin App gathers your location information and uses it to build the XYO network. The XYO Network is a technology protocol and data marketplace for developers.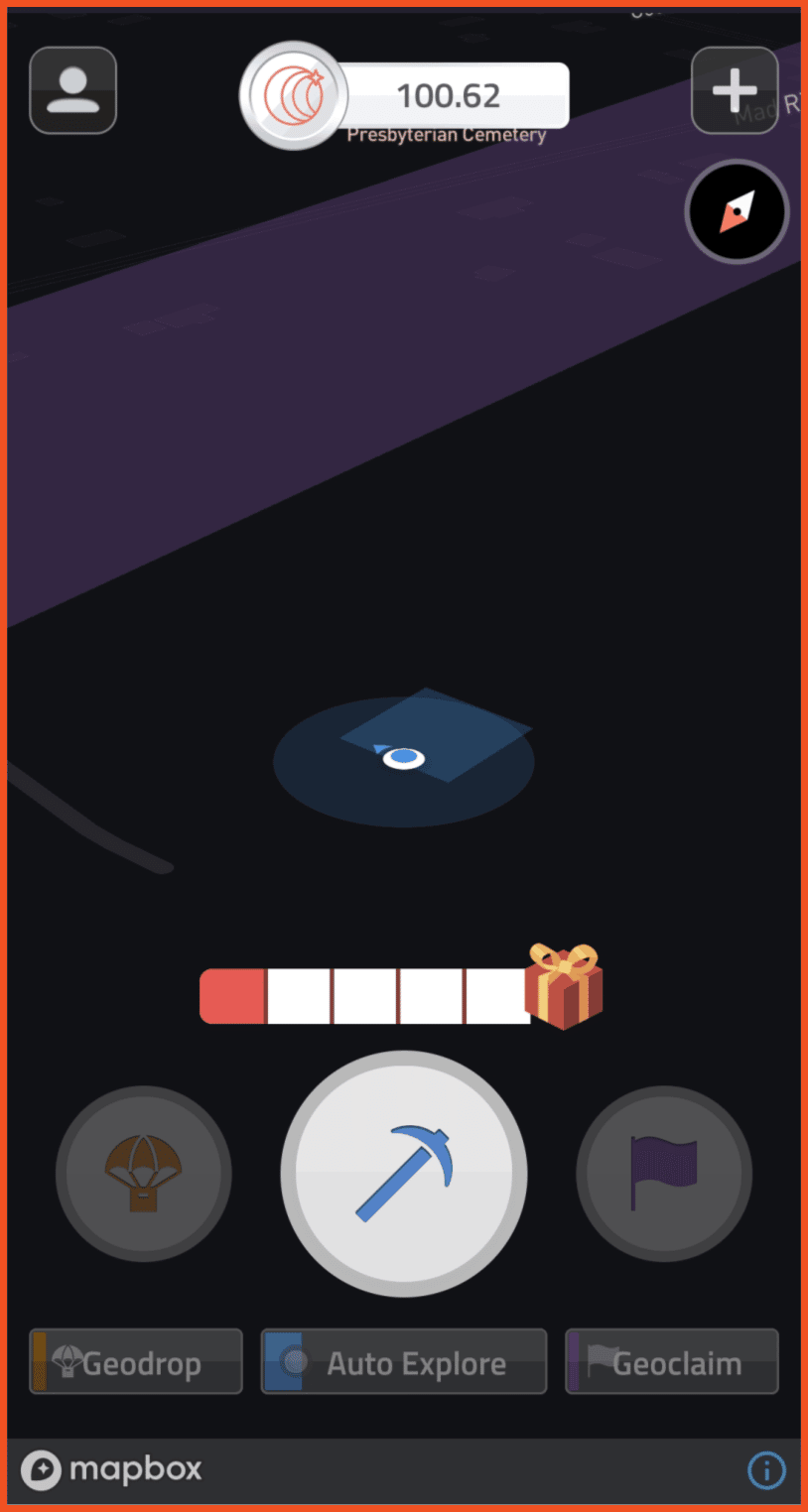 The rewards Coin App gives its users are called "COIN."
After you accrue enough COIN you can cash them in for merchandise or trade them for a cryptocurrency like XYO, Bitcoin, or Ether. 
Earning with Coin App is pretty basic. While there are many ways to increase earnings, most are related to geomining.
To get started, you download the app. Then, to boost your earnings, you order a SentinelX NFC device.
The SentinelX NFC is simply a plastic card similar to a credit card. It verifies your location and boosts your earnings 12 times compared to not having it.
And while the SentinelX NFC is free, you'll need to pay $12.95 in shipping and handling to get one.
How to Get Started with the Coin App
The Coin App is available for both Android and Apple phones. To get started, visit the Apple store or Google play store and download the app.
After downloading, you'll need to give the app permission to view your location and create an account. Creating an account is as simple as providing your email address, full name, and password.
Once you've created an account, they'll instruct you to geomine your first tile.
After doing this, you can visit the dashboard to explore more ways to earn and check out reward options.
How Do You Maximize Your Rewards in the Coin App?
While the Coin app is a great money-maker for crypto fans, it's not close to a full-time or part-time income.
Still, if you put a little effort into it, you'll end up with some crypto or other types of rewards.
Here are the best ways to maximize your earnings through the Coin App.
Get the SentinelX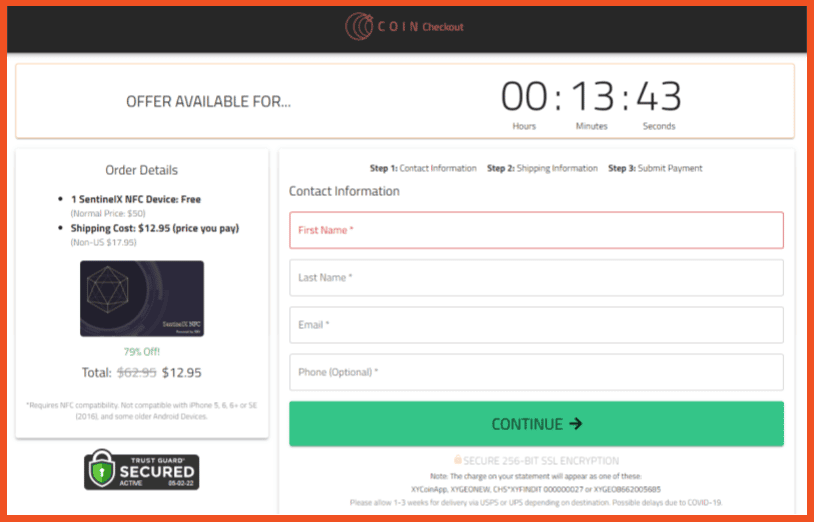 The SentinelX NFC is a small plastic card that works alongside the Coin App. Its purpose is to add an extra layer of verification to your data. 
Since the Coin app wants to build a valuable data marketplace, this extra verification layer ensures the information they're getting is reliable.
With the SentinelX, you'll earn 12x the rewards on a basic plan and receive a 10% boost on premium plans.
The Sentinel is free, but you have to cover the nearly $13 shipping and handling cost. If you want to make the most of this app and use it long-term, you need to get one of these cards.
In addition to the SentinelX NFC, there's also a BLE model.
The BLE is a plastic diamond-shaped device with a key ring. It works through Bluetooth to verify your data, just like the card.
The downside to the BLE is that it's not free. You have to pay $50 for it. (However, you can also save up your COIN rewards and redeem it as a prize. As of this writing, a SentinelBLE costs 100,000 coins.)
The most significant difference between these two devices is that for the SentinelX NFC, you must tap it against your phone to claim a boost. On the other hand, the BLE device works on Bluetooth and has a 150-foot range, automatically boosting you.
Move Around as Much As Possible
Geomining is the number one way to maximize this app.
The more location information you verify, the more COIN you'll earn. This makes driving one of the most high-value tasks.
(Remember, you need to have the Coin App running for it to work. This isn't an app you can download, forget about, and still make money with. Luckily, you can use the "Auto Explore" feature for hands-free mining while driving.)
You can earn money on your daily drives to and from work, baseball games, road trips, etc.
If you have a job that requires you to travel frequently, you can quickly accrue COIN. So, this is an excellent money maker for truck drivers, Uber drivers, and traveling salespeople.
But if you're not a driver, don't worry.
You can also earn COIN for your daily walks and jogs – it just won't be as much.
Upgrade to a Premium Version
The Coin App has three plans:
Basic (free)

Pro ($34.95/ month)

Plus ($24.95/month.)
The Plus plan will give you two times the geomining speed and recharge rate. It also gives you two times the rewards on things like geomining, background rewards boost, the likelihood of big geomines, and more.
The Pro plan will give you three times the opportunities and rewards as the basic plan.
But does that mean you should jump in and pay for a premium plan? 
No, not really.
Start with the free basic plan and test out the app. If you love it and know you'll earn enough to cover the monthly costs of an upgraded plan, then upgrade.
HODL Rewards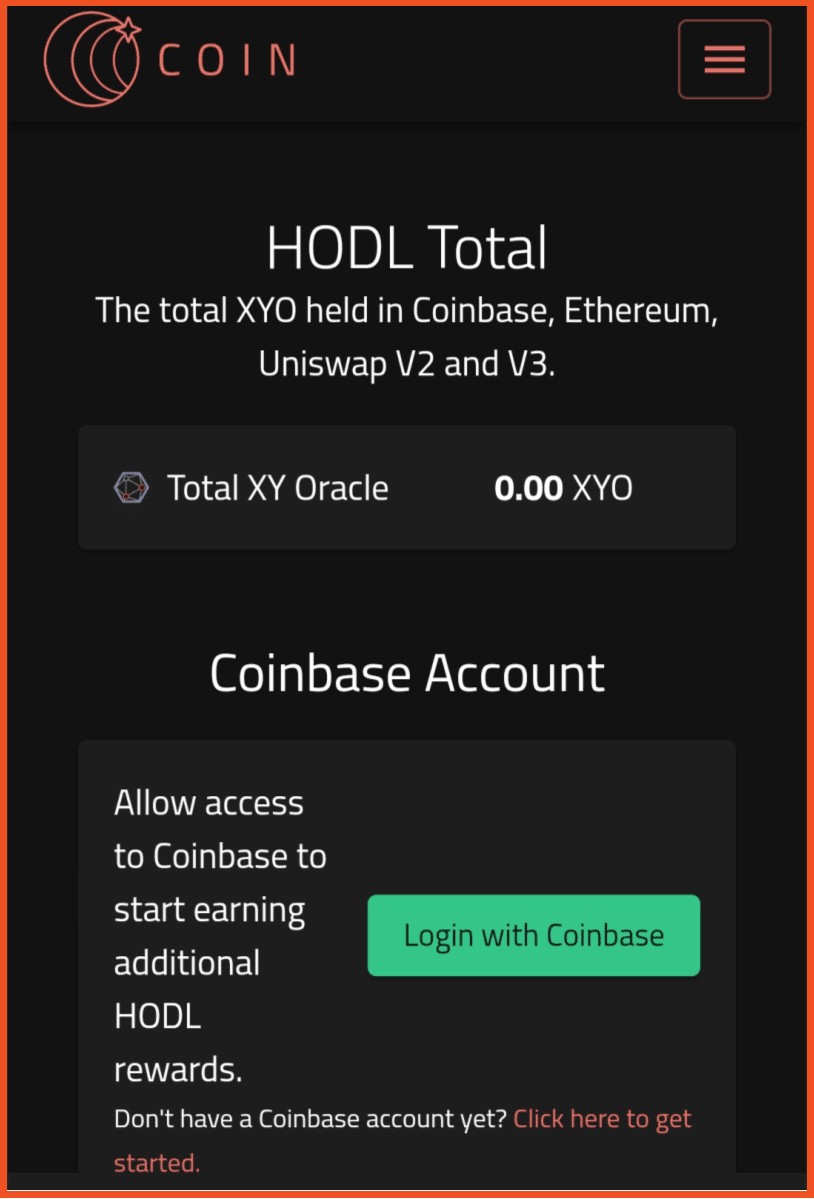 If you currently invest in XYO on Coinbase, you can connect your Coinbase account to your CoinApp dashboard and earn rewards for holding XYO. 
(The coin you earn will be credited to your CoinApp account and NOT your Coinbase account.)
If you don't have Coinbase but do hold XYO, you can connect some other compatible accounts.
Do Product Scans
Into scavenger hunts? The Coin app now has a feature allowing you to go into stores, search for a product, and scan it into the app for rewards. 
There won't always be product scans to complete, but these are an easy way to boost earnings.
Watch Ads, Take Surveys, Refer Friends
This is where the Coin app is like all of the other money-making apps and websites we often cover.
In the rewarded play section, you'll be able to watch videos and take surveys to earn extra COIN.
You can also refer friends to the app. If you make a lot of referrals, the earnings will add up quickly.
Here's how the Coin App referral program works: The friend you refer to the Coin App will receive 1,000 COIN for signing up. You'll then go on to receive 10% of their earnings.
Socialize
You can take advantage of the socialize feature to increase your rewards. The socialize tasks allow you to earn bonuses or compete with other players.
Here are some of the main features:
TeamLift – If you're a premium user and are near another premium user, a TeamLift indicator will pop up. You can then geomine for 10% more earnings for up to 100% more.
Leaderboard – If you're competitive, you can join the leaderboard for a bit of motivation. To do so, click your coin total, tap the podium button, and select your profile to set a profile pic and username.
Geoclaim – If you frequent a popular location, you can claim it weekly with the Geoclaim button.
What Rewards Does Coin App Have?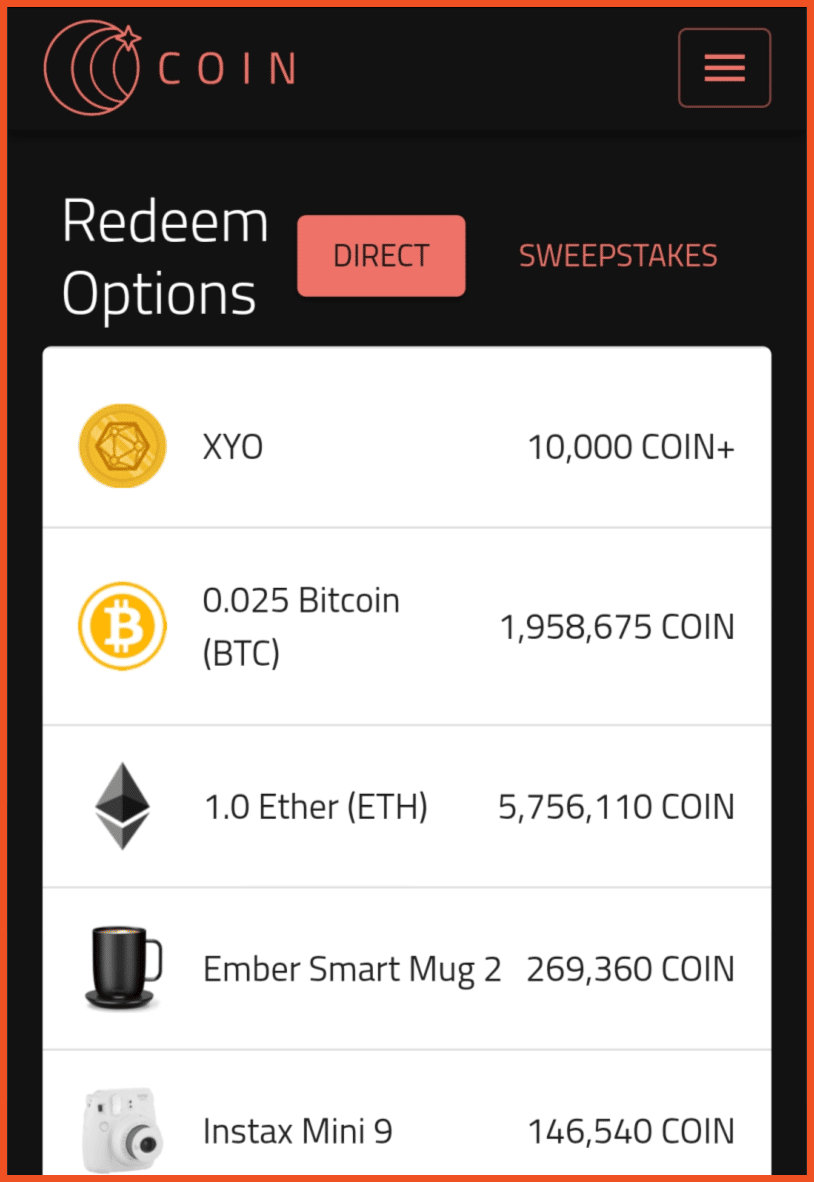 There are a lot of reward choices in the Coin App. The most popular are the crypto options. 
The crypto rewards you can cash in for include:
XYO

– 10,000 COIN+

0.025 Bitcoin

– 1,958,675 COIN

1.0 Ether

– 5,756,110 COIN
Of course, these prices are subject to change as the crypto market fluctuates.
If you're not interested in crypto, there are dozens of tech-related prizes like air pods, Ipads, Ember Smart Mug, Instax Mini 9, Kodak Mini Printer, and much more.
In addition, you can redeem your rewards for t-shirts and branded merch. 
Keep in mind that the cheapest reward will cost you 10,000 COIN while some of the higher value rewards cost millions of COIN.
Pros and Cons of Coin App
If you're on the fence about whether or not the Coin app is worth it, here's an honest look at the pros and cons.
Pros of coin app:
An easy way to earn crypto

All you need to do is turn on the app to geomine while you're driving

Dozens of reward options

Multiple ways to earn
Cons of coin app:
You need to purchase the SentinelX to maximize earnings

Rewards are expensive (minimum reward costs 10,000 COIN)
All in all, this isn't a bad app. If you're looking for easy money-makers or are into crypto, it's worth trying out.
How Much Can You Earn with the Coin App?
Truthfully, unless you're in your car for hours per week, you aren't going to earn a ton from the Coin app.
If you're a truck driver, delivery driver, work for Uber or Lyft, or travel a lot for work, then you absolutely should download the app. But for regular, everyday folks, expect your earnings to accumulate very slowly.
If you consistently use it over months or years, you'll get some free rewards or crypto for minimal effort.
Final Thoughts
If you're looking for unique money-making apps, the Coin app is one to try out. While this app won't make you rich, it will allow you to earn crypto or physical prizes. It's also very easy to use.
While some of the language like "geomining" or "geospatial" data seems complicated to understand, all this app wants to do is track your location information.
The truth is, a lot of apps on your phone are probably already doing that. At least with the Coin app, you'll get rewarded for it.