3 Ways To Make Money Online
Make money watching videos.
That's the dream, right? Sit back, watch some TV, and get paid for the privilege of doing so.
Although it sounds a little far-fetched, it isn't.
Take our side hustle quiz to find the best side hustle for you and enter to win a free $2500 training:
Here's the deal: you're not going to make quit-your-job type of money watching videos. You also won't get paid to binge-watch your favorite Netflix series.
You can, however, earn cash and gift cards by watching online videos and ads. Here's where to sign up to make money watching videos.
Why Would Companies Pay People to Watch Videos?
You may be wondering why companies would pay anyone to watch videos? Well, the answer is simple – most of these videos are really advertisements. Since companies want you to see their advertisements, they'll pay you a nominal amount for doing so.
Of course, watching ads isn't the only way to earn money. If you're a fast typer, you can get paid to watch and transcribe videos for closed captioning purposes.
Two other ways to earn money watching videos include becoming a "tagger" for Netflix or becoming a movie theater mystery shopper.
Ways to Make Money from Watching Videos Online
1. Swagbucks
2. My points
3. Inbox Dollars
4. Grab Points
5. Viggle
6. iRazoo
7. Vindale Research
8. YSense
9. Netflix
10. Rev.com
11. Marketforce Information
12. Go Transcript
13. FusionCash
14. GMR Transcription
15. Nielsen Computer & Mobile Panel
16. Quick Rewards
17. Earnably
18. InstaGC
19. AdWallet
20. YouCubez
1. Swagbucks

Swagbucks is one of the top reward sites on the internet.
They reward users for things like taking surveys, printing coupons, completing offers, and watching videos.
You can choose videos to watch based on your interests. They have videos on everything from sport to politics.
However, most of the videos are just ads.
The majority of the video watching opportunities reward you with 1 SB point for watching 90 seconds worth of videos. 
Users can cash points out for a variety of gift cards or Paypal cash.
For reference, a $10 Amazon gift card costs 1,000 SB points.
2. My Points
My Points is best known as a company that rewards users for shopping, but it also has many other ways to earn, including watching videos.
My Points has about 10-11 video watching opportunities. You can earn anywhere from 2-5 points per video watched.
They have a variety of gift cards at various price points you can cash out for.
For reference, a $10 Amazon gift card will cost you 1,580 points.
3. Inbox Dollars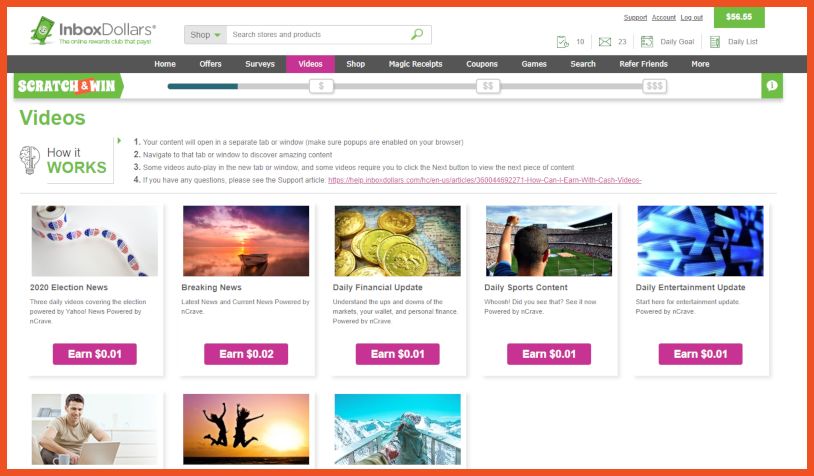 Inbox Dollars is a reward site that has been around for over 20 years. They operate just like Swagbucks, offering users the chance to complete surveys, tasks and watch videos.
And wouldn't you know it…their video selection is the exact same as Swagbucks.
The only difference in watching videos with Inbox Dollars vs. Swagbucks is the earnings.
With Swagbucks, they award you with 1 point for watching 90 seconds worth of videos. With InboxDollars, you're rewarded $0.01 to $0.02 for the same effort.
The other big difference is that you need to accumulate at least $30 in earnings to cash out with InboxDollars.
(If you're already an Inbox Dollars user and love them, check out these other sites that very similar.)
4. Grab Points
Grab Points works similar to Swagbucks and InboxDollars in their offerings. 
Grab Points rewards you with 7 points for every three videos you watch that have ads. You can watch videos an unlimited amount of time.
You can cash out your points for gift cards.
A $10 Walmart gift card will run you 10,300 points.
5. Viggle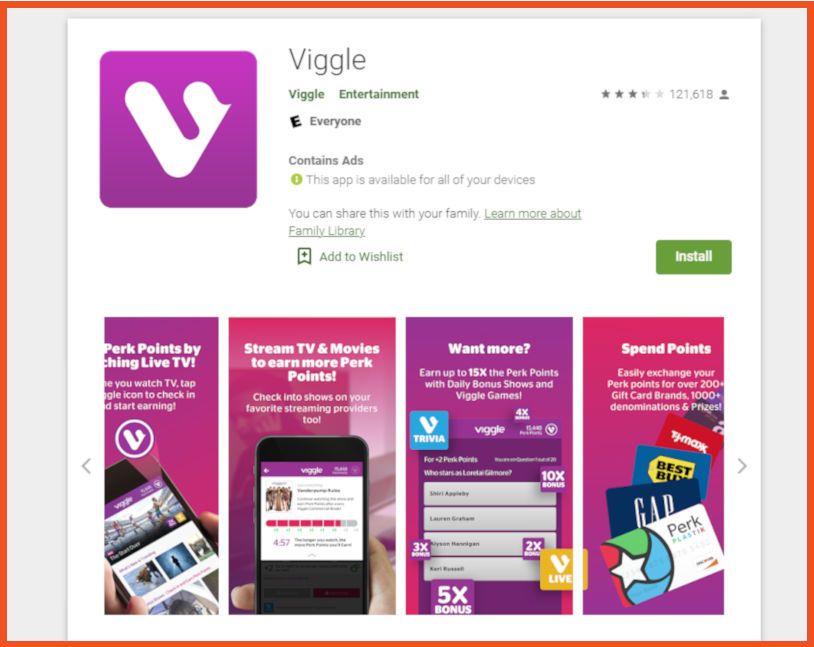 Viggle is an app that will reward you for watching the shows you like. It's as close as you'll get to getting paid to binge-watch your favorites.
Here's how it works:
You download the Viggle app to your phone. When you get ready to watch TV, you'll open the app and select the show or movie you're watching.
You'll earn "Perk" points for using the app when you watch TV.
Certain shows will qualify for more points than others.
You can cash points out for gift cards and music downloads.
6. iRazoo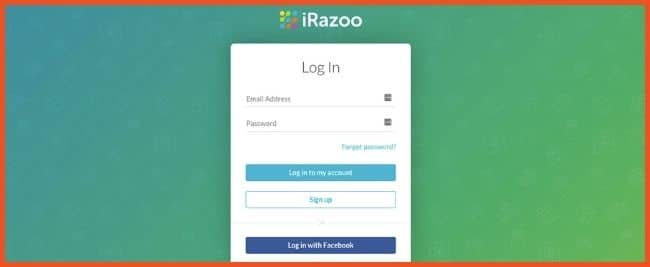 iRazoo has plenty of ways for users to earn points they can cash in for rewards.
One of those ways is through watching videos.
They use the same program as Swagbuck to offer their video watching rewards. This means you'll watch short videos with ads to earn points.
You'll need to earn 3,000 points to cash in for a $5.00 Amazon gift card.
7. Vindale Research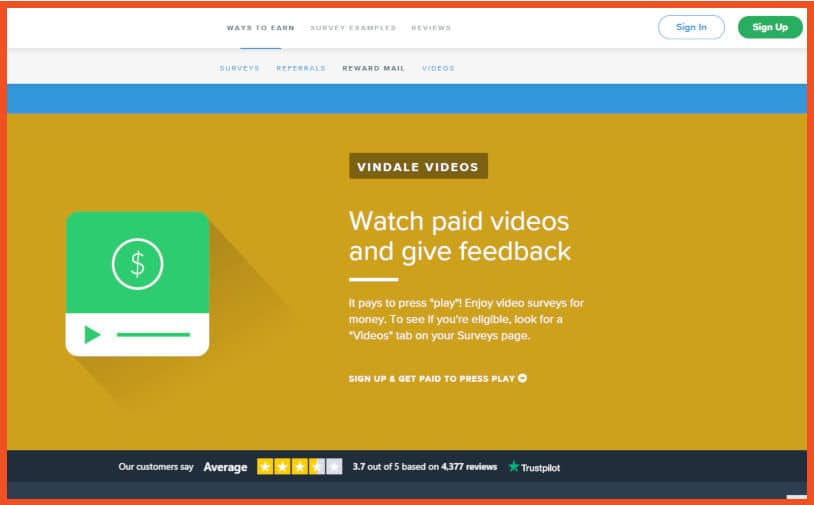 Vindale is a market research company that performs surveys on behalf of companies.
They also offer video surveys to those who qualify.
To get started, you'll need to create an account and fill out your profile. Vindale will then match you with survey offers based on the information in your profile.
You can also watch videos with ads in them for about $0.05 per video.
You can request payment once your account surpasses $50 in earnings.
8. YSense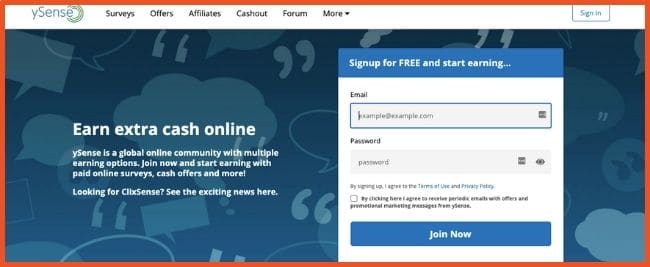 Ysense is a rewards site similar to Swagbucks or InboxDollars. With Ysense, users can earn money by taking surveys, completing offers, and watching videos.
As a user, once you reach the account minimum, you can cash out your rewards balance for a gift card or Paypal, Payoneer, or Skrill cash.
9. Netflix (Tagger)
How does getting paid to watch Netflix shows for 20 hours per week sound? To me, pretty good! 
What many don't know is that Netflix hires a select number of "taggers" to watch television shows and then give the shows appropriate tags. This is what helps Netflix make suggestions based on other shows their subscribers have watched.
Netflix taggers jobs are rare and go fast when they're open. So, if you're interested in this position, you'll need to check Netflix's jobs page frequently.
Unfortunately, I couldn't find a reliable source for how much Netflix pays its taggers, but it's rumored to be a high-paying job.
10. Rev.com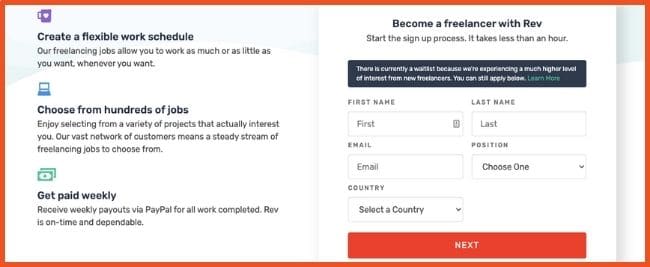 Rev.com is a transcription company that hires closed captioners and transcriptionists on a freelance basis. Transcriptionists are paid $0.30 to $1.10 per audio minute for transcribing (typing what they hear) audio and video media.
Closed Captioners are paid slightly more at $0.54 to $1.10 per video minute. Closed captioners are responsible for watching videos and accurately typing out what they hear.
To get started with Rev, you'll apply and take an English and Grammar quiz. If you pass your examination, you'll be required to submit a sample. If accepted, you'll be hired on a freelance basis and have access to Rev.com's library of work.
You can work as much or as little as you like and get paid every week.
11. MarketForce Information
Would you like to earn money for watching movies at the theater – or at the very least, watch movies for free?
MarketForce Information hires mystery shoppers to watch new movies in theaters.
Most of the movie theater mystery shopping jobs are available on the weekend. If you get a mystery shopping gig, you can get paid for your time and reimbursed for your movie tickets and sometimes your concessions.
They also have other positions that would require you to count the number of people viewing specific movies.
12. Go Transcript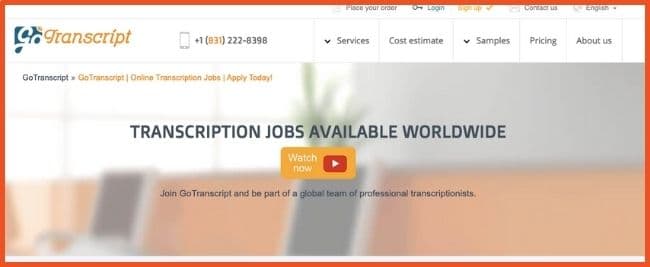 GoTranscript is another company that hires freelancers to transcribe videos. Freelancers can earn up to $0.60 per audio minute. The average GoTranscript freelancer earns $150 per month while the top freelancers earn $1,215 per month.
This job is entirely flexible and a work-from-home position. To get started, you'll need to submit an application and pass their entrance test.
13. Fusion Cash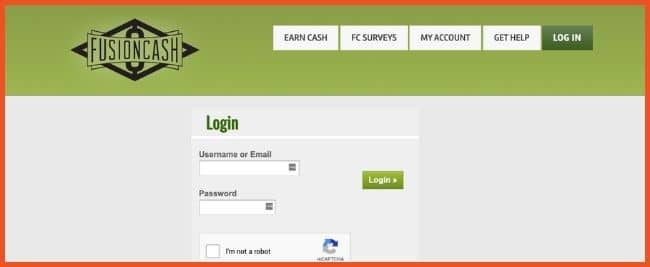 Fusion Cash is a rewards site that gives its users points for completing surveys, making referrals, and watching videos.
As a user, you can cash out when your account reaches at least $25. They make payments via check, direct deposit, or Paypal.
If you enjoy watching videos on Swagbucks or InboxDollars, you'll probably like Fusion Cash too.
14. GMR Transcription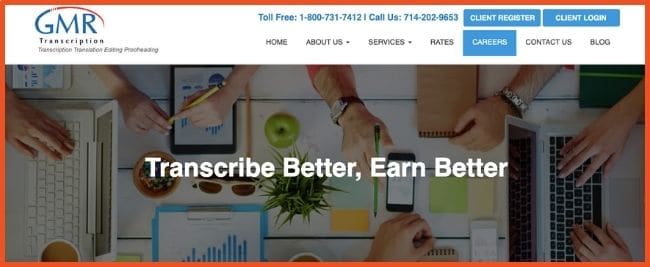 GMR transcription hires freelancers to transcribe audio and video files. You don't need any previous experience to apply for this position, but you will have to pass a strict transcription test.
Work is completely flexible. The average GMR transcriptionist earns between $1,000 and $3,000 per month.
15. Nielsen Computer and Mobile Panel
This idea isn't *directly* tied to watching videos, but it is a way for you to earn a little extra cash while you do anything on the list above. Nielsen, a market research company, will pay you $50 per year for installing their app on your computer or mobile device.
Through this app, Nielsen will privately and securely monitor your internet usage habits for market research purposes.
16. Quick Rewards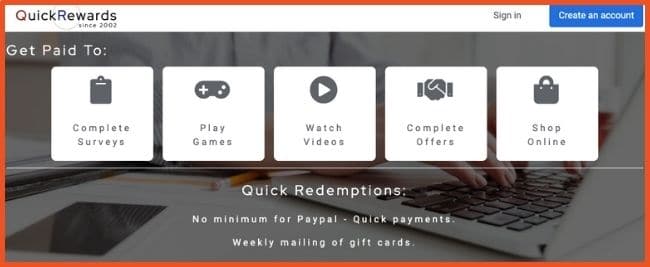 QuickRewards is a rewards site that gives its members "Quick Points" for completing tasks. Watching videos pays anywhere from 25 – 200 Quick Points. It takes 100 points to equal $0.01, so you'd have to watch A TON of videos to earn a dollar.
One of the benefits of Quick Rewards is that there is no account minimum for cashing out. As long as you have $0.01 worth of earnings, you can transfer to Paypal. For gift cards, though, you'll need to earn a minimum of $5 to redeem.
17. Earnably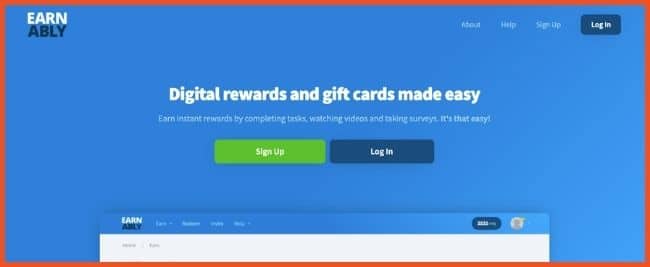 Earnably is another rewards site similar to Swagbucks. (Yes, there are MANY of these similar types of sites – so if you like them, you have a lot to sign up for.) Earnably has partnered with Hideout.tv to reward its users for watching videos.
As an Earnably user, you'll earn 0.7 points per 3 video ads you watch. For reference, it takes 125 points to cash out for $1 in Paypal cash. If you're looking to boost your earnings, you can take surveys and complete offers.
18. InstaGC
InstaGC rewards its users for doing some of the things they already do online, like watching videos. However, their rewards seem to be a bit lower than similar sites.
At InstaGC, you'll earn 1 point for every 20 videos you watch. It takes 5,000 points to make a $50 Paypal gift card. So, if you're bored and need something to do, watching these videos won't hurt. However, if you're looking to make better use of your time, I'd focus on one of the other sites on this list first.
19. AdWallet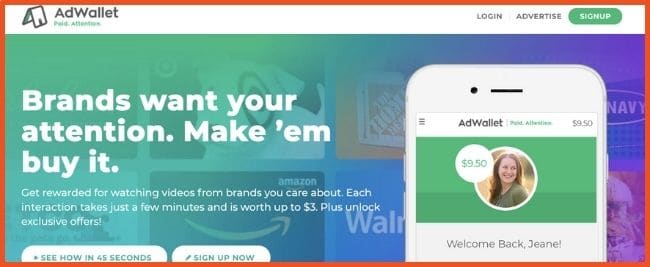 AdWallet is a rewards site entirely centered on paying its users to watch videos. Videos are worth $0.50 – $3.00, and there's only a $10 minimum payout threshold. 
The downside is that videos aren't always available to watch. You'll receive an email when there's a video that you qualify for. You can expect to get about one video per week.
20. YouCubez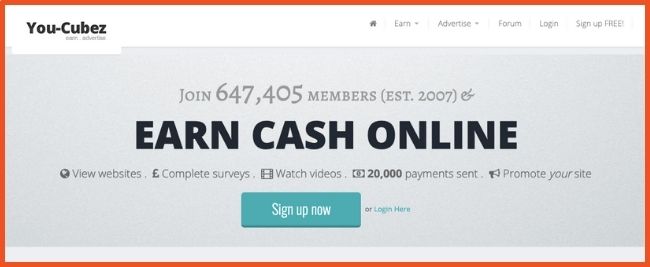 YouCubez is a site that helps website owners, advertisers, and YouTubers get more eyeballs on their websites and ads. It's one rewards site where you can get paid to watch YouTube videos.
The payouts are different for each video, and the minimum cashout varies depending on your membership level.
Conclusion
Most of these sites are a fun way to earn a little extra money by watching videos. Do not try some illegal ways to earn.
Keep in mind, though, that you'll make far less than minimum wage doing so.  
Don't expect this to amount to anything significant. 
However, if you watch a few videos per day in your downtime, you could accumulate enough points to splurge on something like vacation gear or help pay for birthday or Christmas gifts.
If you love the idea of getting paid to watch videos, you might want to check out my list of sites that pay you to earn money or my list of lucrative side hustle ideas!
Looking for more ways to earn money?
Check out the video below to learn how I went from $0 to $3,000,000: