Online Social Media Jobs That Pay $30/Hour
Availability to start this week
Make $25-$35 Testing New Apps
Just need access to phone/tablet
5+ hours per week available
If you want to make money fast as an affiliate marketer, one of the best strategies is to find programs with high commissions.
Because the higher the commission, the lesser number of sales you need to make.
And in most cases, this means finding programs where the buyer is willing to pay a premium for the products.
This is where luxury affiliate programs come in.
If you want to sell higher-ticket luxury offers, there's no better time than today.
Here are the best luxury affiliate programs to promote this year.
Best Luxury Affiliate Programs
1. Royist
2. Villiers
3. J.R. Dunn Jewelers
4. Gucci
5. The Real Real
6. Lulu and Georgia
7. Nordstrom
8. Cruise Direct
9. Anthropologie
10. Saks Fifth Avenue
11. Time and Place
12. FragranceNet
1. Royist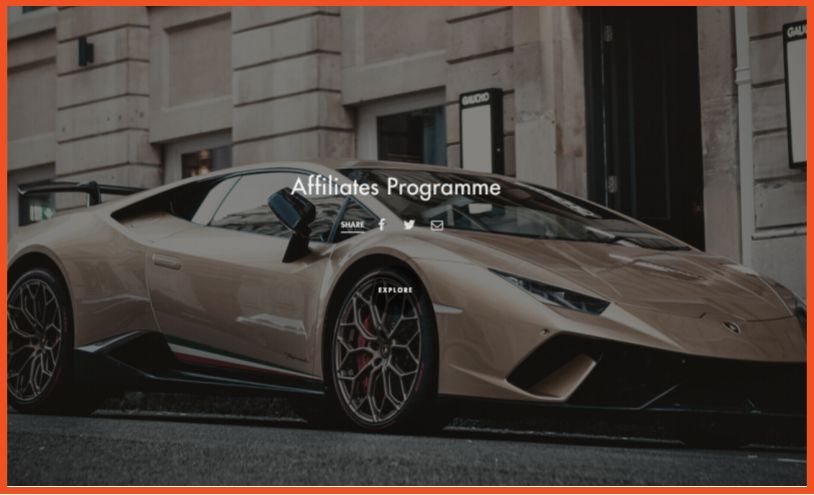 Royist is a London-based company in the travel industry. They consider themselves a global members' club and offer invitation-only invites. (Don't worry, you can still be an affiliate for them.)
Royist offers its members international concierge services, a dedicated assistant, and more. In addition, through the club, members can charter jets and yachts and obtain travel experiences. 
As an affiliate of this program, you can earn a monthly recurring commission. You can promote this program to affluent individuals or promote it to corporations.
The biggest downside is that they individually screen all applicants. So, if you don't have a proven track record of selling high-ticket offers, your application may not be accepted.
(This program is open to affiliates worldwide.)
Royist does not list commission rates on their sign-up page or affiliate agreement. 
However, it looks as though commissions have started at about 20% in the past. This, of course, is subject to change at any time.
2. Villiers
If you have contacts that rent private charter aircraft or a website in this industry, Villiers is a company you need to be an affiliate for.
Villiers has contracts with over 10,000 aircraft operators going to over 40,000 destinations worldwide. 
They make doing price comparisons of these private charter aircraft incredibly easy for their customers. 
Villiers has a generous affiliate program.
Affiliates earn 30% commission on every booked aircraft, which amounts to thousands of dollars. In addition, affiliates will earn a commission for the lifetime of their referrals.
So, if you refer someone today and they book a jet, you'll get a commission. And then, if they book three years from now, you'll get a commission for that.
In terms of affiliate programs, that's hard to beat.
They also offer a long 365-day cookie.
3. J.R. Dunn Jewelers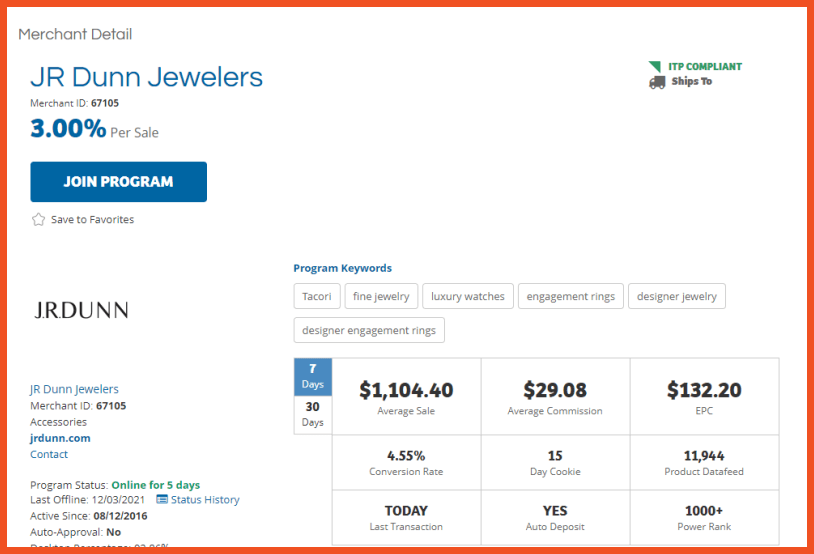 Luxury programs aren't just for travel or jet-setting – they're also for tangible products. And one product that easily falls into the luxury category is jewelry.
If you've been looking for the best high-end jewelry affiliate program, consider J.R. Dunn.
J.R. Dunn carries a variety of high-end jewelry but is mostly known for its selection of Rolex watches.
You can also find diamond jewelry, engagement rings, and designers like Gucci, Lana, and Fope on their website.
The biggest downside to promoting this jeweler is the low commission rate. Three percent is pretty pitiful, especially for such a high-end item.
However, there is an upside – since the products are so expensive, a 3% commission can still yield a decent amount of money, especially if you're selling $10k jewelry.
The J.R. Dunn affiliate program is hosted on Share a Sale. According to their stats, the average sale amount is $1078, and the average commission is roughly $26.
4. Gucci
When you think of high-end, one brand that probably comes to mind is Gucci.
While the Gucci brand started over 100 years ago, it wasn't until the 1950s that it became synonymous with luxury.
Now Gucci sells many different fashion items, including handbags, clothing, shoes, and accessories.
And, of course, as implied, these items come at a premium. 
You can find the Gucci affiliate program on two different platforms. The first is Viglinks which is open to Australia, France, Italy, Japan, and the United Kingdom. 
If you're in the US (which you probably are), your best bet is to find Gucci on Skimlinks. 
Gucci offers its affiliates a 7-8% commission which is pretty high for fashion or designer-based programs.
5. The Real Real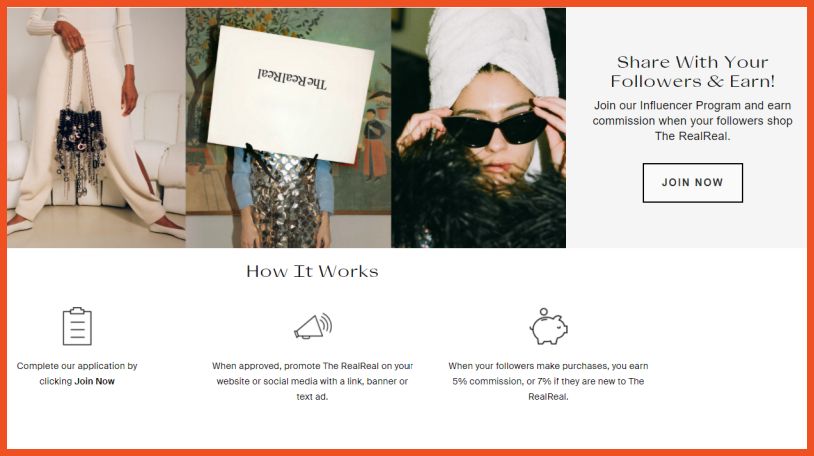 The Real Real is an online consignment shop for designer clothing, handbags, and accessories. They feature top brands like Gucci, Louis Vuitton, and Christian Dior.
The affiliate program for The Real Real is a bit different than the others covered.
Instead of paying you when you refer a customer, they'll pay you if you refer someone who sells their designer items on consignment.
The Real Real will give you $5 per item or 5% of up to $3,000 if the item sells – whichever is greater.
You can earn up to $250 for each of your referrals.
In addition, you can also sign up for their Influencer program. If accepted, you'll earn 5-7% commissions on the sales your referrals make.
6. Lulu and Georgia
If you're looking for a home decor or furniture store to promote to your high-end audience, Lulu and Georgia is a fantastic option.
This company carries modern, mid-century, and even some boho-style decor. 
Their prices are definitely on the more luxury side of the equation. For example, one of their cheapest, simple round mirrors starts at $295.
Big items like sofas are as much as $6,000.
And fortunately, Lulu and Georgia provides a decent commission rate of 10%. You can sign up for their affiliate program through Viglinks or PepperJam.
7. Nordstrom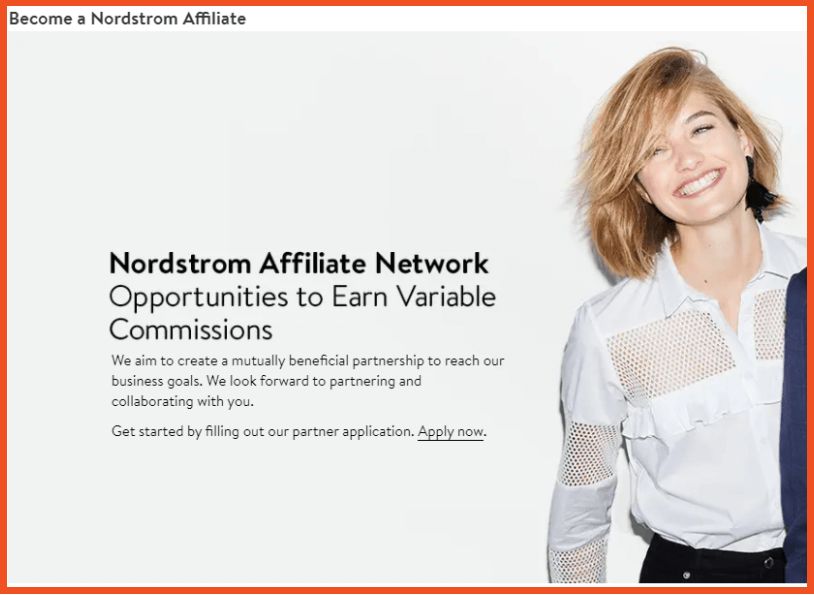 If you're looking for a high-end fashion site that encompasses all genders and ages, Nordstrom is it.
Nordstrom carries many of the biggest (and most expensive) designers today. And what's great about promoting Nordstrom is not only does this retailer appeal to the affluent, but a lot of middle-class buyers also love Nordstrom's annual sales.
Rakuten hosts the Nordstrom affiliate program.
Nordstrom offers affiliates up to 5% per sale. This is by no means amazing, but it's also not a bad commission rate for a clothing retailer.
8. Cruise Direct
Cruise Direct is an online travel agency that partners with many top travel brands to make searching for the perfect cruise easy for customers.
Cruise Direct offers cruises to Alaska, Hawaii, the Bahamas, and worldwide, including Australia, New Zealand, and more.
They offer affiliates a 3% commission, which seems like a pretty good deal compared to other cruise programs.
Their program is hosted on Commission Junction and gives affiliates a 45-day cookie.
9. Anthropologie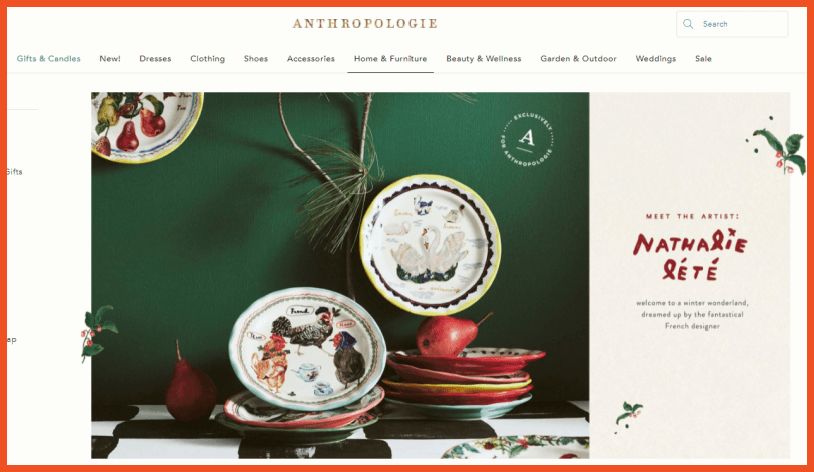 Anthropologie is a luxury site for people into modern, boho, and trendy type items. They sell clothing, accessories, and home decor.
I especially love the home decor as luxury items to promote.
Anthropologie has a wide range of stylish furniture pieces that sell for hundreds to thousands of dollars. Plus, when you promote the furniture, you can net a 10% commission which is excellent for this type of site.
Their affiliate program is open to both the US and the UK. 
You can find the link to their affiliate program on their website or you can sign up through FlexOffers.
10. Saks Fifth Avenue
Saks Fifth Avenue is a retailer well-known for carrying luxury items.
They carry designer clothing, handbags, shoes, and jewelry. 
However, the downside is that they only offer a 2.4% commission. This is much lower than Nordstroms 5% and Gucci's 10%.
However, if you're promoting high-end clothing, this may be a retailer to fall back on when you can't find the products you're looking for at the other stores.
11. Time and Place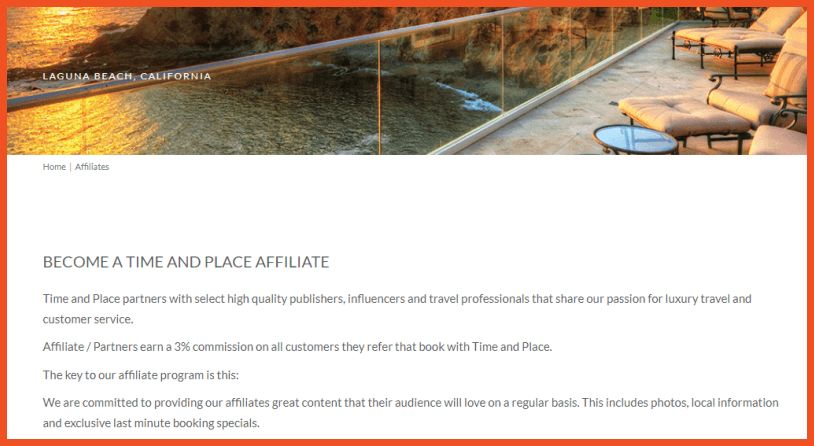 Time and Place is a luxury vacation provider with beautiful accommodations worldwide.
If you have an audience not into memberships like those from Royist, Time and Place is a good alternative. 
There are no membership fees, dozens of locations to choose from, and a complimentary concierge service to travelers.
Even though Time and Place offers high-end vacations, they don't give affiliates super-high commissions. Instead, you'll receive only 3% on the vacations your referrals books.
On a positive note, this company offers an ultra-long 365-day cookie.
12. FragranceNet
If you're looking for high-end perfumes to promote, FragranceNet probably has them.
This online retailer sells perfumes from top companies like Killian, Marc Jacobs, and Dolce and Gabbana, which sell for up to several hundred dollars.
They also carry makeup, skincare, haircare, and aromatherapy products.
The commission rate depends on what company you sign up with and what Fragrancenet is offering at the time. You can sign up to be an affiliate through Rakuten or Flexoffers.
As of right now, it looks like the commissions range from less than 1% up to 5%.
Other Programs to Promote
If you're looking for related products to promote to a high-end or affluent audience, consider some of these:
If you're looking for high ticket affiliate programs, check out the video below:
Final Thoughts
There are two ways to run an affiliate business. Either you sell a lot of low-ticket items or a smaller amount of high-ticket items.
If you're good at affiliate marketing, go with the high-ticket items.
These luxury affiliate programs can help you build a substantial monthly income without requiring you to make hundreds of sales each month. You can join whichever of these are applicable to your niche and then look for related programs to add to your strategy.