Do you enjoy taking photos and setting up scenes?
If so, you can cash in on your hobby by selling images you take of yourself and others.
(And no, I'm not talking about anything provocative.) 
Companies are always on the lookout for great pictures of everyday people doing everyday things. 
Ready to get started? Here's how to make money selling photos of yourself.
Why Would Companies Pay for Your Photos?
Today, almost every company has a blog or website. And for every blog post that is published, several photos go along with it. That means media companies are always looking for relevant images.
Publishing companies often turn to stock photography websites to find their photos. 
Even as an amateur photographer, many of these stock photography companies will allow you to contribute photos for their buyers to purchase.
While trends change from year to year, photos that showcase everyday people doing an activity almost always stay the most popular.
That means setting up scenes and taking photos of yourself, or someone else participating in an activity (even those that seem mundane) can help sell your images.
If you're ready to upload some of your best, check out these ten sites to sell photos online.
Sites to Sell Photos Online
1. Scoopshot
2. Foap.com
3. PicFair
4. Smug Mug
5. Alamy
6. Crestock.com
7. Fotomoto
8. Stocksy
9. 123RF
10. Shutterstock
1. Scoopshot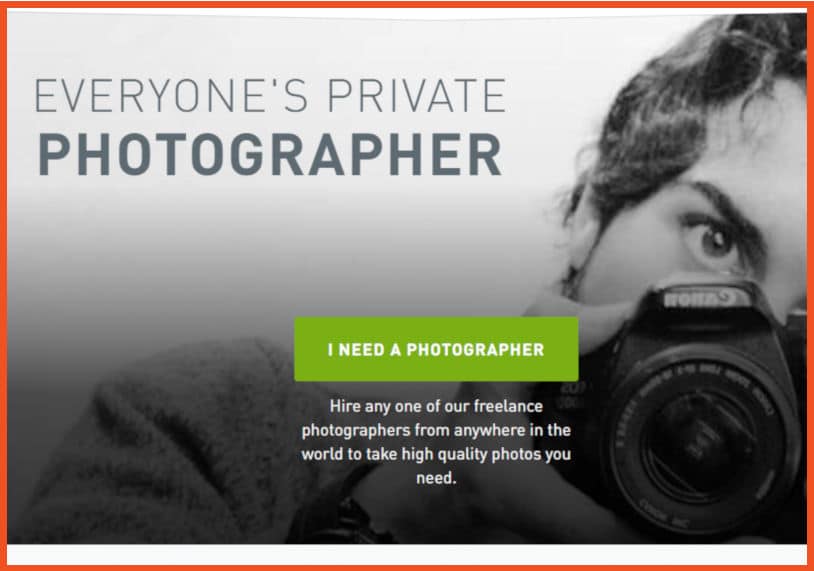 Scoopshot connects photographers with media companies looking for photos. 
To get started as a photographer, you'll need to download the app and create an account. Then, there are three ways for you to earn money.
First, you can upload photos, and businesses can browse through them and purchase the ones they like. 
Secondly, you can complete tasks. Tasks are specific requests from companies. If there are requests available in your area, you'll find them under the "tasks" section in the app.
Lastly, you can compete in photography contests.
2. Foap.com
Foap is an app available on Android or IOS smartphones. 
After you download it, you can create an account and upload photos and videos. When you upload pictures and videos to Foap, they'll be available on the marketplace for customers to purchase.
Foap will split the profits with you 50/50 for every photo and video you sell using their platform.
Aside from uploading your photos and videos, you can also participate in "missions" for brands by taking pictures or videos that follow their mission briefs. If you win the mission, you'll be awarded money.
3. PicFair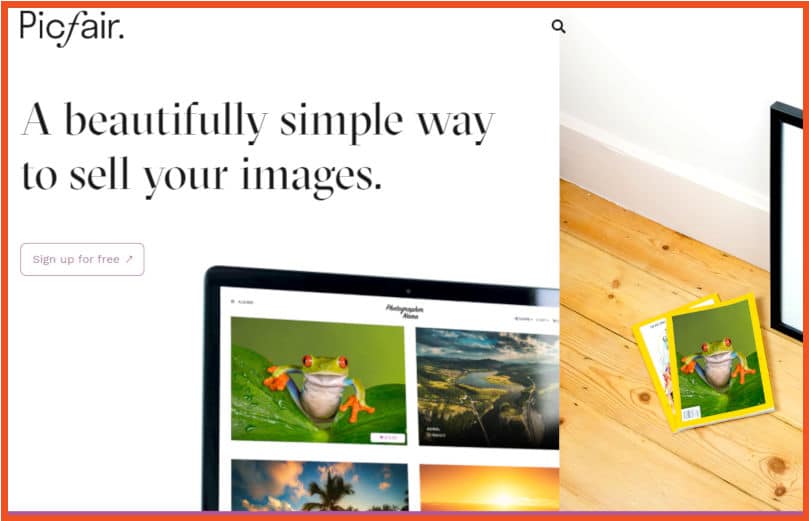 PicFair is a website centered around enabling photographers to sell their art.
Here's how it works:
As a photographer, you can upload all of your photos to PicFair. You can then bring in clients to purchase digital downloads or prints of your images. In addition, the images you upload to PicFair will be available in their marketplace for thousands of buyers to browse through and purchase.
PicFair handles the licensing for digital downloads and prints – all you need to do is upload the photos you've taken.
4. Smug Mug
SmugMug is a website that allows photographers to store, share, and sell their photos.
This website is best suited if you already have a few clients who'd be interested in buying the photos you've taken or if you do photography of other people. With SmugMug, your clients can digitally download your images or order prints.
5. Alamy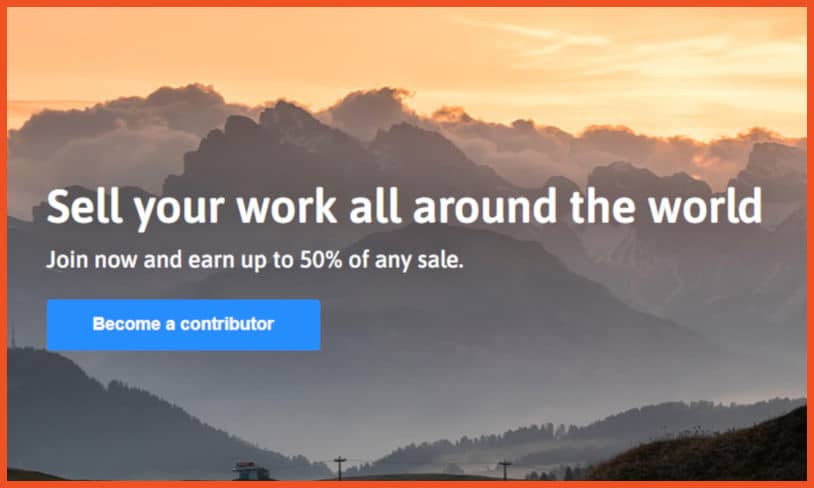 Alamy is a stock photo site that pays over $1 million to its photography contributors every month. Contributors earn up to 50% of every sale.
One of the best things about Alamy is that they give you access to an analytics dashboard. This can help you see what people are buying so you know what photos you need to create more of.
6. Crestock.com
Crestock.com is another stock photo site that enables photographers to upload and sell photos through their marketplace.
They prefer photos of people of all shapes, colors, and sizes who are actively doing something. (I.e., working, playing, swimming, sitting on a couch, etc.)
With Crestock, royalties are paid out based on how many photos you sell. For instance, if an image is downloaded 1-999 times, they'll pay you $0.25 per download. This rate goes all the way up to $0.40 per download if the image is downloaded over 10,000 times.
Photographers can request a payout as soon as their account hits $50. Crestock pays their photographers through Paypal or Skrill.
7. Fotomoto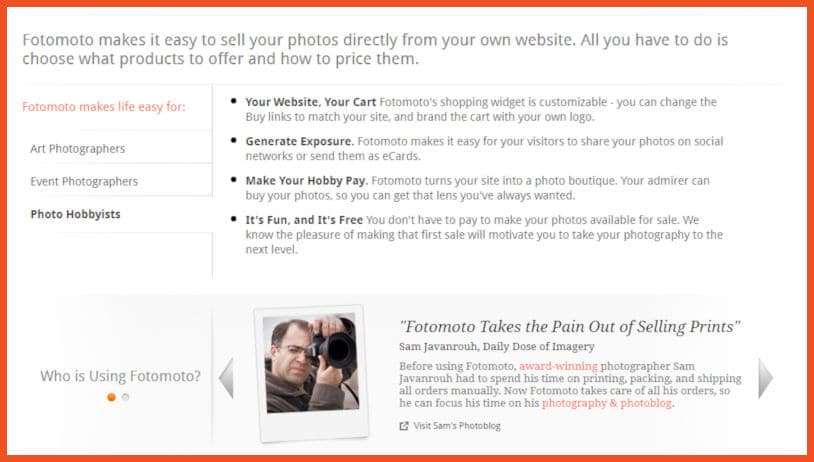 Fotomoto is a widget photographer can place on their website to sell prints. This widget has a free plan and takes care of the printing, packing, and shipping on your behalf.
If you're a new photographer trying to earn a little extra money, this is a cost-effective and efficient way to start selling your photos as prints.
8. Stocksy
Stocksy is a newish stock photography site. They work a little differently than the others, though. Instead of allowing all photographers to participate, you have to submit an application and have it approved to become a contributor.
You'll create an account and upload ten photos to use as your application portfolio to get started. If your application is accepted, you'll receive an email with steps to take.
9. 123RF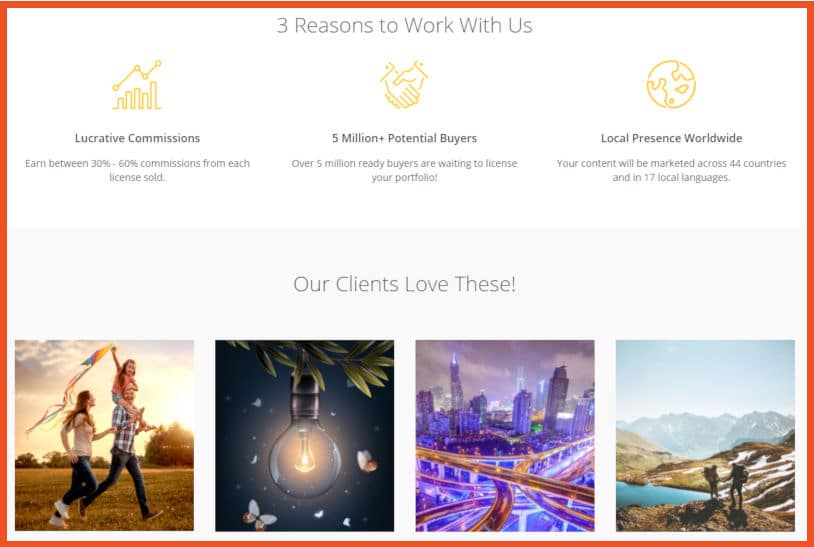 123RF is a very popular stock photo site. This site accepts contributors and offers up to 60% commissions.
The material you can upload to 123RF includes photos, vectors, and videos.
The payment model on 123RF is based on the number of downloads your images receive. For example, if your pictures have 1-999 downloads, you'll receive $0.216 per download. For images that have over 1,000,000 downloads, you'll receive $0.432 per image.
10. Shutterstock
Shutterstock is a well-known stock photography website. One of my favorite things about this site is that they release a monthly "shot list" so that contributors know which photos are likely to be searched for in the coming months.
Over the past 15 years, this company has paid more than $1 billion to its contributors.
Shutterstock accepts new contributors, and signing up is quick and easy.
Conclusion
If you've got an artistic eye, you can make money selling photos of yourself and you won't need to try doing some unethical ways to make money. It will probably take a bit of practice and lots of uploads before you start pulling in a consistent income.
However, over time and with hard work, this is a side gig that could replace your day job.
Looking for more ways to earn money?
Check out the video below to learn how I went from $0 to $3,000,000: