Online Social Media Jobs That Pay $30/Hour
Availability to start this week
Make $25-$35 Testing New Apps
Just need access to phone/tablet
5+ hours per week available
The food and dining industry is huge. 
Billions of dollars HUGE.
But unfortunately, most restaurants don't have their own affiliate programs.
And since people go inside to eat, rather than clicking a link online, you have to think creatively about restaurant affiliate marketing.
Luckily, whether your audience consists of consumers wanting to purchase food or restaurateurs looking to make the most of their business, you can find a program to fit.
Here are the best restaurant affiliate programs by category.
Best Restaurant Affiliate Programs (Food and Delivery)
If your audience is primarily consumers who want to save money on food, save time, or find the latest and greatest restaurants, this category is for you.
1. Restaurant.com Affiliate Program

Restaurant.com is like the Groupon of food. 
Consumers can browse restaurants by zip code and purchase significantly discounted gift cards or gift certificates.
For example, there's a pizza place in my area that offers $25 gift certificates for only $10.
As an affiliate for Restaurant.com, you'll earn 24% of every gift certificate one of your referrals purchase. Plus, you can earn 2.4% on "specials," which are physical products sold at a deep discount.
Aside from purchasing gift certificates to local restaurants, there are also national deals featured. For instance, you can buy gift cards to Atlas coffee club valued at $10 for only $4.
This is an excellent program if your audience members want to save money or find new restaurants to try out.
You can find the Restaurant.com affiliate program on FlexOffers. In addition to the high commissions, they also give affiliates a 45-day cookie.
2. GrubHub Affiliate Program
Through the GrubHub app, consumers can order and have food delivered to them. 
Here's how it works: Consumers download the app, type in their address, and GrubHub shows them all the local restaurants that deliver or offer pickup.
As an affiliate for GrubHub, you'll get $5 for referring new customers who make a purchase. Unfortunately, they only offer affiliates a 24-hour cookie.
If you want to become an affiliate, you'll need to apply on their website.
3. PostMates Affiliate Program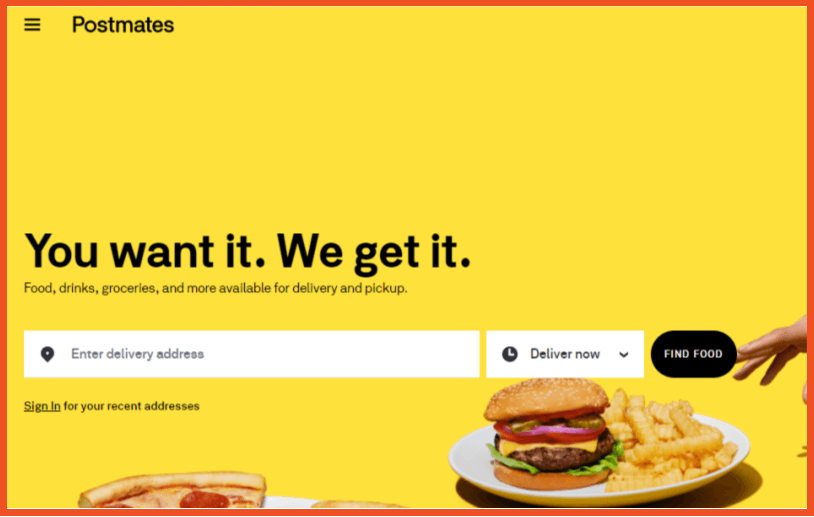 Unfortunately, many food delivery services don't have affiliate programs. But PostMates does. PostMates delivers fast food, groceries, drinks, and more to consumers in select cities. 
When consumers visit the PostMates website or download the app, they can input their location and see a list of restaurants with delivery.
As an affiliate, PostMates will give you $10 for every new customer you send their way. They offer a seven-day cookie, which isn't great but better than GrubHub. They host their affiliate program on Impact.
4. Darden Restaurants Affiliate Program
While it can be hard to find affiliate programs for actual restaurants, we found one with Darden.
If you didn't know, Darden is the parent company of a string of popular diners. These restaurants include LongHorn Steakhouse, Olive Garden, Cheddar's, Yard House, Bahama Breeze, The Capital Grille, Seasons 52, and Eddie V's.
On the Darden website, consumers can purchase e-gift cards and traditional gift cards that are good for all Darden chains. 
While the commission is pretty low at 2%, you could make a decent income by referring corporate clients who need to purchase gift cards for employees.
You can find the Darden affiliate program on Commission Junction and FlexOffers. They offer affiliates a 14-day cookie duration.
5. LivingSocial Affiliate Program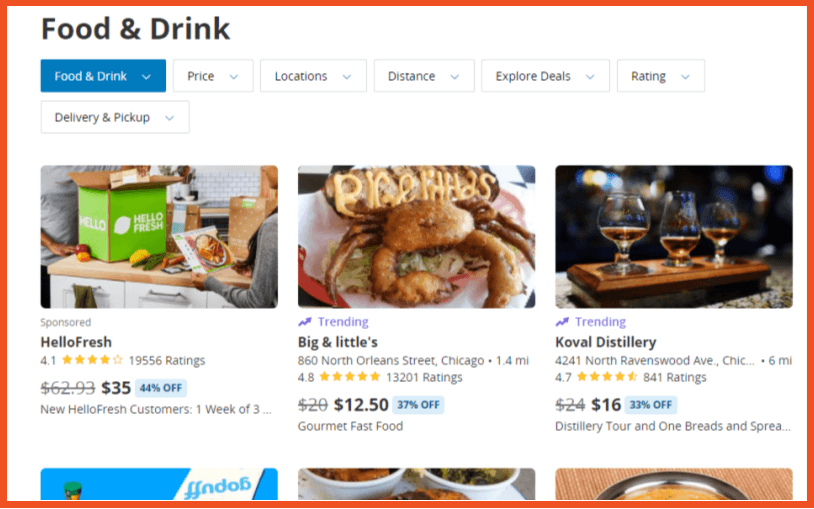 If you have an audience of money savers trying to go out for cheap, Living Social is an excellent program.
LivingSocial is a virtual mall where retailers and restaurants post specials of up to 50% off (sometimes more.) Consumers can go on this website, select their location, choose the food and drink category, and receive a list of restaurants with deeply discounted deals.
If one of your referrals buys one of the deals, you'll earn a 6% commission.
Plus, since there are so many options on LivingSocial, you can earn even more when your referrals make purchases in other categories.
Best Restaurant POS and Tech Affiliate Programs (High Paying)
While you can earn a decent income if you have high volume in the consumer restaurant niche, you can earn FAR more if you appeal to restaurant owners.
Here are some of the best Restaurant POS and tech affiliate programs.
1. TouchBistro Affiliate Program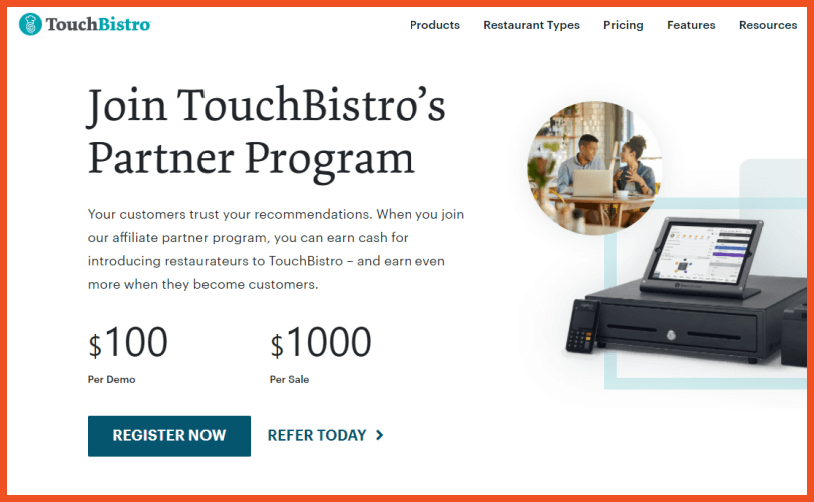 TouchBistro is a point-of-sale system for restaurant owners. It allows restaurants to make reservations, manage tables, take orders, split bills, create menus, and more.
It's basically an all-in-one organizational tool that can make running a busy restaurant just a little bit easier.
And the best thing about it is that it's customizable.
Restaurant owners can choose from add-ons like loyalty programs, online food ordering, and gift cards. In addition, the POS sale system has several versions based on the type of restaurant.
As a TouchBistro affiliate, they'll give you $100 for every demo and another $1,000 when you make a sale. You can sign up as an affiliate on the TouchBistro website.
2. Upserve Affiliate Program
Upserve is another upscale point of sale system for restaurant owners. They offer a POS system and a complete restaurant management system.
On their POS system, servers can easily accept payments and split bills. The POS also has analytics that help restaurant owners evaluate sales, determine which server makes the most sales, and more.
Like TouchBistro, restaurant owners can add many other services. Some of these services include tableside ordering, online ordering, menu management, inventory, and a loyalty program.
As an Upserve affiliate, you can earn money for demos and sales. Depending on the tier, they'll pay you up to $2,500 per sale.
If you want to become an Upserve affiliate, you'll need to apply on their website.
3. Restaurant Engine Affiliate Program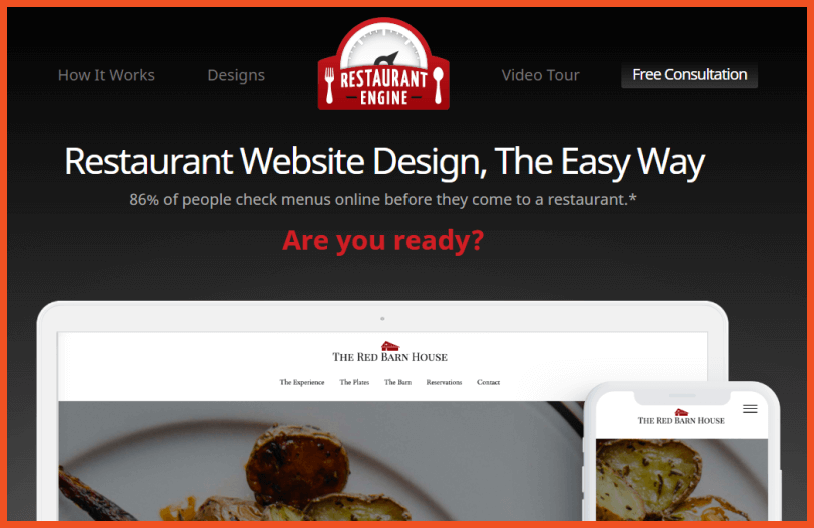 Restaurant Engine is a website design service for restaurant owners. 
According to Restaurant Engine, over 86% of customers check a menu online before visiting a restaurant. (Which doesn't seem far-fetched to me.)
Restaurant Engine has design templates customers can choose from. Plus, they set up the website for only $199 and then keep it running for a monthly fee.
As an affiliate, you can earn $100 for each successful referral you make. 
Best Restaurant Supply Affiliate Programs
If your market is restaurant owners, you know that they're constantly running through supplies, always ordering more.
If you have a niche website covering supply programs, consider adding some of these.
1. Tundra FMP Affiliate Program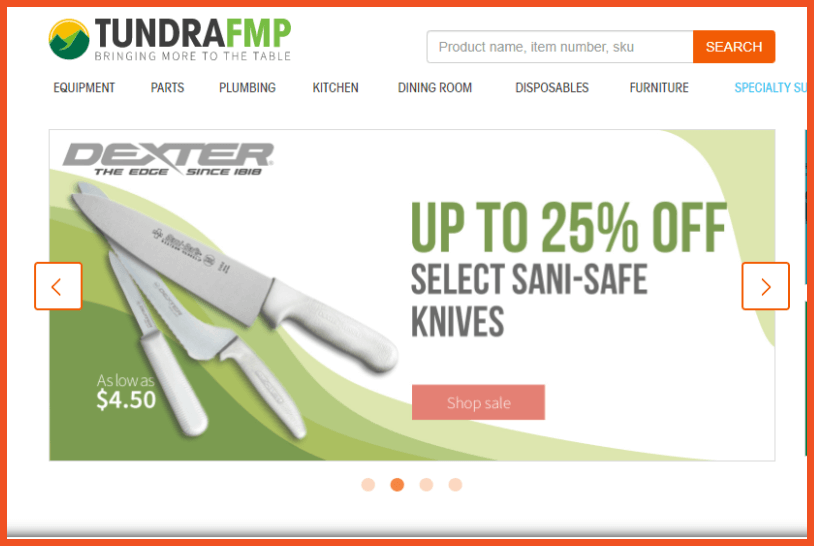 Tundra is one of the largest restaurant suppliers. They carry everything from small items like disposable cutlery to large equipment like refrigeration units.
They are a go-to supply chain for restaurants, with over 60,000 items for sale.
Tundra offers a decent 5% commission with a 30-day cookie and an average order value of $180. They host their affiliate program on Rakuten.
This is a great program if your website appeals to restaurant owners. They'll likely be able to find any supplies they need at Tundra.
2. KaTom Restaurant Supply Affiliate Program
KaTom is a restaurant supply company with thousands of products ranging from food prep equipment to janitorial supplies.
While KaTom doesn't have as high of commission rates as Tundra, they have a much higher average order value at $697. Plus, they have a great conversion rate of almost 8%.
If you're a high-earning or high-converting affiliate, you can negotiate a commission rate of up to 4%.
KaTom has its affiliate program on Commission Junction. The cookie duration is 15 days.
3. Napkins.com Affiliate Program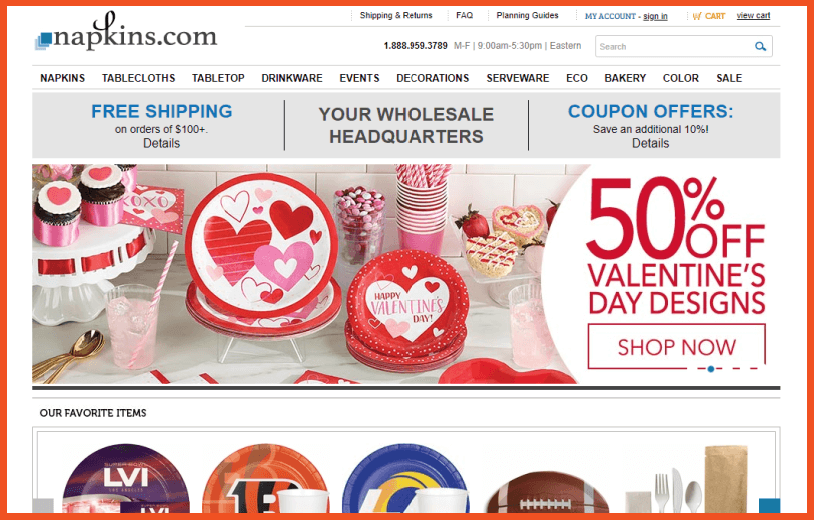 As the name suggests, Napkins.com sells, well, napkins. But that's not all.
They also sell tablecloths, drinkware, decorations, server ware, and bakery supplies to cafes, restaurants, and caterers.
Napkins.com has a wide product selection with thousands of choices.
The average order value at Napkins.com is over $100. And best of all, they offer a pretty high 13% commission and a 60-day cookie. (However, if you run a coupon/deals website, you only get a 2% commission.)
4. Lollicup Affiliate Program
Lollicup is among the number one drink and drinkware suppliers in the restaurant industry. They have food and drinks, restaurant supplies, and janitorial supplies.
They even offer custom printing on hot and cold cups, drink sleeves, takeout containers, and more.
You can find the Lollicup affiliate program on Commission Junction. They give affiliates a base commission of 3%, although their website states commission can be as high as 7%. They also offer a long 45-day cookie.
Related Affiliate Programs
If you're looking for affiliate programs related to the restaurant industry, consider some of these:
Final Thoughts
The commissions for restaurant affiliate programs are all over the place. While you can make a decent income in the consumer space with high volume, the big money comes with promoting to restaurant owners.
If you're able to get four restaurant owners per month to sign up for a new POS sale service, you'll earn from $4,000 – $10,000.
Plus, you can promote supply companies to get those earnings even higher.
If you're new to affiliate marketing and want guidance on the best way to get started, sign up for our free webinar here.