Online Social Media Jobs That Pay $30/Hour
Availability to start this week
Make $25-$35 Testing New Apps
Just need access to phone/tablet
5+ hours per week available
Even though drones have been around for a long time, their popularity has only recently begun to skyrocket.
And what's even crazier is that the drone industry is supposed to grow by over 15% in the next five years. 
So, not only will more and more people purchase drones, but jobs for drone operators will increase dramatically.
Which makes right now a pretty great time to be in the drone business.
Want to know which affiliate marketing method works best for you? Answer the short quiz below:
If you have an audience of drone enthusiasts, here are the 15 best drone affiliate programs for you to check out.
15 Best Drone Affiliate Programs in 2023
1. AerialTech Affiliate Program
2. ABJ Drone Academy Affiliate Program
3. Gearbest Affiliate Program
4. OCLU Affiliate Program
5. GoPro Affiliate Program
6. Cafago Affiliate Program
7. VeryDrone Affiliate Program
8. DroneVideos.com Affiliate Program
9. DroneNerds Affiliate Program
10. B&H Photo Affiliate Program
11. SwellPro Affiliate Program
12. Pilot Institute Affiliate Program
13. DroneU Affiliate Program
14. Adorama
15. Snaptain Affiliate Program
1. AerialTech Affiliate Program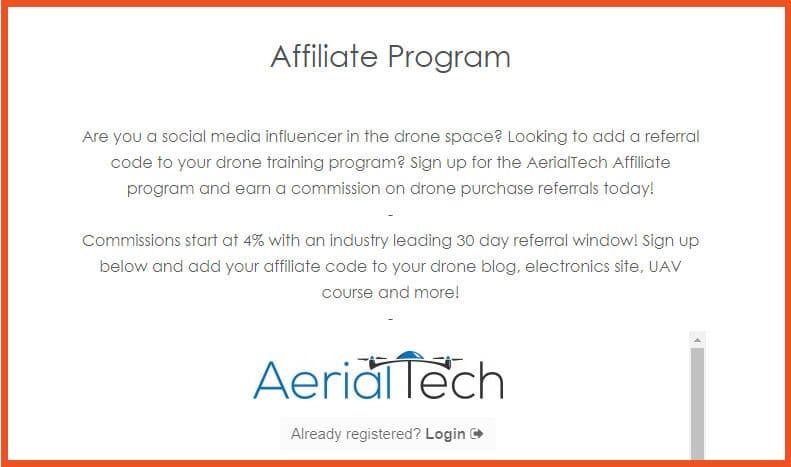 AerialTech is a Canadian-based drone and drone parts seller. They've been operating out of Alberta, CA, since 2014 and ship to Canada and the US. Aside from having a wide array of products, AerialTech also offers free flight training or demos on most models.
In addition, they offer repairs, accessories and even have a wholesale program.
AerialTech has its affiliate program hosted on Refersion. They offer affiliates a flat 4% commission on sales and a 30-day cookie.
2. ABJ Drone Academy Affiliate Program
ABJ Drone Academy offers special drone training, including drone simulations, prep courses, and more. They also have classes for pilots wanting to specialize in surveying, cell tower inspection, and photography, to name a few.
Drones are expensive, and the courses at ABJ Drone Academy can help new drone owners get a feel for flying without damaging their equipment. 
Also, if your audience wants to use their drone commercially and live in the US, this academy can help them prepare for their FAA PArt 107 exam. This is the exam needed to be a licensed drone operator.
ABJ Drone Academy offers excellent affiliate commissions based on the number of sales an affiliate makes.
For example, affiliates who make 1-9 sales receive a 40% commission, 10-39 sales a 50% commission, 40-99 sales a 60% commission, and over 100 sales will net an affiliate a 70% commission. (These are based on sales within a 30 day period.)
The cookie length for affiliates is 30 days.
3. Gearbest Affiliate Program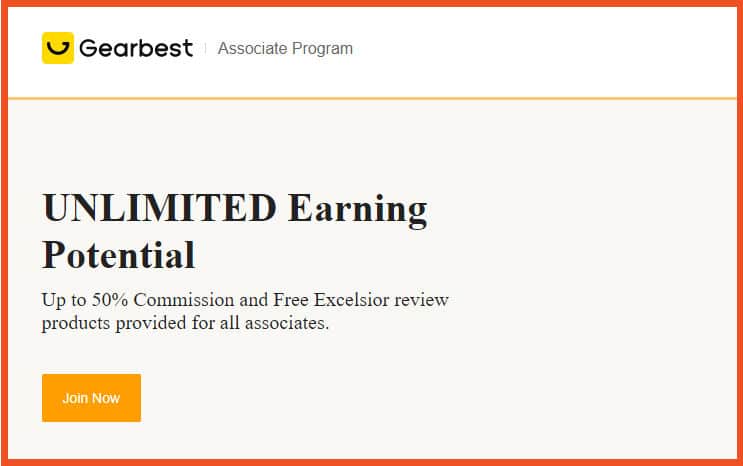 Gearbest is an online bargain store.
It's not a place you'd send experienced drone users to look for a new drone, but it can be helpful for those on a tight budget or looking for drone toys. The drones and drone toys at Gearbest range from $20 – $2,300. 
The commissions at Gearbest are different for each type of product. For example, for drones, affiliates can earn 6-9% based on the number of sales they bring in.
4. OCLU Affiliate Program
OCLU is a low-profile, 4k action camera. It's waterproof, has interchangeable batteries, wind reduction capabilities, motion recording, and is GPS compatible. This camera would work great with a drone.
Best of all, the OCLU is priced at only $199 – meaning your audience can get a decent camera for their drone without paying a thousand or more dollars.
OCLU hosts its affiliate program on Share a Sale. They offer affiliates a 10% commission on all sales and a 30-day cookie.
Info from the last 30 days indicates that the average order value is $200.27, and the average commission is $21.07.
5. GoPro Affiliate Program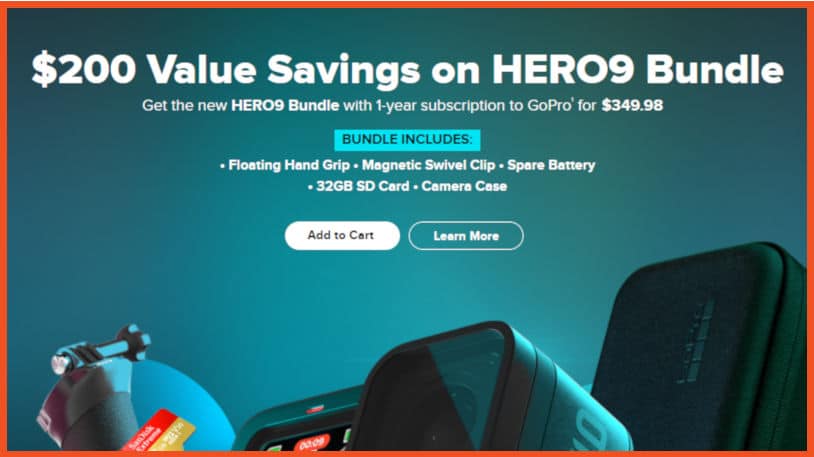 When it comes to cameras, GoPro is the most recognized name for action shots. The GoPro cameras are high quality and an excellent option for drones.
The GoPro cameras range in price from about $280 – $400. GoPro also sells a variety of mounts, lighting gear, and accessories.
The GoPro affiliate program is hosted through PepperJam and offers affiliates a 5% commission on sales.
Even though 5% is pretty low, GoPro is such a widely known brand that these cameras aren't a hard sell.
6. Cafago Affiliate Program
Cafago is another giant online budget electronics store. Their products range from cell phones to led lights to drones.
They have dozens of drones listed under the "quadcopter" section of their websites. The drones range in price from less than $100 up to $2,200.
If you're looking for a drone affiliate program that has a ton of selection, this is it.
The Cafago affiliate program is on the Share a Sale platform. Cafago offers affiliates a 6% commission and a 45-day cookie.
According to stats from the past 30 days, the average sale amount is $195.18, and the average commission is $9.68.
Probably the biggest downside to this program is an extremely low conversion rate of less than 1.5%.
7. VeryDrone Affiliate Program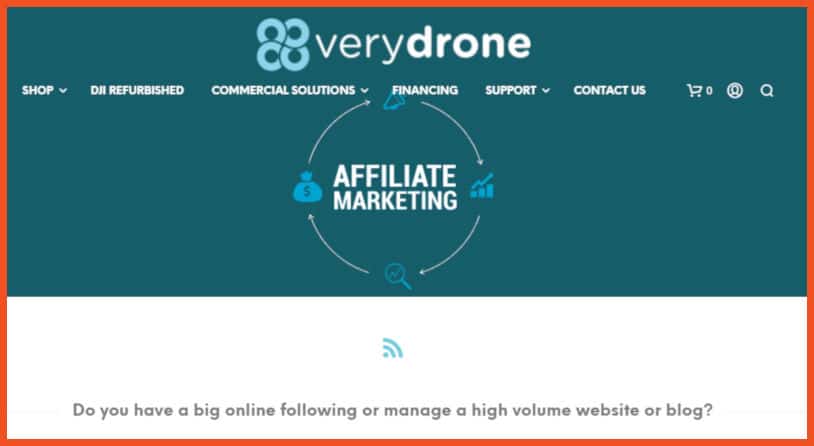 VeryDrone is a high-quality drones dealer offering DJI and Autel models. VeryDrone not only offers drones and accessories but also provides financing. This is perfect if you have an audience in need of top-of-the-line drones and financing options.
Aside from selling to individuals, VeryDrone has commercial solutions for crop spraying, agricultural inspection, search and rescue, and general inspection.
The commission at VeryDrone is only 5%, but some of the products are several thousand dollars, meaning as an affiliate, you can still net a high commission.
8. DroneVideos.com Affiliate Program
This program is a little different than the rest. At DronesVideo.com, they don't sell drones, accessories, or training. Instead, they sell…drone videos. 
This is a good program if you have someone who needs drone services (videos or photos) but isn't wanting to purchase a drone for themselves. This could also be an excellent program if you know realtors who need real estate drone videos.
DroneVideos.com serves all 50 states.
This company gives affiliates 10% on the sales of drone services and stock video footage. They also have a program that will allow you to refer other affiliates.
9. DroneNerds Affiliate Program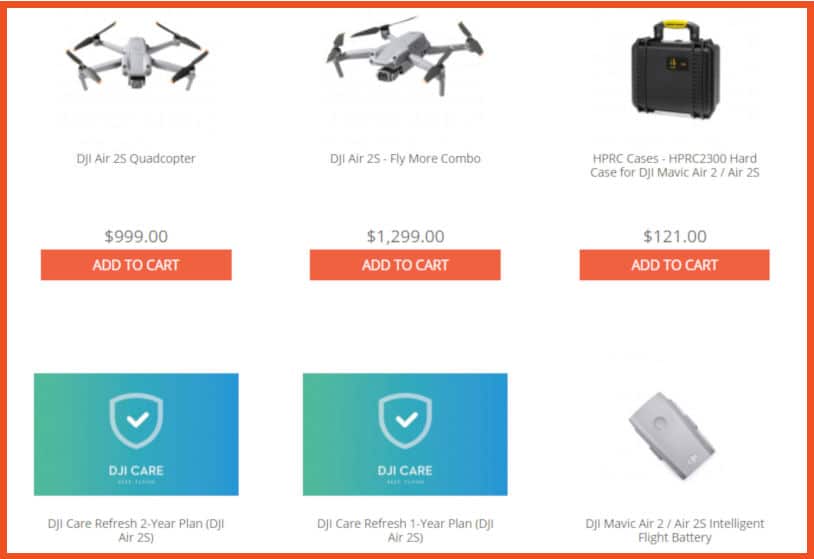 DroneNerds is the largest drone retailer in the United States. 
They have options for individuals and enterprises – carrying drones fit for hobbyists up to super-advanced drones that can assist firefighters or farmers.
Although they have a few different drone brands, DroneNerds specializes in DJI. They sell an array of new DJI models as well as refurbished ones.
As great as their website and product selection is, there is a downside – DroneNerds offers a pitifully low commission at only 1% of sales. This is why we recommend promoting DroneNerds products only when you can't find the offer you're looking for anywhere else.
10. B&H Photo Affiliate Program
B&H Photo is a New York-based audio and video retailer. They sell many different photography and videography products, including drones. On the B&H website, customers can search through drones based on categories such as racing, beginner, cinematography, commercial and more. 
They have top brands, including DJI, Parrot, Blade, and Autel.
The downside of B&H Photo is that their affiliate program only pays a base commission of 2%. While that's an improvement over Drone Nerds, it still isn't great. However, since the B&H website boasts over 200k products, this is still an excellent program to be a part of.
11. SwellPro Affiliate Program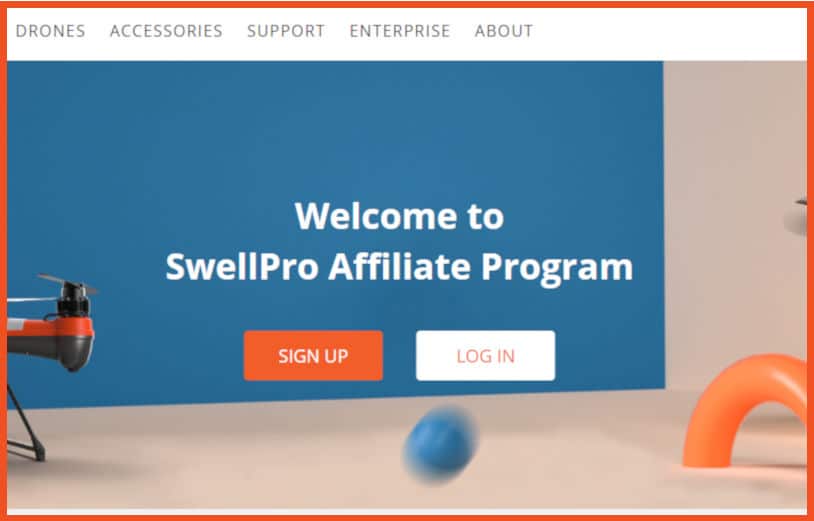 If your audience needs a drone that's safe to come into contact with water, SwellPro is a program you should be a part of. SwellPro developed the world's first waterproof drone, and their models take high-quality video. 
These are the perfect drones for anyone wanting to take boating, swimming, or fishing pictures. 
Their main product, the SplashDrone 3+, starts at around $1k and goes up depending on the intended use.
SwellPro pays its affiliates a 5% commission, which isn't bad compared to similar sites. They also give affiliates a 60-day cookie.
12. Pilot Institute Affiliate Program
The Pilot Institute sells a Part 107 Commercial Drones License course. Part 107 is a federal test that drone operators need to pass to use their drones for commercial purposes. 
Aside from the Part 107 course, Pilot Institute offers many other drone courses, including free ones to help users master their DJI drones.
Pilot Institute pays its affiliates a 20% commission on all sales. Their Part 107 course costs $149, which could net you, as an affiliate, a commission of almost $30 per sale.
13. DroneU Affiliate Program
DroneU offers both in-person and online drone training. In addition, they provide online Part 107 FAA training courses which include practice tests. They also sell many courses that range from beginner instruction to comprehensive aerial photography to real estate videography and more.
Their affiliate program is hosted on iDevAffiliate. They pay commissions of 15% per sale.
14. Adorama
Adorama is an audio, video, and electronics store. They have been in business for more than 40 years and sell over 250k different products, including DJI drones and accessories, as well as other brands. 
Adorama pays affiliates a base commission of 2%. The good news is that even though the commission is on the lower side, the average sale value is over $500.  
15. Snaptain Affiliate Program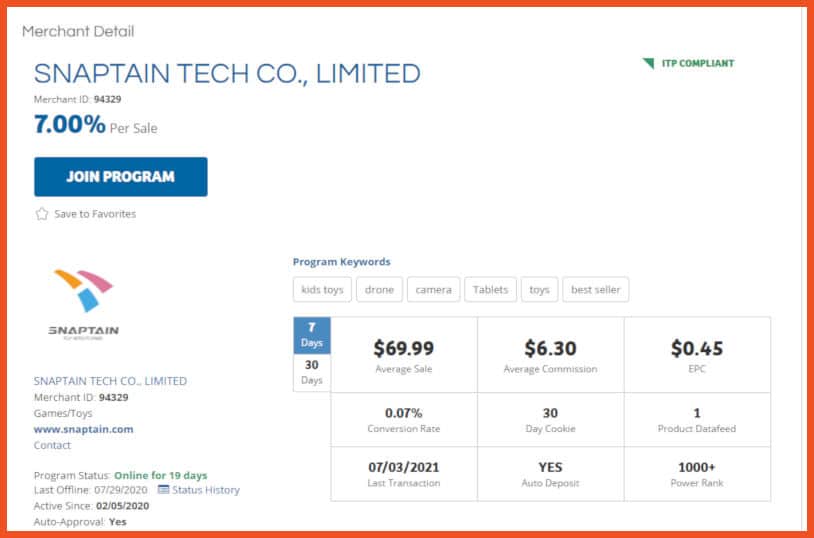 Snaptain is a brand of drones with kids, beginners, and advanced models. Their pricing ranges from $30 to $250. Some of their advanced drones are GPS compatible and capable of recording in 4k.
They host their affiliate program on Share a Sale. They pay affiliates a base rate of 7% with the ability to go up to an 8% commission, depending on the affiliate's sales volume.
Conclusion
If you're looking for the best drone affiliate programs, you have a lot to choose from. You can go for the high-dollar drones that will net you a higher commission but fewer sales or opt for the high-traffic but low-priced options.
As a drone affiliate, you can also easily work in some photography affiliate programs into your marketing strategy or check out our list of high-ticket affiliate programs or watch the video below.