Online Social Media Jobs That Pay $30/Hour
Availability to start this week
Make $25-$35 Testing New Apps
Just need access to phone/tablet
5+ hours per week available
You know how annoying robocalls are.
First, you see an unknown number pop up on your phone. You debate on whether or not to answer it. Worried it could be something important, you do.
Then, you're greeted by an automated message or someone trying to sell you something.
You hang up. And block the number.
But, if you want to cash in on the annoyance, you shouldn't stop there. Here's how to make money from robocalls.
Can You Really Make Money from RoboCalls?
From the FCC, The Telephone Consumer Protection Act of 1991 says yes, you can make money from robocalls.
It is illegal for businesses to send unsolicited advertisements via the phone, and the companies who do can be on the hook for $500-$1,500. Maybe even more if they repeatedly call you.
But that doesn't mean it's easy to make money from robocalls. (If you want easy ways to make money, try these.)
To cash in, you'll have to follow several steps and request a payout from the company themselves. 
Here's what you need to know.
How to Make Money from Robocalls: Step by Step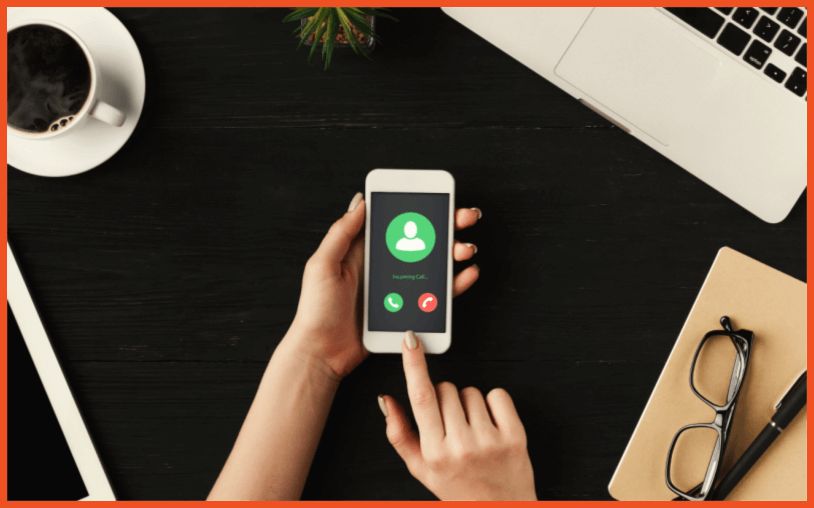 Turning robocalls into cash is something you can do, but it requires a lot of strategizing and work. Consult a consumer attorney if you have legal questions or are having a hard time.
Step 1: Add Your Phone Number to the Do Not Call Registry
The law says that consumers can demand money from robocallers if the caller does not have the recipient's "prior express invitation or permission."
And the best way to prove the caller doesn't have permission? Put your number on the Do Not Call Registry.
The Do Not Call Registry is governed by the FTC and is a way to stop telemarketing and sales calls for consumers who don't want them.
Here's how to register:
Enter your info

You'll receive a confirmation email which you'll need to click a link in within 72 hours of registering.
Signing up will stop unwanted sales calls from telemarketers and salespeople who abide by the list. However, it will not stop debt collectors, political calls, surveys, and charitable calls.
Also, companies with whom you've recently done business will still be able to call you as well as anyone you've given written permission to. However, if you ask either of these groups to stop calling, they must.
Step 2: Answer Robocalls and Get as Much Info as Possible
Now that you have your number on the Do Not Call Registry, it's time to do some fishing.
Instead of ignoring unknown numbers, start answering them and gathering as much info as possible.
(Tip: You can tell if the call is a robocall by listening for a click before they transfer you to a real person, or you'll hear an automated sales message as soon as you say "hello.")
Every time you receive a robocall, try to talk to a live person. Play along with the sales call and gather as much information on the company as possible.
Figure out the company's name, headquarters, phone number, etc.
You can then hop on Google and do some basic research to verify the company's phone number and address.
Step 3: Gather Proof (Your Phone Records!)
Before you can send a demand letter asking for money, you need proof of the call. So, locate your phone records, print them out, and take note of each time a robocaller has contacted you.
Step 4: Write and Send a Demand Letter
Now is the most challenging part and where a good consumer attorney can come in. (Although you can find free demand letters to use online.)
You need to write a letter demanding a settlement.
Most telemarketers know that it's illegal to call you if you're on the Do Not Call Registry. And they know the consequences.
So you need to send them a demand letter with proof of the calls.
Your demand letter needs to be very concise. It should include the following:
When the robocalls started

The damage the robocalls caused you

The compensation you're asking for

A timeline with consequences (I.e., will you take them to small claims court, etc.)
You can both mail and email this letter to them.
Step 5: Wait and Negotiate
From here, you'll need to wait for a response. In your demand letter, you should have given a timeframe. This timeframe will guide you on how long you need to wait.
The company may contact you and try to settle for less. You can then decide whether to accept their offer or counter them.
If you do accept their offer, they'll send payment.
If they don't respond or agree to pay you, you can contact an attorney and decide whether or not you'd like to take them to small claims court.
If you find that you're successful, rinse and repeat. You can follow the same steps for each sales company that contacts you without permission.
Another Method: Use the Do Not Pay App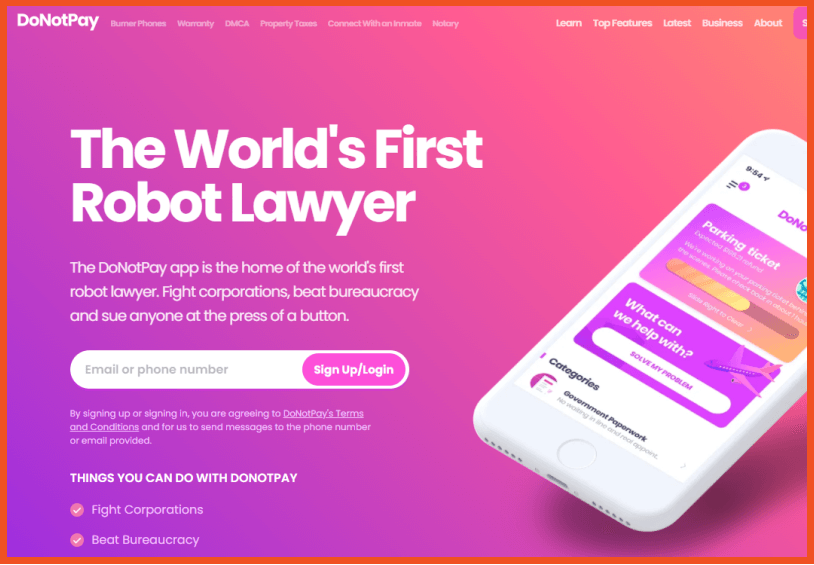 If doing all the work yourself seems daunting, there's an app that can help. And it has some super cool features.
The DoNotPay app is a robot lawyer that has tons of features, including robocall compensation.
And it will help sue robocallers for you.
Here's how it works:
When you sign up for the DoNotPay robo revenge, the app will first guide you to put your phone number on the Do Not Call Registry.
The app will then generate a fake credit card number for you to give to robocallers. When the caller tries to run DoNotPay's phony credit card, the app will receive important information from the company.
DoNotPay will then forward you all the information they obtained from the credit card transaction, which you can use to sue the robocaller.
And while DoNotPay isn't free, it's only $36 per year and comes with many other useful features.
Last Method: Try the Robocalls.Cash Kit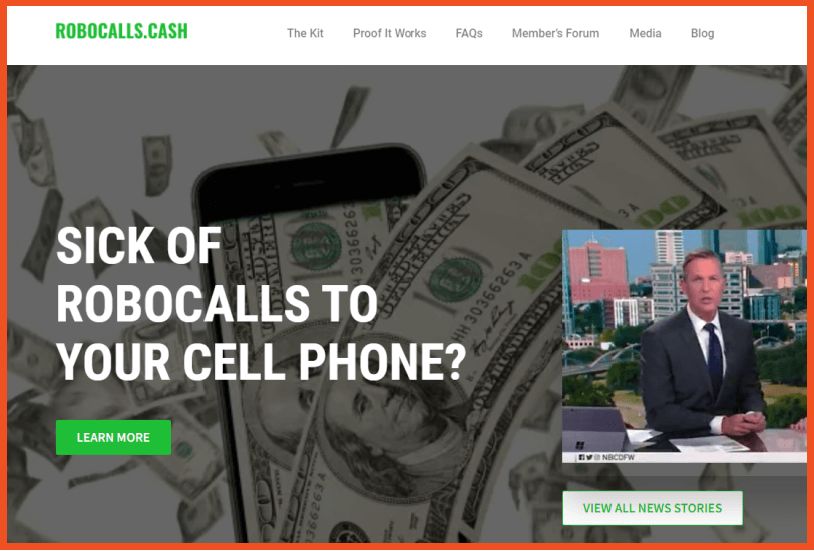 There's one more popular method for cashing in on robocalls. And that's The Kit from Robocalls.cash.
This kit is relatively popular and only $47. (Although you have to pay an extra $29 per month to access the members' forum.)
It walks you through how to get the information you need, what to do if the company gives you a fake number, and provides you with template letters for making your demands.
They even have a gallery displaying all the checks members received from following the kits' advice.
So, if you'd rather have the information in a kit than an app, this is worth looking into. It's also a good resource if you need help constructing your demand letter.
Frequently Asked Questions
What types of robocalls are legal?
Not all robocalls are illegal. In fact, even after registering on the Do Not Call list, you'll still receive some unwanted phone calls.
The following are all legal:
Political Calls – Unfortunately, all types of political calls are legal, and you can't block them by registering on the Do Not Call list.
Charities – Charities are allowed to call and ask for money.
Surveys – Surveys in which the caller doesn't make a sales pitch.
Businesses you've permitted to – If you've signed up to be contacted by a company, they can call you. If you want them to stop, simply ask.
Informational calls – This can include calls confirming appointments or giving basic info.
Do I need an attorney to make money from robocalls?
So here's the thing: you don't necessarily need an attorney to make money from these calls, but having one won't hurt.
You can start the process yourself. But if a company refuses to comply with your demands, you'll have to decide whether or not to sue the company in small claims court. If you do, having an attorney is a good idea.
How do you block robocalls?
If you're more interested in blocking robocalls than you are cashing in on them, you have two options.
First, you can manually block each call after it comes in. While this will vary depending on the make and model of your phone, you can usually do this by going to the call and clicking the settings and then "block."
The second method is to download a call blocking app. Go into the Apple Store or Google Play store (depending on your phone) and search for call blocking apps. Look for ones with a high rating.
How do robocallers make money?
While there are many ways robocallers make money, one of the biggest is getting consumers to make a purchase. Even though only a tiny percent of consumers give their credit card info to robocallers, it's still enough to be profitable for them.
Other robocallers may fish for personal information rather than try to make a sale.
Final Thoughts
If you want to take revenge on robocallers, do it. It might be hard work -at least at first – to make money from robocalls, but if you follow these steps, you can cash in up to $1,500 per call.
If you do some digging, you'll find people who've made five figures in a year's time following this method.
To get started, put your number on the Do Not Call list, keep your phone records, and get as much information from the company as possible. If you want help, consult a consumer attorney or download the Do Not Pay app.