Money-making ideas are everywhere.
If you can think of an idea and market it right, somebody will pay you.
Seriously, people have been making money in strange ways for decades. Now, with the internet, the possibilities are even greater.
Here are 14 weird things you can get paid to do online.
Just a quick side note – This list is for informational purposes. I don't endorse or recommend some of these side hustles, but I want to highlight that there are TONS of ways to earn money, including some bizarre ones.
Weird Things You Can Get Paid to Do Online
1. Create Mukbang Videos
2. Spruce Up Online Dating Profiles
3. Build Assets in Second Life
4. Listen to Music
5. Draw Cats (Or Anything Else)
6. Work as a Virtual Babysitter
7. Get Good at Axie Infinity
8. Type Out Closed Captions
9. Sit on an Online Mock Jury
10. Cast Spells for Money
11. Watch Advertisements
12. Work as a MatchMaker
13. Share Your Opinions on New Movies
14. Play Video Games Professionally
1. Create Mukbang Videos
Mukbang started in South Korea and has become a worldwide phenomenon.
If you've never heard of it before, it's when creators record themselves eating large quantities of food. These videos are either live-streamed or put on YouTube for an audience to watch.
And if you think that this is too niche to make money, you'd be wrong.
Really wrong.
A quick scroll through YouTube, and you can see that some of these creators receive hundreds of thousands to millions of views on each of their videos.
And, of course, any video that receives at least a few thousand views has the opportunity to be monetized.
While these creators make money from YouTube ads, that's not the only way they're making money. They're also padding their pockets by offering merch and exclusive Patreon content.
2. Spruce Up Online Dating Profiles
I think it's fair to say that meeting people online is as (if not more) popular than meeting people in person.
And why not? Online dating allows you to meet a broader scope of people, which was never possible for previous generations.
But the problem with online dating is that most people don't know how to capture themselves in a good light. As a result, their profiles are not only chock full of grammatical errors, but they don't know how to highlight the best things about themselves.
Which is where you come in.
If you're a great writer interested in dating profiles, you can help out single hopefuls by offering your services. 
You can advertise on Fiverr or start your own agency.
Since this is a specialized service, you can earn $50+ per hour quite easily. 
3. Build Assets in Second Life
If you've ever watched The Office, you've probably heard of Second Life. 
And (maybe), to your surprise, it's a real game. A real game that you can make money with.
Second Life is an online world where you build an avatar that looks like you and perform the things you do in your everyday life – hence the name Second Life.
But aside from carrying out your everyday activities, you can also build assets, like real estate and businesses that can earn you actual money.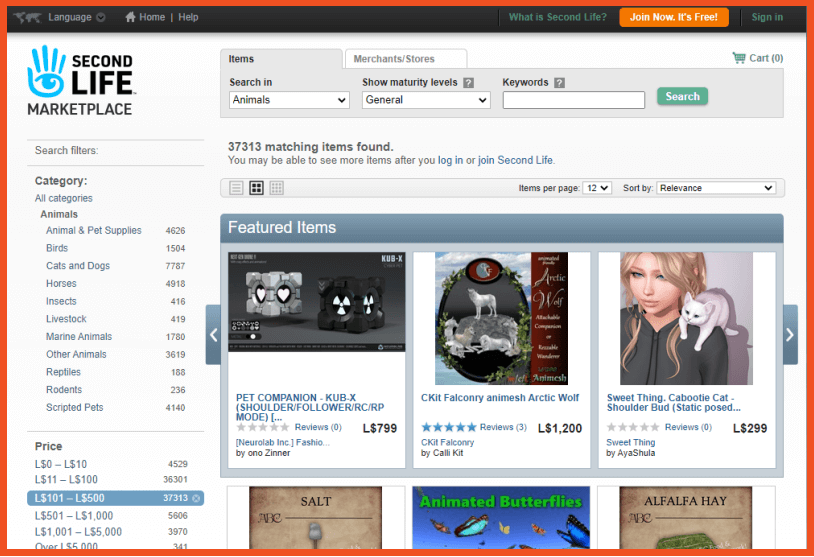 You can also earn money creating virtual fashions, home decor, and more. 
So, if you like virtual worlds and consider yourself a bit of an entrepreneur, Second Life qualifies as a weird thing you can get paid to do online.
And not only weird, but fun.
4. Listen to Music
If you love listening to music, I've got some excellent news for you – you can earn extra money listening to new artists, leaving reviews, or letting a specific radio station run in the background.
We've rounded up 15 companies that will pay you to listen to music, each having different requirements for how you can earn.
5. Draw Cats (Or Anything Else)
You probably saw the ad a few years ago.
A guy named Steve made a catchy video advertising that he'd like to draw a cat for you (or anyone else.)
And that's what he did.
He turned his idea of drawing very simple cat pictures into a multi-six figure business and even landed a deal with "Shark" Mark Cuban in 2012.
Take a look at Steve's artwork:
I think this proves there are no bad ideas, only lousy marketing.
6. Work as a Virtual Babysitter
If you haven't heard of it yet, virtual babysitting is a real thing.
Virtual babysitters video chat with the kids they're watching and, depending on their age, coordinate activities like crafts or oversee homeschooling efforts.
One virtual babysitting company that's popped up in recent years is VeeBee. VeeBee was inspired by the Covid pandemic. The founder wanted a way to relieve some stress from parents, so she came up with the idea.
It looks like VeeBee has recently shut down its service, but there's still ample opportunity for virtual babysitting.
If you're interested, look for your own clients by tapping into your network or advertising services on Care.com.
7. Get Good at Axie Infinity
If you love crypto + video games, here's a cool way to earn some money… 
Axie Infinity is an online game in which you build up a team of "Axies" to battle other teams. The stakes are Axie Infinity crypto, which you can convert to cash.
Axie Infinity looks kind of like a Pokemon-style game.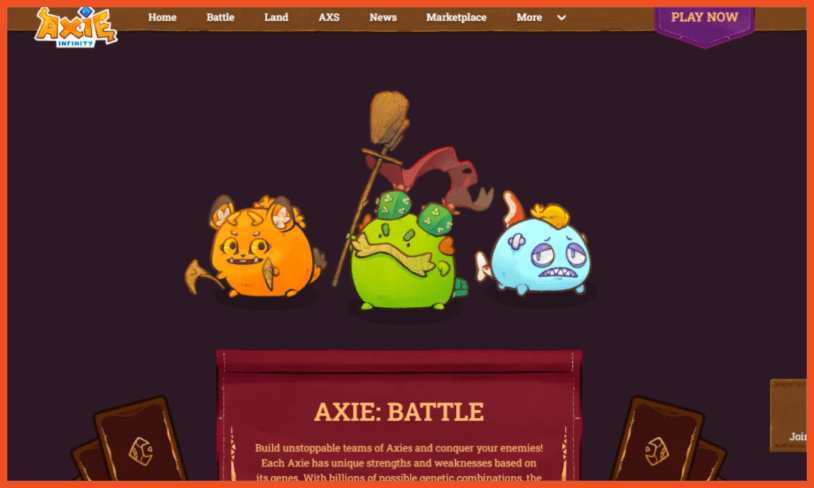 Aside from just battling, you can also earn money completing daily challenges and selling smooth love potions.
8. Type Out Closed Captions
Have you ever wondered if closed captions are human or auto-generated?
Well, it turns out many of them are, in fact, human-generated.
If you consider yourself a fast and accurate typer, you can put your skills to the test and earn cash by typing out closed captions.
As a beginner closed captioner, you won't earn much money. However, most companies hire on a flexible work when you want basis.
If you want to give closed captioning a try, check out our ultimate list of typing jobs.
9. Sit on an Online Mock Jury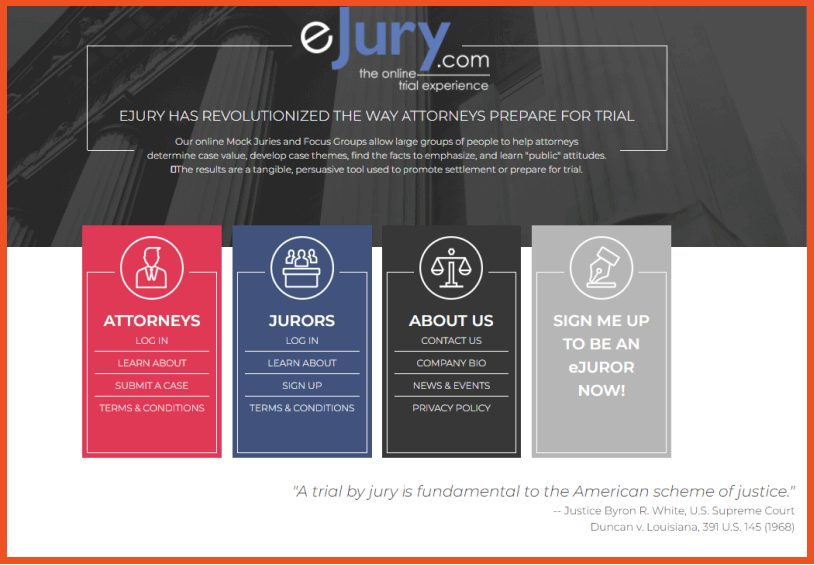 Do you enjoy jury duty? If yes, maybe sitting on a mock jury would be a fun way for you to earn a little extra cash.
eJury hires mock jurors to help local attorneys gain practice before an actual trial. As a juror, you sign up, and then when there's a case, they'll notify you.
You'll review the case facts submitted by the attorney, answer some questions, and submit your verdict.
You'll get paid $5-$10 for each case, depending on its length.
10. Cast Spells for Money
Do you dabble in casting spells? Probably not, but somebody is doing it.
A quick search on Fiverr, and you'll come across several sellers who cast spells (it looks like a lot of love spells) in exchange for a $25-$45 fee.
(Although there are a couple of career spells thrown in for good measure.)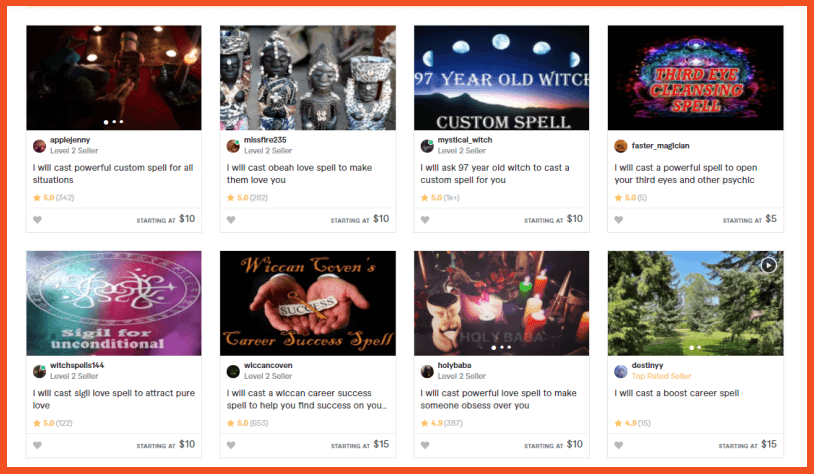 If you're like me, you might think that nobody buys spells, but it isn't true. Some of these sellers have over 1,000 5-star reviews.
How's that for a unique way to make money?
11. Watch Advertisements
Does anybody like to watch ads? 
Probably not. But doing so definitely checks out for weird things you can get paid to do online.
Here's how it works: you sign for a rewards site, let their "making money watching videos" section run in the background, and you earn a few points.
You then cash in those accumulated points for Paypal cash, gift cards, or other prizes.
This isn't enough to qualify as a day job or even a side hustle, but it's among the easiest ways to earn some pocket change.
12. Work as a MatchMaker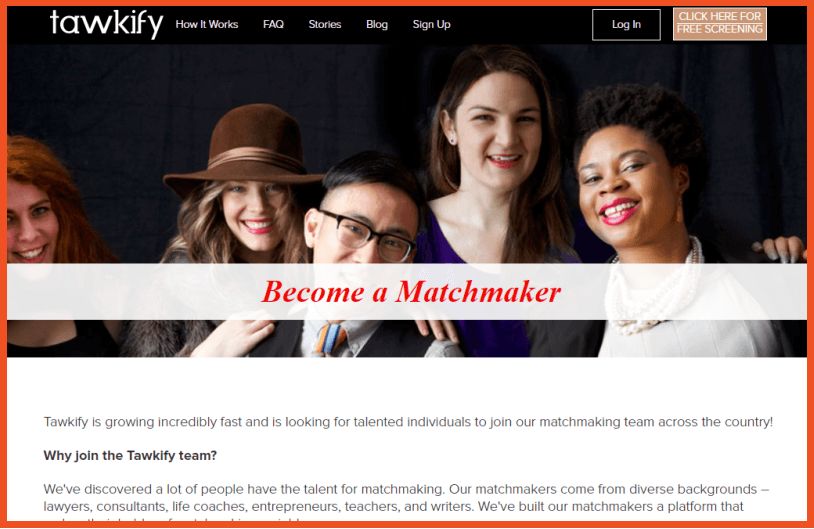 Are you the go-to person among your friends when it comes to relationships or meeting people?
If yes, get paid for your skills and become a MatchMaker on Tawkify.
Tawkify is an online dating type of platform in which human matchmakers get to know clients and then match them up based on compatibility.
Job duties include scouting for potential matches on and offline, date planning, coaching, and more. The matchmaking jobs are remote, and pay looks to be about $26 per hour.
13. Share Your Opinions on New Movies
If you watch many movies, you can cash in on your hobby by writing reviews and round-up articles.
Of course, you also have to enjoy writing and be somewhat good at it for this to work. Sites like ScreenRant, Bustle and Cracked will pay you up to $200 for your movie-related articles.
Check out our list of ways to get paid to review movies here.
14. Play Video Games Professionally
If you're not a big YouTuber, you might be surprised that some of the largest money-making accounts come from those focused on games.
These accounts can be as specific creators screen recording themselves playing Roblox or be more general and switch from game to game.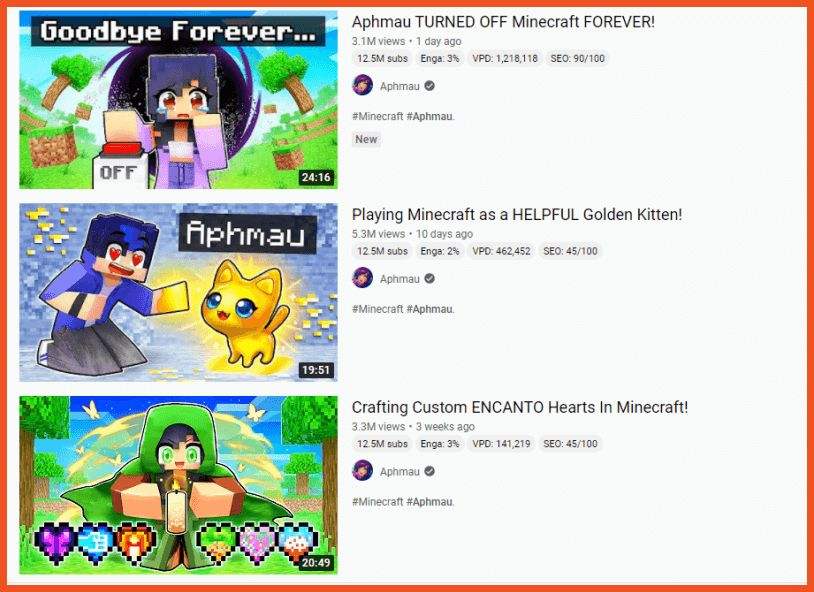 If you have a fun personality and like to play video games, consider recording yourself and uploading the videos to YouTube. While it might take several months to gain traction, this could be a fantastic source of income for years to come.
Final Thoughts
There are plenty of weird things you can get paid to do online. However, that doesn't mean all are worth your time. For example, I'd probably stay away from Mukbang simply for the fact it's caused health problems for some of its top creators. 
If anything, I think this list shows that money-making ideas are everywhere. While initially, something might sound dumb or impossible, that's not usually the case. As long as you can market your idea to the right audience in the right way, you can make it work.