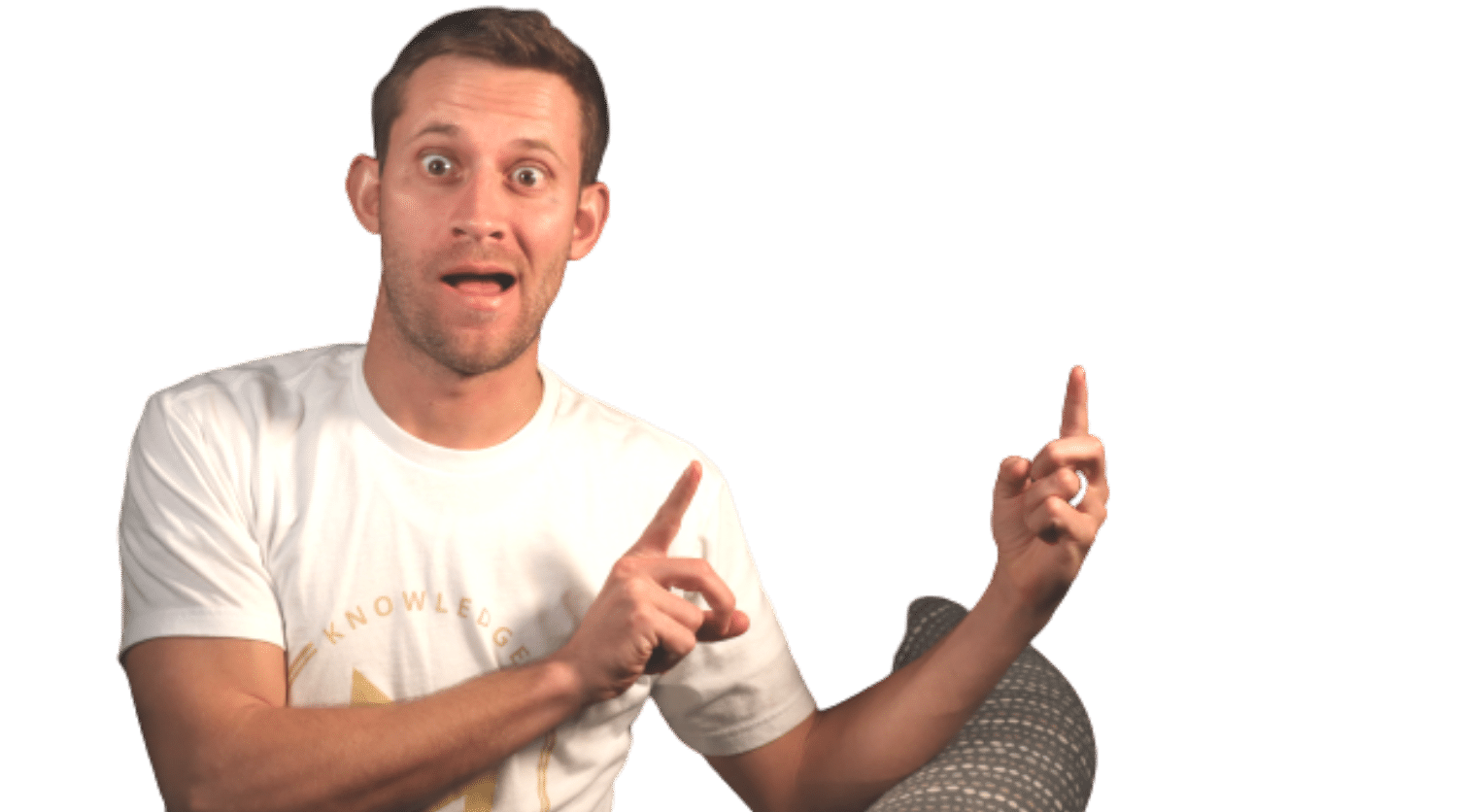 Looking To Start An Affiliate Marketing Blog?
I launched my first online course in 2017 at a cost of $97.
I had no idea how to pick a platform, and honestly, most of the online course platforms in this article weren't even around then.
The online course made more than $10,000 at launch with a small audience and it forever changed the way I thought about making money online.
Unfortunately, I chose a pretty terrible online course platform and I paid for it when students started going through the course.
Lesson learned. DON'T CHOOSE THE CHEAPEST PLATFORM.
Here was the course.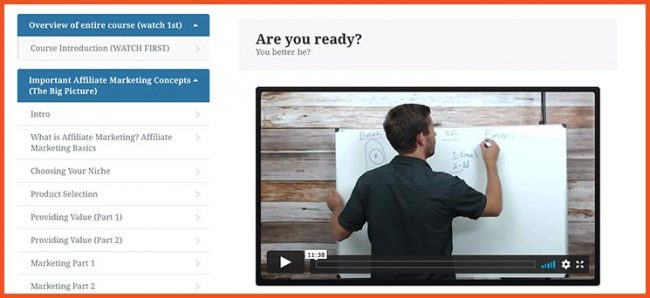 It wasn't mobile-friendly

It didn't save their spot

Students couldn't download the content for offline viewing

Oftentimes they couldn't even log in (this one really killed me)
And the platform had a host of other issues as well.
I quickly learned that choosing the best online course platform would be well worth a small cost.
A platform that made managing the online course easier for me, and taking the online course easier for my students at the same time.
After spending literally months researching and breaking down different platforms I can definitely say this article has everything you need to know to choose the best online course platform for your course as well.
Let's dive in.
Best Online Course Platforms for 2021
Thinkific
Best overall online course platform for 2021
So yes, after months of researching online course platforms I chose Thinkific. It is a decision I have not regretted once in the last two years.
Here are the reasons why.
1. Easy to manage for a course creator
I absolutely love their backend. I can easily give/remove access of various courses to students, see all the interactions those students have with the online course and do basically anything else I can think of.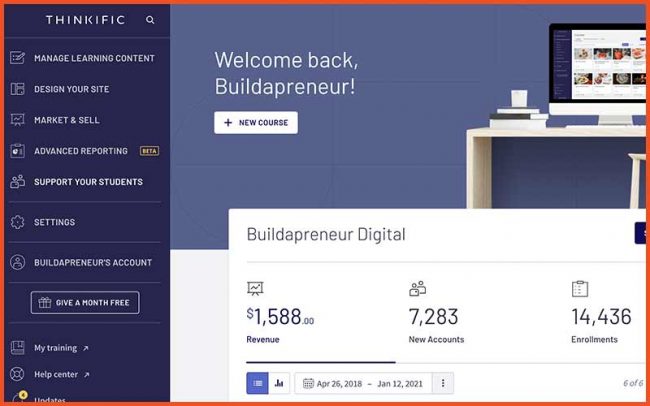 2. More options than any online course creator
Seriously the Thinkific team has thought of everything a course creator would want.
You can drip out courses, do basically any pricing model you can think of, email your students if they haven't logged in yet, and tons more.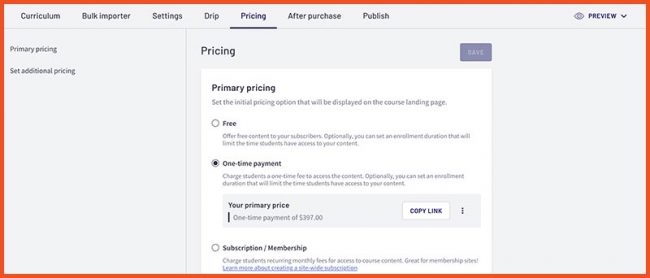 A couple of other features I loved were:
Each lesson allows students to ask questions and then you can go in an answer.

You can limit access to each course in a variety of ways.

Ability to share revenue between multiple creators if you have partners.

Ability to bundle different courses together to make higher-priced bundles

Ability to create assignments, quizzes, and surveys to help your students in the learning process.

Advanced reporting to see overall how your business AND how your students are doing.

Zapier integrations make it so I can integrate with my email autoresponder,

Active Campaign.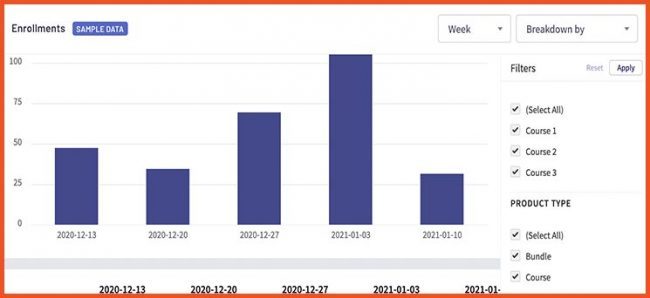 You can check out my free courses here.
3. Easy to use for course purchaser
It's nice that it's easy for me, but the real benefit comes when the people who purchase my online courses have a good experience.
Thinkific gives users a nice page where they can view all the courses they have bought from me, free or paid.

It is hosted on my custom domain (courses.buildapreneur.com) and is easy to access.
Students can click a course and it saves where they were in that course.
They can easily see the course outline and click to specific lessons.
They can also join discussions on specific models and talk to other students and you about issues they might be experiencing.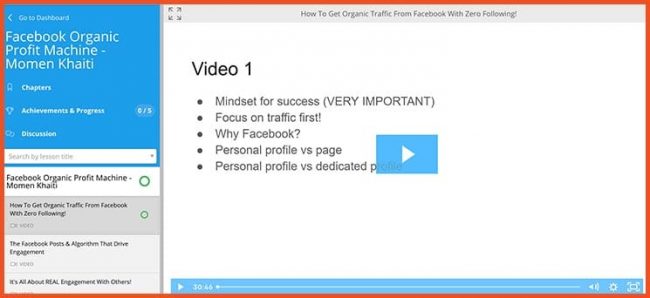 The cons
There is only one major downside to Thinkific's online course platform and that is the landing page creator.
It is limited in options and is lightyears beyond most landing page builders available for super cheap on the market right now.
Not only are options severely limited but it is extremely hard to use.
You can see on the left they just have a few blocks you can add. Fonts are limited, as are colors and sizing.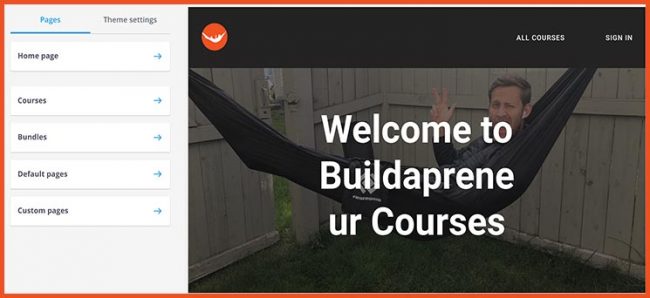 Luckily I don't use Thinkific to run my sales, I use ClickFunnels and so the landing page doesn't really matter to me.
Looking for more ways to earn money?
Check out the video below to learn how I went from $0 to $3,000,000:
Pricing
Thinkific blows other online course platforms out of the water on pricing as well.
They have a completely free plan to help test it out.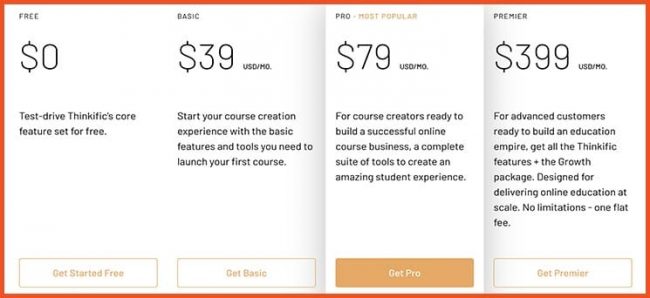 Everything works except you can't really scale any kind of selling because you have to manually add students, etc.
That's fine if you are just a solopreneur launching and haven't started really scaling yet. 
Kajabi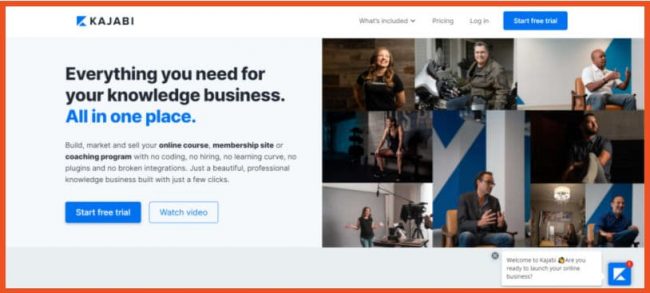 Kajabi is an all-in-one platform that offers much more than just course creation.
Target Audience
If you're not interested in learning to use a bunch of different tools and don't want to piece together your course marketing plan, you'll like Kajabi. The Kajabi platform allows users to host their website, create courses, control email marketing, and view analytics, all from one place.
Plus, they have a functioning mobile app, which many course creation platforms lack.
Here's a more in-depth look at the pros and cons.
Pros
There are a lot of pros to Kajabi. Here are some of the best: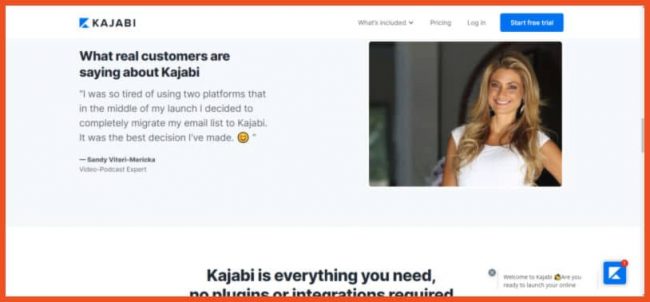 There's a mobile app for course users. (Major plus!)

Built-in email marketing.

Pipeline feature that has funnel blueprints you can customize for your course.

Kajabi integrates with Stripe and Paypal.

It has easy to set up automation.

All-in-one platform includes a website, course creator, email marketing, automation, landing page builder.

There are no transaction fees on any plan.
One of the best features of Kajabi is the built-in automation. This automation allows you to send messages based on customer behavior. For instance, if a customer has only completed half of your course and has not accessed it for several days, you can send a reminder or note of encouragement to keep going.
You can also send upsells after course completion or free bonus downloads that go with a particular lesson.
The email marketing tool comes equipped with "subject line validation," which will help you craft solid subject lines – an excellent feature for beginner marketers.
Cons
Of course, nothing is perfect. Here are some of the biggest cons:
The cost is higher than many other options.

You cannot create certificates of completion through the platform.

There may be some customization limitations.

Kajabi does not automatically calculate EU VAT.
Pricing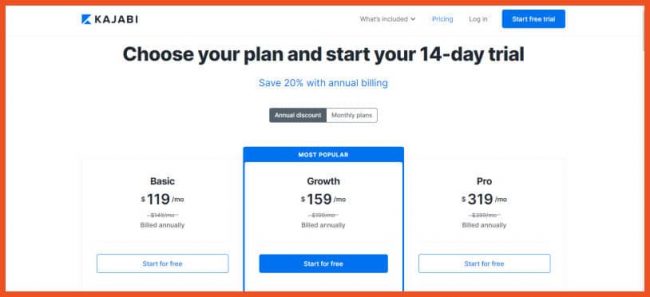 Kajabi's pricing is much more expensive than many of the other course platforms – especially for beginners. They offer a 14-day free trial, but after that, you'll be on the hook for a minimum of $119 per month if paid annually and $149 per month if paid monthly.
While this seems steep, you have to remember that Kajabi is pulling together many features for this price. With Kajabi, you won't worry about purchasing an alternate web hosting or email marketing plan unless you want to.
Teachable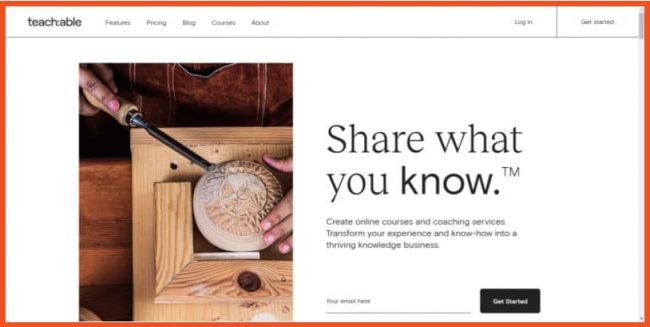 Teachable is an easy-to-use platform that offers affordable plans. 
Target Audience
If you're looking for a very intuitive, customizable platform that's great for creators lacking design skills, you'll like Teachable. It's also a better option for course creators working with a tight budget but still wanting all the best features.
Pros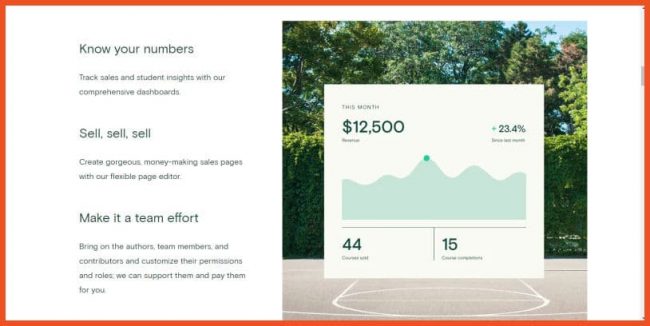 Aside from being one of the more affordable options, Teachable has some other great features:
It's straightforward to use and makes setting up a course painless.

It can integrate with your favorite tools and plugins.

You can easily customize the look of your course.

They offer built-in landing pages.

Teachable handles EU VAT. (Hard to find a platform that does this.)

They have a built-in quiz creator.

You can bundle your products.
Teachable also comes equipped with built-in affiliate marketing tools. The affiliate marketing tool is only available on the pro and business plans. 
It will allow you to create affiliate links, track affiliate sales and pay your affiliates.
Cons
Here are the top cons of using Teachable:
5% transaction fees on the basic plan.

No mobile app for android.

The sales pages aren't as easy to work with as other features are.
Some course creators also report caching issues that cause their customers not to be able to access the new courses they've purchased immediately.
I experienced this issue when testing Teachable for my course and it was one of the reasons I left.
Thinkific has been untouchable in terms of reliability which is HUGE for me.
Pricing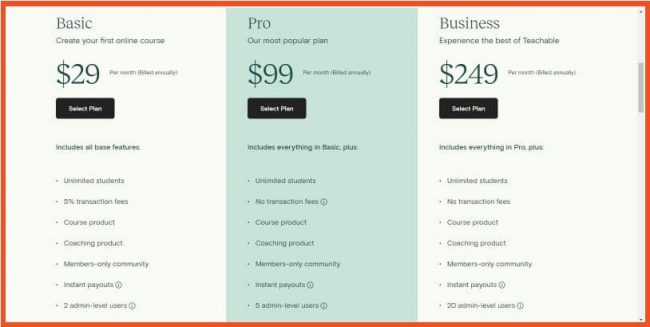 Teachable has three plans: Basic, Pro, and Business. If paid annually, you can snag the basic option for $29 per month. With the Basic plan, you do have to pay a 5% transaction fee per sale.
Members Pro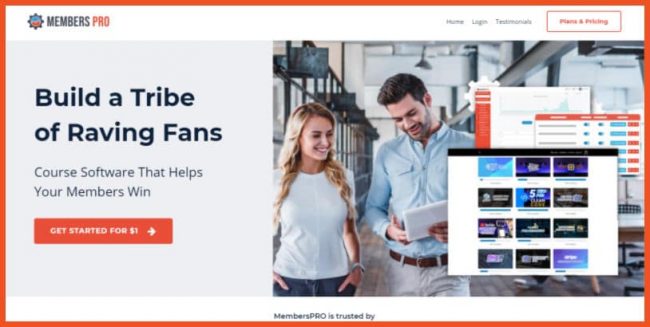 Members Pro is built around the premise of giving users the best possible experience. It's lesser-known than the platforms we've already covered but still worth a look.
Target Audience
If you want a course that looks very on-brand, you'll like Members Pro. However, as great as the customization is, many features still haven't been rolled out.
Pros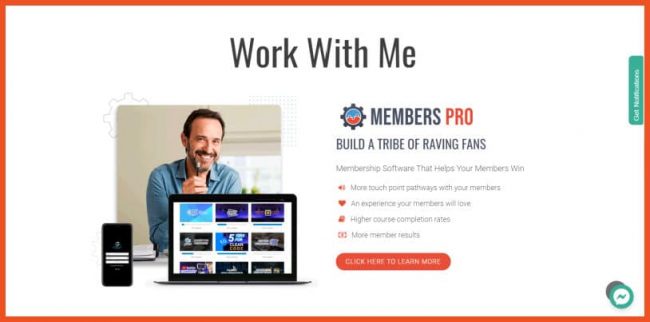 Here are some of the selling points of using Members Pro:
You can easily migrate from Teachable, Thinkific, ClickFunnels, or Kajabi.

Easy to use creator tools.

Integrate with your favorite apps.

Built with user experience in mind. (Major selling point!)

There are unlimited courses and memberships on every plan.
I love that this app is built with user experience in mind. After all, a good user experience will keep customers happy and turn them into repeat customers.
Members Pro focus on user experience also promises higher course completion rates and more member results.
Cons
The big cons with Members Pro is a lot of features are still in the works. For instance, they haven't completed the following:
Mobile Apps

Assessments

Built-In Community

Built-In Order System
Does this platform have the potential to be really great? Sure.
However, with so many features still not available, it doesn't quite make sense to migrate from a different platform quite yet.
Pricing
Plans start as low as $39 per month when billed annually. Here's a look at what you get for the price at different levels: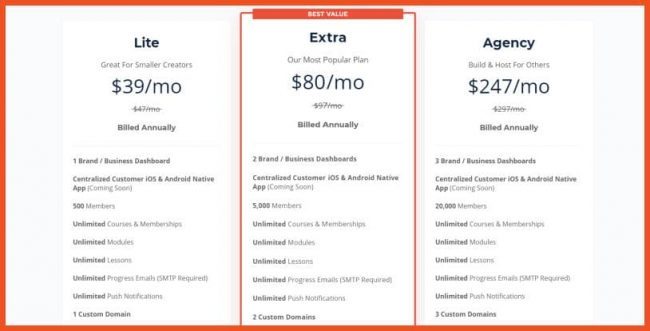 MemberPress
MemberPress is a plugin you add to WordPress. With this plugin, you can create membership sites and sell courses from your current website or blog.
Target Audience
Want to keep your customers on your site? You'll like MemberPress. 
This plugin allows you to sell almost any digital product. You can run memberships, sell ebooks, drip out course content, and more.
Plus, you'll be able to manage all your members right from the MemberPress dashboard. And there are tons of integrations for you to customize the experience.
Here's what else you need to know.
Pros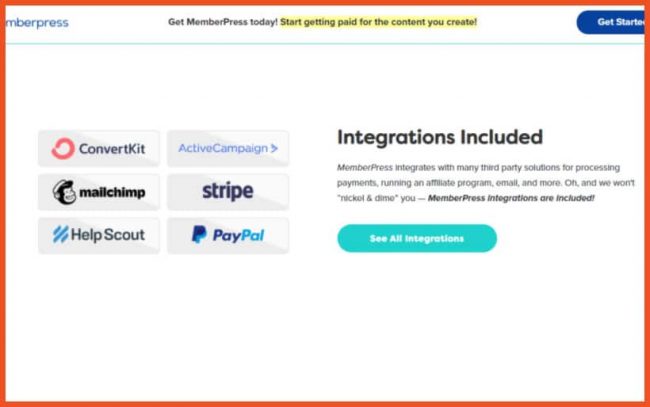 MemberPress has a shockingly large amount of high-quality features. Here are some of my favorites:
Easily sell e-books, courses, and paid memberships.

This plugin works with any WordPress site.

Lots of app integration options.

MemberPress integrates with BBPress for customer forums.

It offers a simple payment gateway integration.
Other features include an affiliate program with the Pro plan, the ability to drip content, and precise reporting. 
Cons
Upfront, it looks like there aren't a whole lot of cons to list. However, after digging through dozens of customer reviews, the one that keeps coming up is a learning curve when setting up integrations.
While MemberPress offers many features for the price, if you're not particularly tech-savvy, this may not be the best online course platform for you.
Pricing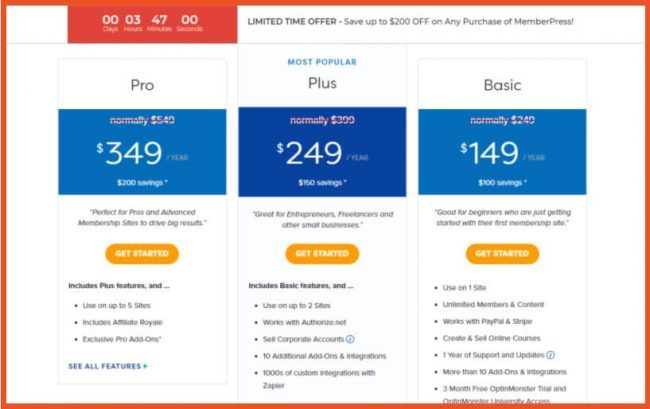 MemberPress is well priced at only $149 per year for the basic plan. The Plus plan is $249 per year, and the Pro Plan is $349 per year.
LearnWorlds
LearnWorlds is another highly rated piece of online course software. Here's how it stacks up against its competitors.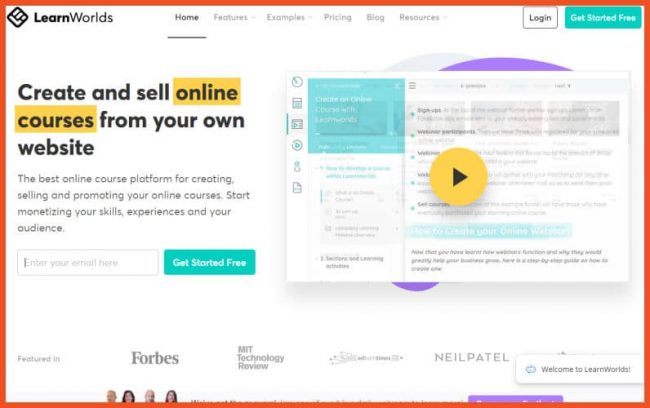 Target Audience
This platform is similar to Teachable in its offerings, only with a more significant emphasis on customer support. If you lack tech skills, you'll like the weekly support sessions LearnWorlds has to offer.
Pros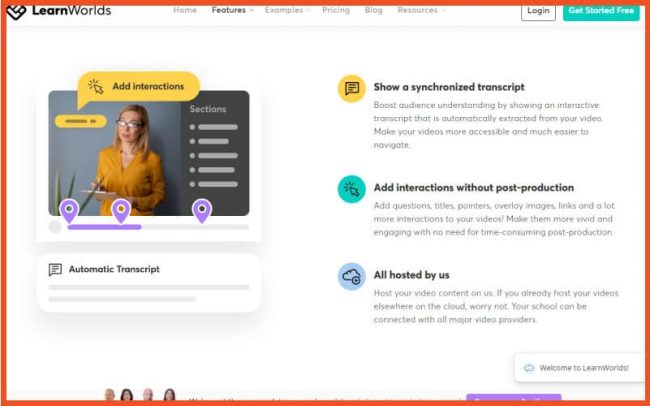 With LearnWorlds, you're able to use your custom domain, bundle products, and offer coupons. Here are some other pros of this platform:
They offer fantastic customer support with multiple weekly live Q&As.

Allows you to create online courses and online schools.

You're able to offer assignments, tests, and certificates of completion.

They support Stripe, 2Checkout, Paypal, and Shopify.

The courses are mobile-friendly.
Cons
One of the biggest cons is that the starter plan for newbies comes with a $5 transaction fee for each course sale. If you're selling low-priced courses, this can have a significant effect on your profits. 
You're also limited to only being able to build three pages on the Starter plan. If you choose LearnWorlds, it's best to skip the starter plan option altogether and opt for the Pro Trainer or Learning Center plan.
Pricing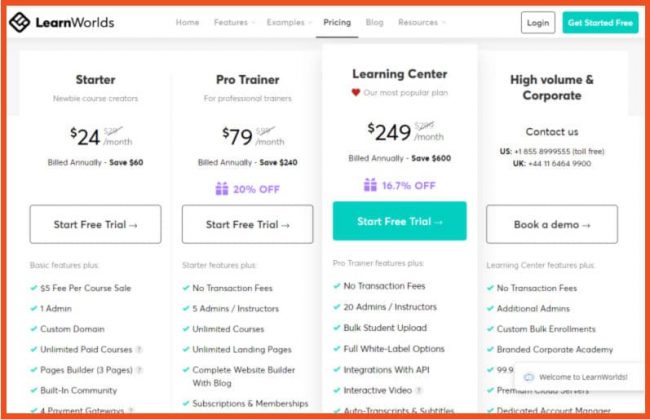 LearnWorlds has three pricing plans. The Starter plan is as low as $24 per month if paid annually but comes with $5 transaction fees per course sold. 
The Pro Trainer plan is $79 per month if paid annually, and the Learning Center plan is $249 per month if paid annually. These two plans don't have transaction fees.
Udemy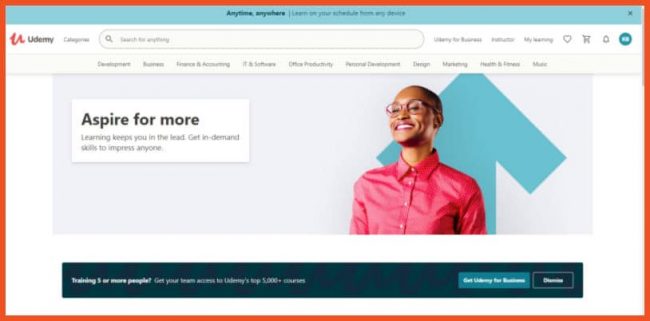 Udemy works differently than the other course software programs we've listed so far.
To get started, you sign up as a teacher and create a course on their platform.
Your course will be searchable to all Udemy users and can even show up in Google results. This takes some of the pressure off of you when it comes to building a customer base. 
This business model has a solid list of both pros and cons.
Target Audience
If you're looking to create a course and put it where potential buyers can easily find it, this is the platform for you. Udemy is best for those who want to put little effort into sales and marketing.
(Although, just because you put a course on Udemy, it doesn't mean it will automatically sell. You'll be facing some steep competition.)
Pros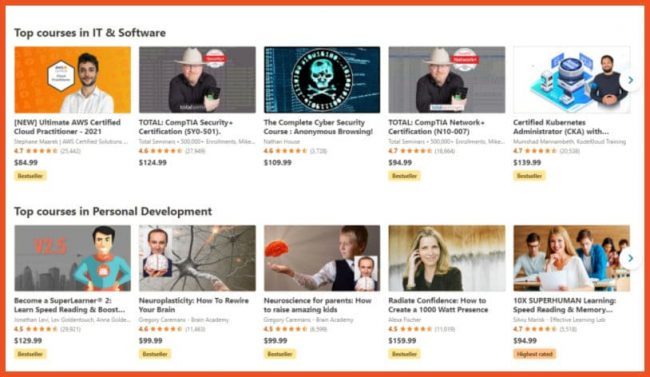 Getting started on Udemy is entirely free, which is great if you're working with a tight budget. Udemy also gives its teachers access to the Udemy buyer pool, so even course creators without a following may be able to find some success.
Here are some of the biggest pros to creating a course through Udemy:
There's a built-in potential buyer pool.

There are helpful tutorials on building an audience and course creation for beginners.

You can opt into Udemy promotions to have your course promoted.

The simple platform makes course creation easy.

There's a potential for passive income.
Cons
If you like the idea of creating a course and then forgetting about it, Udemy may be for you. However, if you want control over your course and marketing, it's definitely not.
Here are the cons of creating a course on Udemy:
There's a 50/50 revenue split with Udemy for students sent by them.

You don't get your customer's email address.

You're pitted against your competitors.

There's limited customization.
Pricing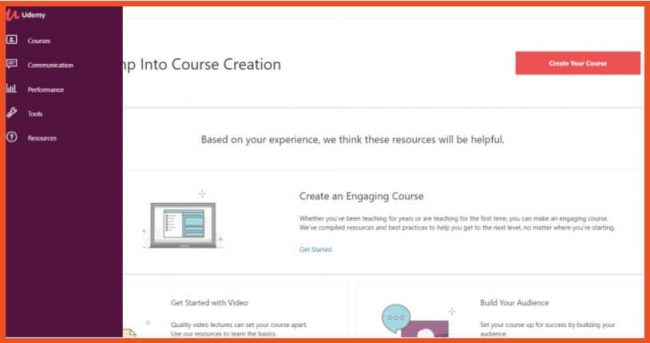 The good thing about Udemy is that you can get started for free. If you send your customers to your course and give them an instructor-created coupon code, you'll receive 100 percent of the profits, minus payment transaction fees.
However, if Udemy sends customers your way, you'll split the profits 50/50. And to make matters a little worse, if an affiliate sends a customer to your course, the affiliate commission will come off the top, and Udemy will split the remaining profit with you.
LearnDash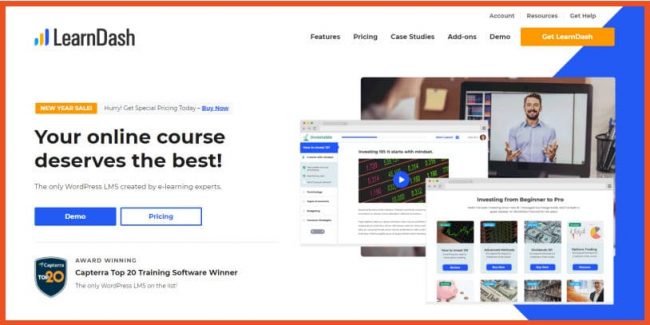 LearnDash is a plugin that's added to new or existing WordPress sites. It comes with a lot of creative control and features like quizzes, leaderboards, and certificates.
Target Audience
This is one of the best online course platforms for users who want to add a course to their existing WordPress website. 
LearnDash is currently used by large organizations such as InfusionSoft, the University of Michigan, and the University of Florida. It's also great for smaller and solo-owned businesses.
Pros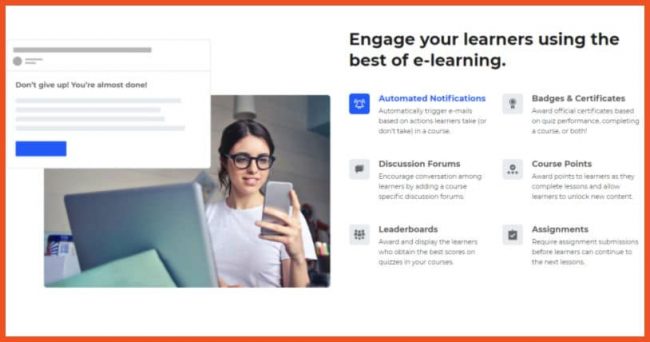 LearnDash was created by an e-learning consultant to fortune 500 companies. It has won awards from Capterra, eLearning Industry, and G2 Crowd.
This course software company emphasizes a dynamic learning experience for students and top-notch customer support for creators. They even offer weekly live webinars to cover popular features.
LearnDash is easily customizable and comes with other great features like:
You can use LearnDash to accept one-time or recurring payments.

Easily create courses from your website.

There are lots of integrations with popular apps.

You can grade assignments and use a grade book (paid add-on).
Cons
There are a lot of pros that come with using LearnDash. There two main negatives I could find are:
You'll have to find and integrate third-party plugins to get the full functionality you're looking for.

The functionality is advanced and may feel overwhelming.
Pricing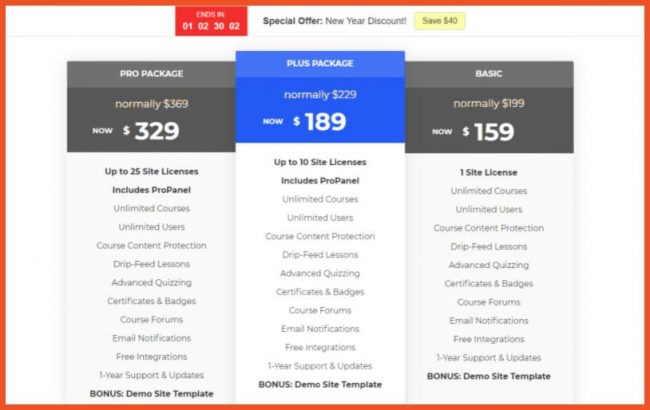 Since LearnDash is a plugin, you'll only pay an annual fee. Packages range from $159 to $329 per year. 
Keep in mind that you may still need to pay for third-party plugins to integrate with LearnDash.
Podia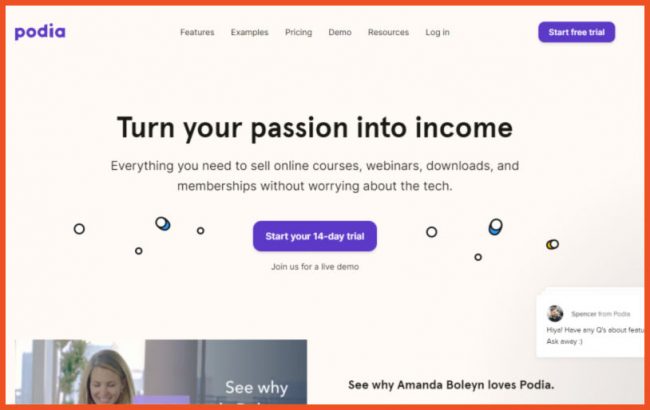 Podia is online course software that allows you to host and charge for webinars, membership sites, and digital products. 
Target Audience
Podia is great for non-techies who want an all-in-one solution. You can run your website and blog through this platform and host all of your digital products.
Pros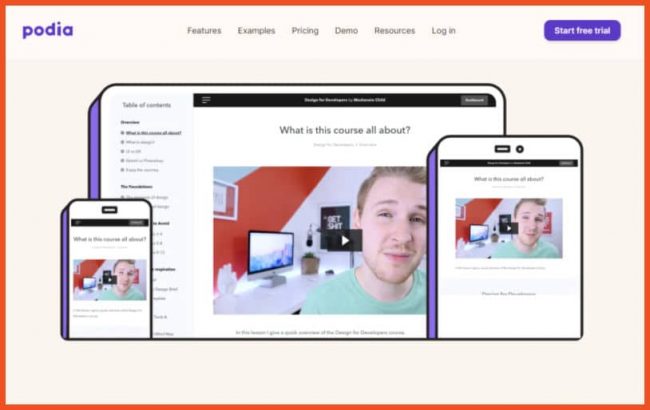 Right of the bat, one of the best features of Podia is how clean and simple it is. If you're looking for a no-fuss way to get your message out there, this one is worth checking out.
Here are some other notable pros:
You can sell ANY digital product through this platform, and you aren't capped on the number of products you can sell.

You'll have the ability to host your blog and website through Podia.

Podia has a built-in email marketing feature.

You can add payments, bundle products, create one-click upsells, and more.

Podia courses are mobile-friendly.
Another feature of Podia that I like is that you can host ALL of your digital products under one storefront. You also get unlimited bandwidth.
Cons
Podia is an excellent platform for beginners or anyone who doesn't want to be overwhelmed with endless customization options. However, with that said, it isn't quite as feature-rich as many of the other platforms are.
Here are two other cons:
Not as customizable as other options.

There's no certificate feature.
Pricing
Podia is very affordable, with their "Mover" package priced at only $39 per month if paid for annually.  Their higher-end "Shaker" plan is $79 per month when paid annually.
If you're looking to run a membership site, you'll need their Shaker plan.
Ruzuku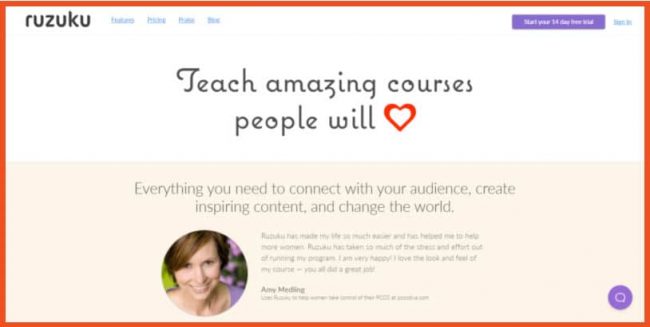 Ruzuku is another platform great for those with limited tech skills. However, to be perfectly honest, the initial first-impression of Ruzuku is that it is far less polished and professional-looking than any of the other options we've covered.
Target Audience
If you want to get your course off the ground fast without worrying about coding, you might like Ruzuku. But, it does have its fair share of cons and is the most basic platform we've covered so far.
Pros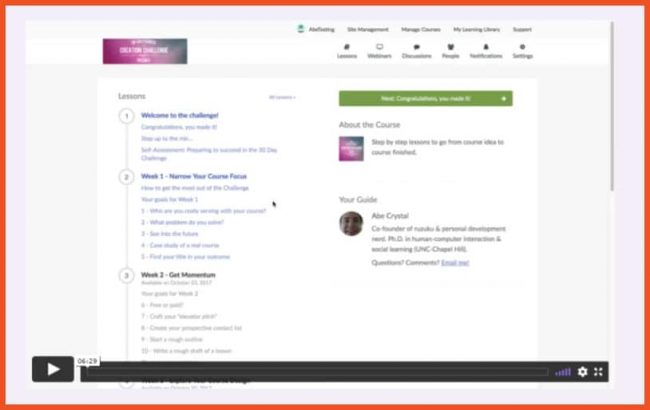 Since Ruzuku is built for amateurs, the setup is easy. Here are a few other pros:
Lack of options won't overwhelm you.

You can accept payment through Stripe or Paypal.

You can host live video chats with group chat.

No transaction fees.
Cons
For the price, it seems like you could find a better course software platform with more features. 
Here are the main cons of Ruzuku:
It appears that MailChimp is the only email marketing software you can directly integrate.

Lack of options may result in less than perfect functionality.

Relatively expensive compared to similar options.
Pricing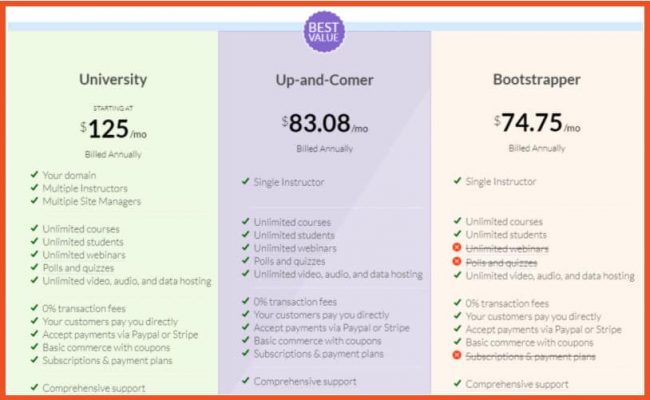 Ruzuku plans start at $74.75 per month when billed annually and go as high as $125 per month. The most affordable plan doesn't come with the ability to create quizzes, offer subscriptions or payment plans, or host unlimited webinars.
Kartra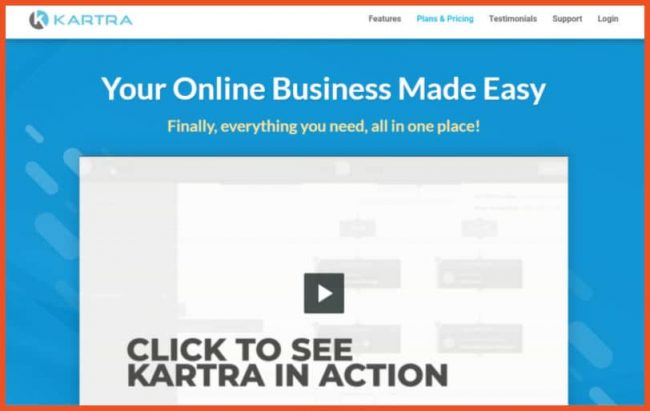 Kartra is another online course software program that claims to replace almost all marketing tools a course creator needs.
Target Audience
Kartra is a good option for beginners who don't want to piece together many different software programs. It's also a reliable option for creators looking to host multiple memberships.
Pros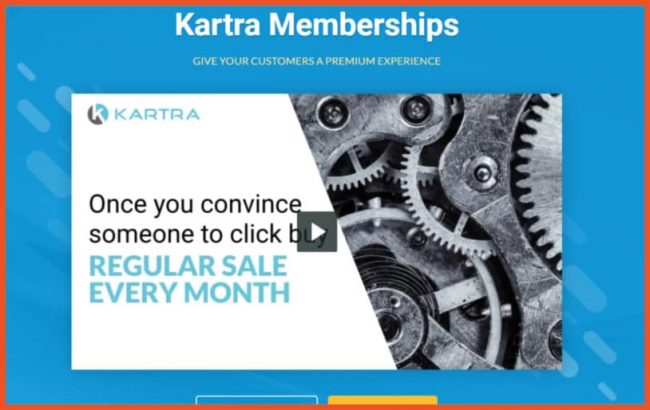 Marketed as an "all-in-one" platform, Kartra comes with many features. Here are a few of the best:
Kartra comes with email marketing, landing and sales page builders, an online form builder, and membership portal builders.

It has calendar and appointment setting software.

It integrates with third-party apps.

Easy to set-up courses and membership sites.

Kartra allows you to drip content and host evergreen content.
Cons
Even though Kartra is an all-in-one option, it has some severe limitations – especially if you're interested in the starter package.
There's a cap on the number of videos you can host, depending on the plan you choose.

There's a cap on the number of leads you can have.

There's a cap on bandwidth on the starter package.

It's more expensive than comparable options.

There's no option to host your website on Kartra like there is with other "all-in-one" platforms.
Pricing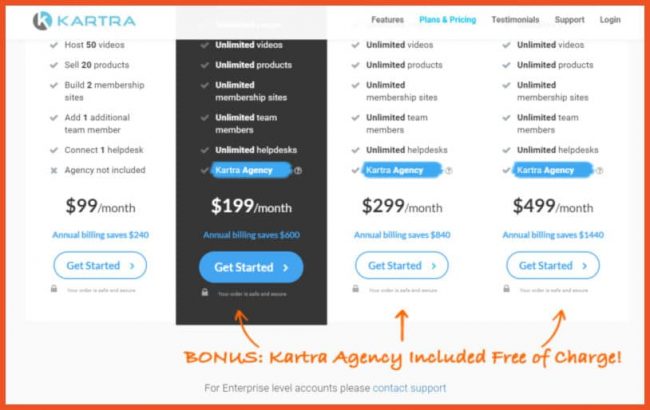 Compared to similar options, Kartra is a bit on the pricey side. Their starter package is $99 per month, and their most expensive "Platinum" package will run you $499.
Teachery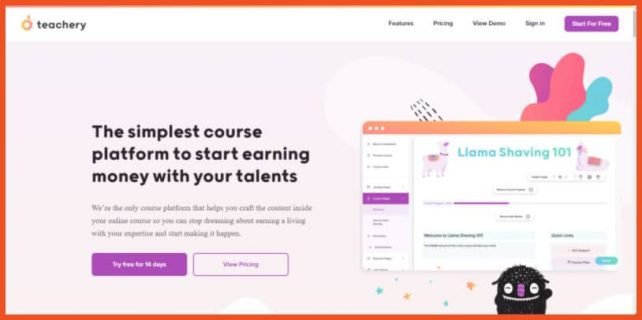 Right from the start, Teachery seems very similar to Teachable. There are a few differences, though, like the fact Teachery doesn't charge transaction fees and only provides one plan option that gives you all the benefits.
Here's what else to consider.
Target Audience
Teachery is an easy-to-use course platform that makes getting your course online painless. It has some great selling points but also a couple of drawbacks.
Pros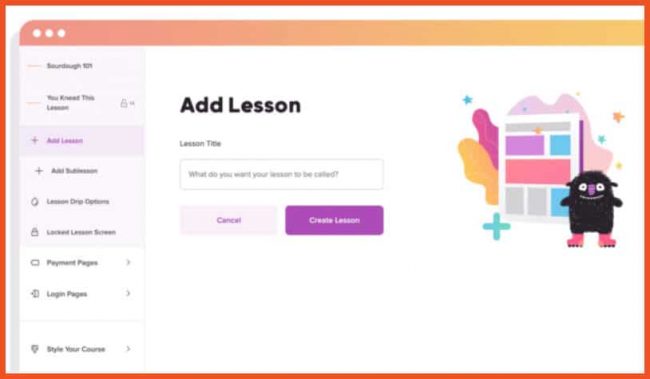 What I love most about Teachery is that they have a very clean interface that is easy to understand. Plus, they don't try to upsell you on everything – they only offer one pricing plan.
No transaction fees.

They offer unlimited courses, lessons, and students.

Extremely customizable yet easy to customize. (No coding skills necessary.)

They have a sales and landing page feature.

Custom domains for each course with free SSL certificates.

You can host affiliates.
Cons
Teachery is very visually appealing but lacks some features that advanced marketers may be looking for. Here are two of the most frustrating Teachery cons:
Payments are only through Stripe, and

they do not support Paypal payments.

It looks like the only existing integrations are MailChimp, ConvertKit, and Zapier.
Pricing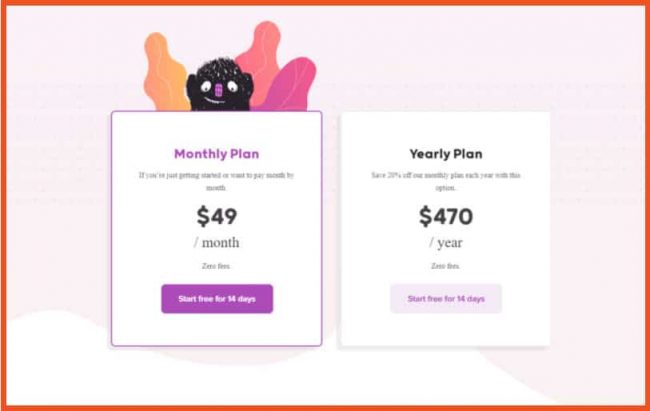 There is only one plan with Teachery. You can choose the monthly option and pay $49 per month or pay $470 for the annual option.
WP-Members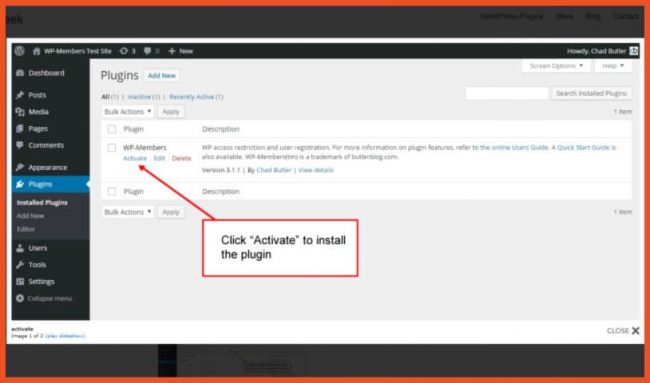 WP-Members is a membership plugin for WordPress. 
Target Audience
With WP-Members, you can turn your website into a membership site for free. However, this plugin doesn't come with many features, so you likely won't reach the functionality you're looking for.
You will need to add third-party apps and plugins to come close to being as useful as any of the other software programs we've covered so far.
WP-Members is a decent choice for someone who wants to DIY much of their course creation and marketing plan.
Pros
The main pro of this option is that it's free. Here are a couple of other positives:
It allows you to register users.

You can set up restrictions so that only registered users get access to certain content.
Cons
The cons here are plenty – WP-Members does not come with any advanced features. Instead, you have to pay for advanced features and then pay for integrations.
You'll have to figure out how to layout your course content and find alternative lead page building software.
Using WP-Members is 100% a DIY route to go.
Pricing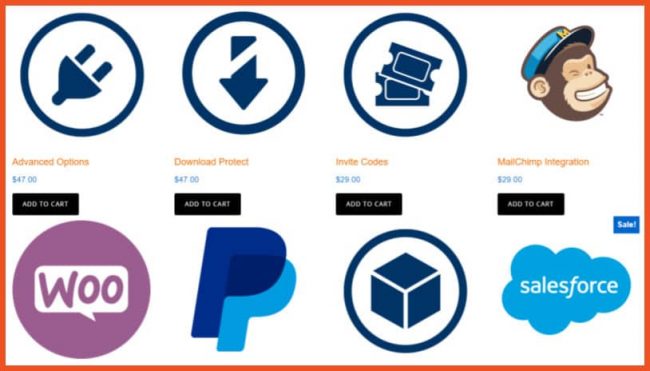 Free, but you have to purchase the advanced options and pay for integrations. For instance, their advanced options integration is $47, a Paypal subscription integration is $47, and a MailChimp Integration is $29.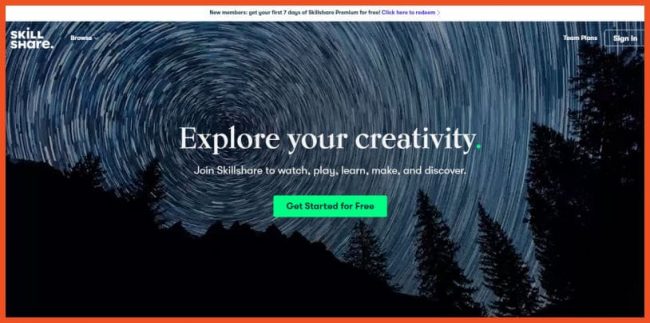 Skillshare is an online course library that charges its customers membership fees and allows them to take any of the available courses on its platform.
 It's similar to Udemy but with different pricing and payout model.
Target Audience
Skillshare is ideal for course creators who want to "set it and forget" and not worry about marketing.
Here's a rundown of how it works:
As a course creator, you upload your course to the Skillshare platform. Skillshare puts 30% of the money from premium customer memberships into a pool for course creator royalties.
As a course creator, you are paid from that pool of money based on the number of minutes students have watched your course videos. 
Payouts vary depending on how many premium memberships there are for the month and how your courses perform. You must have at least 30 minutes of your course videos watched by premium members to receive a payout for the month.
You can also earn $10 for every student you refer to Skillshare that signs up for a premium membership.
Pros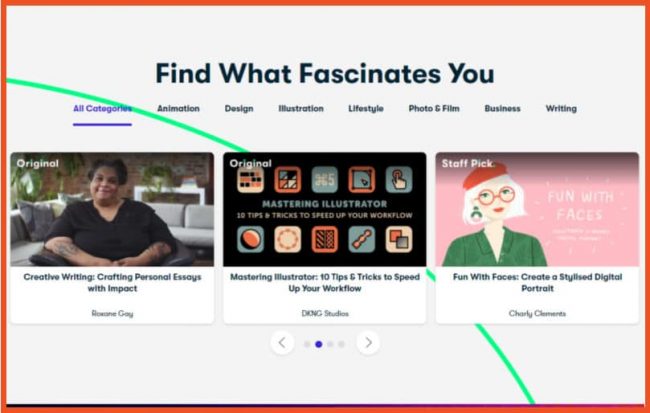 The main pro of skillshare is that you don't have to bring customers to your course. Instead, you're just adding your class into a big pool for Skillshare customers to find.
They provide learning resources to help you create your course.

There's already a customer base.

There's a potential for passive income.
Cons
Lots of competition.

Your income is based on the minutes your course is watched vs. actual sales of your course.
Pricing
It's free to become a Skillshare teacher.
AccessAlly
AccessAlly is a membership and LMS plugin for WordPress.
Target Audience
AccessAlly is a nice option if you'd like to design your course or membership site through your WordPress website. 
Pros
AccessAlly comes with excellent customer support and training. Even when you sign up for their lowest tiered plan, you still get access to two training calls each month.
Here are some other great features:
You can host unlimited courses and members.

They have mobile-friendly checkout pages that use Stripe and Paypal.

One-click upsells.

Affiliate tracking with leaderboards.

Mobile-friendly courses.
Cons
One of the biggest cons is that for AccessAlly to function correctly, you must be using one of their approved email marketing platforms. The supported platforms are InfusionSoft, Active Campaign, ConvertKit, Ontraport, Keap, and Drip.
Another con is that there is no drag and drop builder for course creation. Instead, you'll need to design your course yourself.
Pricing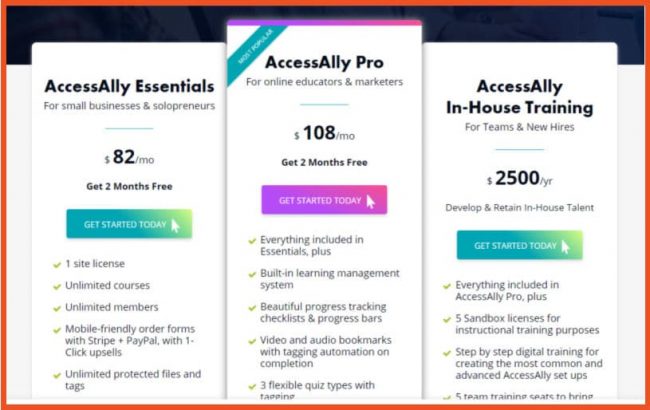 \
AccessAlly's pricing starts at $82 per month and is suitable for small businesses and solopreneurs.
Honorable Mentions
Here are a couple of options that didn't make the top of the list but are still worth a shout-out.
Zippy Courses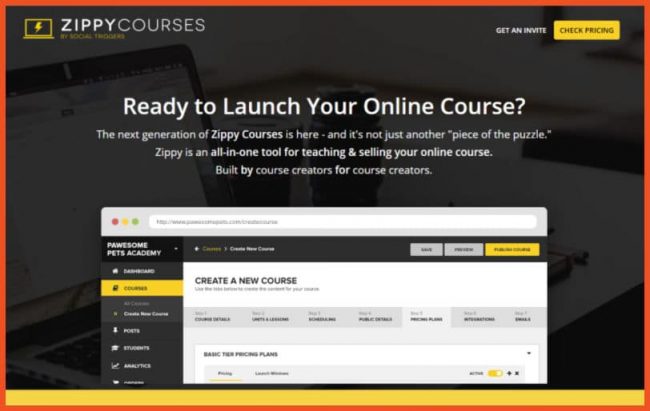 Zippy Courses can help you quickly get your courses off the ground. Its software integrates with all of the popular email providers and Paypal, Shopify, and InfusionSoft. 
Zippy Course will enable you to set up free courses that you can use as lead magnets. They also offer "tier" pricing so that you can offer basic, intermediate, and advanced versions of your courses.
Pricing plans start at $99 per month.
WizIQ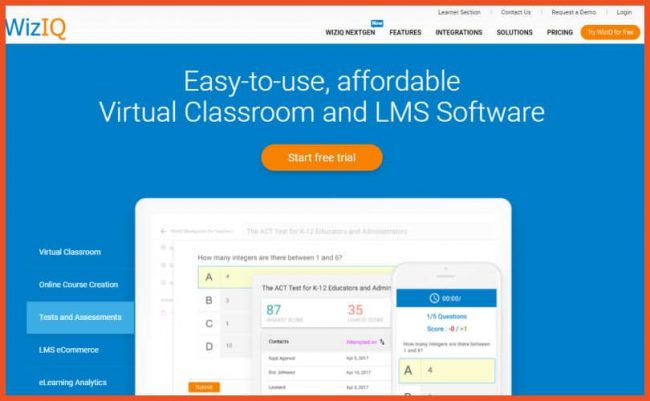 If you're looking for a virtual classroom, WizIQ is worth checking out. You can host courses, create virtual classrooms, and use their advanced interactive whiteboard to help get your message across.
One feature I love is that you can grade tests. You can also use leaderboards to motivate your students.
They have a mobile app for both IOS and Android.
Plans start at $25 per month and go up depending on what features you're interested in.
Click4Course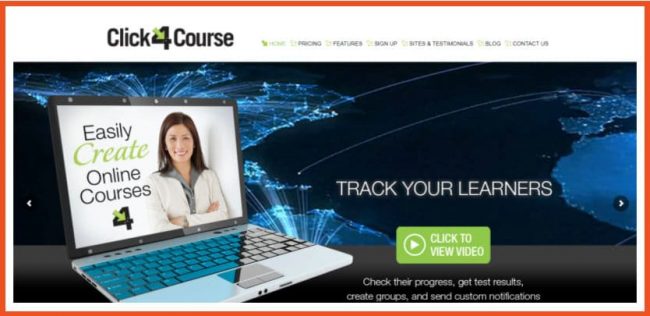 Click4Course offers two plans. The first plan is for course creators who want to create and sell their courses. The second plan is for businesses that need to develop systems for internal training. 
The unlimited learners' plan for course creation and selling is $79 per month.
The Click4Course platform allows you to create unlimited courses, enables you to require passing grades for exams, and allows you to issue certificates of course completion.
There are a couple of downsides, though. Click4Course handles all the payments, so instead of money is directly deposited into your accounts, they collect the money and then send you a check or e-payment. Secondly, they charge a 10% fee on all courses you sell.
Criteria for Choosing a Course Platform
Obviously, there are a lot of different online course platforms to choose from. While Thinkific is the best overall, there are several factors to consider before choosing.
Ease of Use
If you're working with limited time and limited technical skills, you'll want to choose a platform that is user-friendly and easy to get up and running.
Some of the easiest to get started on this list are Thinkific, Teachable, Teachery, and Podia.
Price
If you're new to course building and don't have a huge audience, you probably don't want to shell out $100+ per month. Luckily, there are many fully functional platforms you can use even if you're on a tight budget.
Mobile Friendliness
If you know that most of your course customers will be taking lessons from their phones, you better make sure your course looks good on mobile.
Even some of the most popular platforms, like Teachable, don't have mobile apps for Android.
Features and Functionality
What are you looking for when it comes to features and functionality? Do you want to be able to host several kinds of digital products? Do you want a landing page feature?
Some platforms come with a host of features, while others are stripped down and simple. Both are fine; it just depends on what you are specifically looking for in an online course platform.