The 3-step system I used to make 7-figures of Affiliate Commissions in my first 3 years as an affiliate marketer.
If you're looking for a way to make killer landing pages for lead capture, and you don't need all the bells and whistles or the learning headaches that come along with a lot of more advanced programs, we may have just the thing for you! It's called Landingi.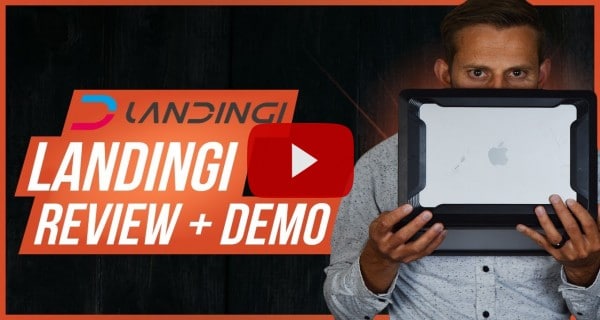 Before we get into the Landingi review and demo, we want to point out that we came in pretty skeptical about Landingi to be honest. We hadn't heard of it before, it seemed a little strange at first, and it seemed like it was too basic.
But as we dove in and started to really play with it, we came to realize that it's not basic; it's niche. They're focused on one small thing and that's building landing pages (otherwise known as opt in pages or squeeze pages). That's what they are focused on, and they do it really well.
The other side of that is that they don't have a ton of options outside building landing pages, such sales funnels, payments, and that kind of stuff. It's just very simply focused on making landing pages that go to thank you pages. We've come to respect that because we had no issues throughout the entire process of learning their software and it's a great solution for people who just want landing page software.
By using Landingi, you can improve the effectiveness of your landing pages. It's even endorsed by Neil Patel, who says "The tools and features that Landingi offer are great for anyone looking to create higher-converting landing pages."
Now, onto our Landingi Review…
It's an Easy Landing Page Creator to Use
Because of the fact that they only focus on landing pages and because they do it so well, it is an extremely easy landing page creator to use. Like we said, we didn't have any issues using it, and we were able to put together a pretty nice looking landing page in just 20 minutes.
NOTE: the screenshot below is only a small part of the page. Unfortunately, we couldn't fit the whole thing in one screenshot.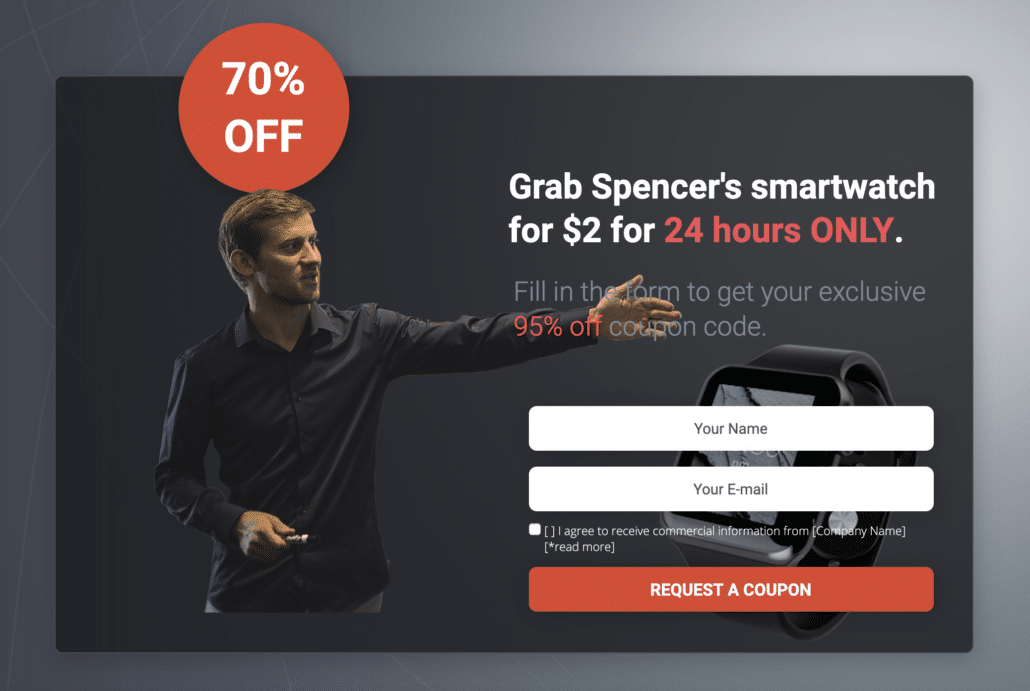 We also really like that it has a very easy funnel structure. You can toggle between the landing page and the thank you page with the click of a mouse. That's a really nice option to have so that you can easily look back and forth between the two.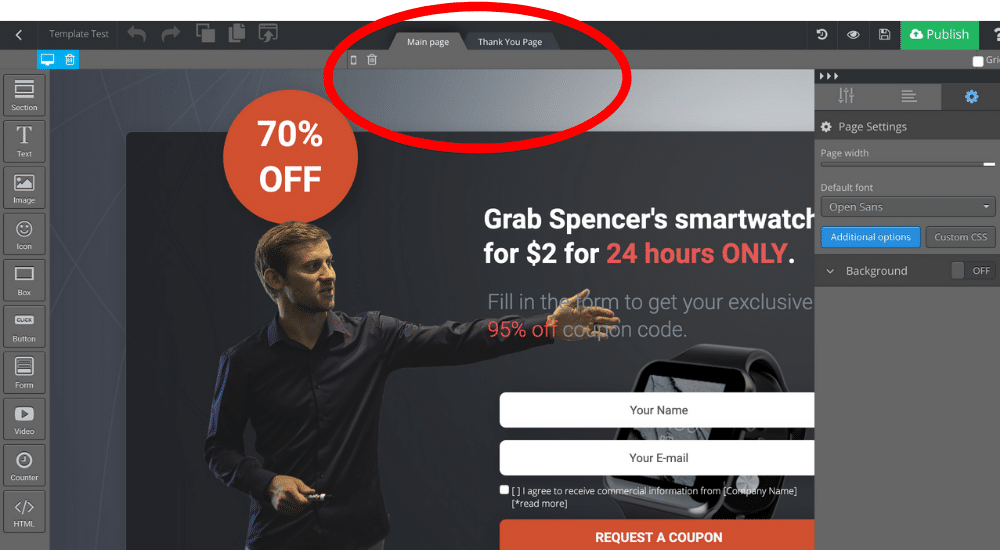 Landing Page Design in Landingi
There are a lot of nice landing page design features in Landingi. Let's take a look at them now…
Design Templates
There are two ways you can build your landing page and thank you page:
Totally from scratch (which we never recommend)
Templates (which we always recommend, unless you're a crazy good designer and you want to have full control over every aspect of the design)
Landingi has 150 really awesome templates available at the basic subscription level, and we were really excited about that. They have templates for every niche and business type you can imagine. The do have premium templates that are available at higher subscription levels, but they don't seem much better than the ones available at the basic level (at least not by first glance).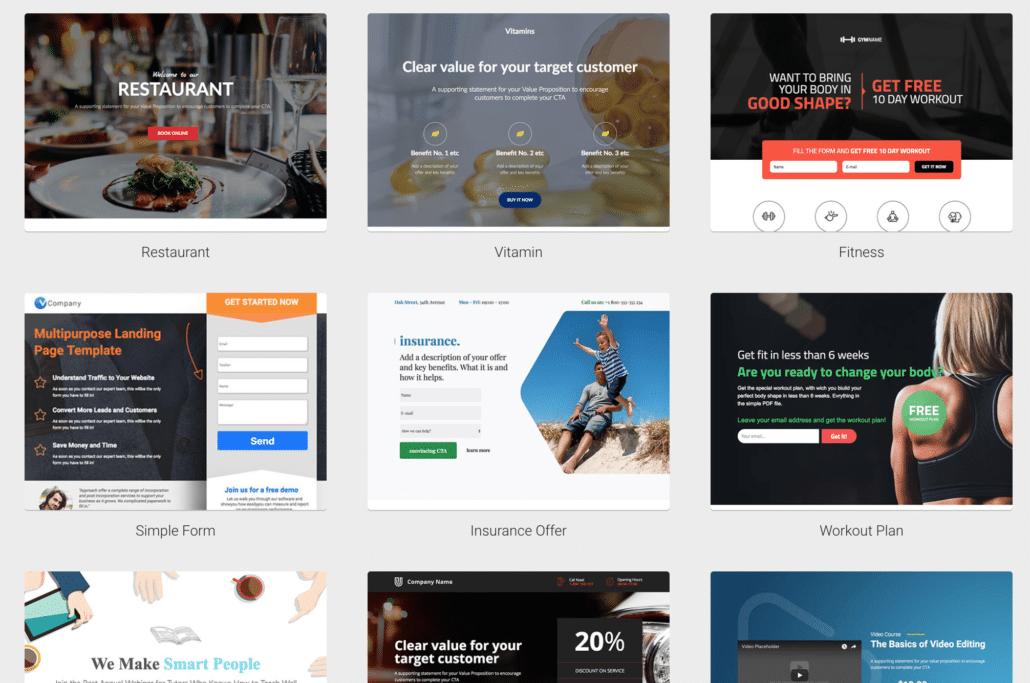 Design Editor
The way Landingi works is that it has built-in sections and then you add elements to each section. It doesn't have a ton of elements because it's not made to be complex.
Remember, the whole reason for Landingi's existence is to give people the ability to create simple landing pages that allow them to capture people's email addresses, and nothing more.
So, here are the sections you can add:
Text
Images
Icons
Boxes (shapes of color)
Buttons
Forms
Videos
Counters (timers that count down when the offer will go away)
HTML
One thing we don't like about the editor is that when you are adding elements to the sections, it gives you the ability to put them wherever you want them. Having said that, it's important to point out that a lot of people love that kind of editor because it gives you free reign over the design.
The ones that we prefer divide each section of the page into sub-sections and you are confined to those different sub-sections. While it is constrictive from a design standpoint, it makes the responsive aspect much cleaner and easier because it automatically stacks the sections for you when it is viewed on mobile.
With Landingi, you actually have to build a separate mobile version because it doesn't really know what to do when you just put elements wherever you want them. So we don't love that concept, but if you're one of those people who likes to have complete control over the design of your landing pages, this editor is for you.
Grids
Landingi does have a grid that you can use to line things up as you are designing your landing pages. It will snap your elements into place according to the lines on the grid so that you can line things up easier.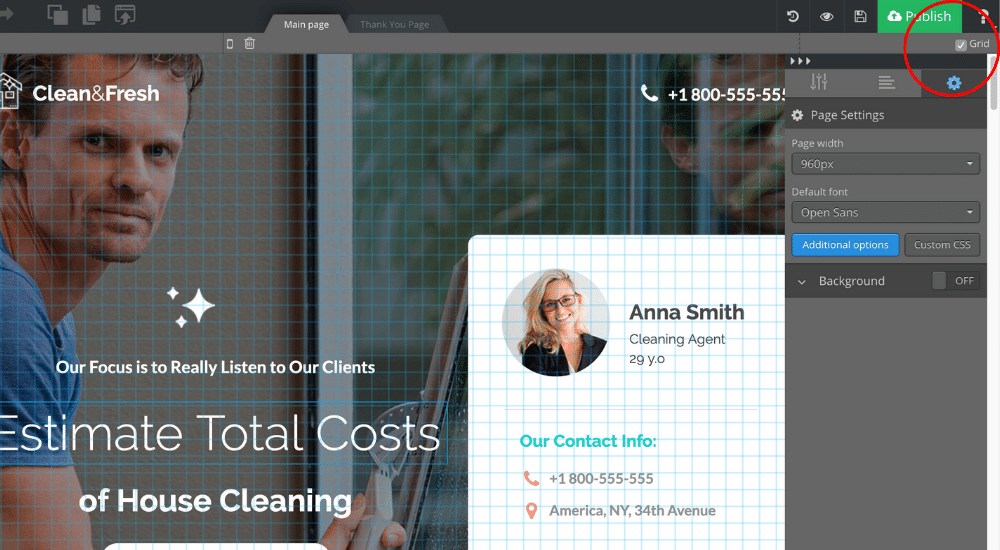 Layer Feature
It has a layering feature allowing you to move elements forward or backward so that they are in front of or behind other elements depending on how you want things to look. You can move an image, for example, all the way forward or just one or two levels forward depending on what you are going for. To access this feature, you simply right click.
Undo Feature
One thing we absolutely love about Landingi is its undo button. A lot of similar software doesn't have an undo button, because it can be a difficult thing for software developers to develop, so it's impressive that Landingi has one and that it is so robust. Not only can you undo the last thing you did, but you can keep pressing it to go backwards or forwards for quite a while.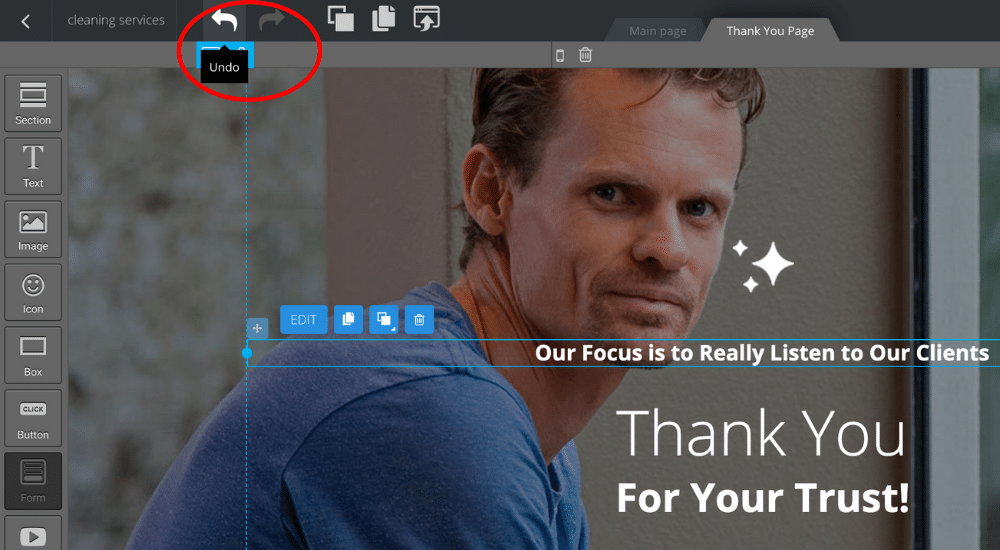 Fonts
Landingi comes with Google fonts already loaded into it, but you can also upload your own, which is awesome. That way, you can keep your branding consistent when you are building your landing pages.
Technical Aspects of
Landingi's
Landing Page Builder
The technical aspects of Landingi are pretty comprehensive. Let's look at them…
Domain vs. WordPress Plugin
There are two ways that you can work with Landingi to make your landing pages live:
Custom Domain – You can buy a custom domain and have all of your Landingi stuff on that domain. It only takes about 2 minutes to set this up, and they have instructions in the Domain section of Landingi so we aren't going to go over it in this article.
WordPress Landing Page Plugin – Or you can add Landingi to your WordPress website via their WordPress Landing page plugin. Then, you can easily add any landing page that you create in Landingi to your WordPress site. To set up the plugin, you'll go to Settings inside of the Langingi plugin to get your API token. Then, you go to My Account in Landingi, which gives your WordPress plugin access to your Landingi account.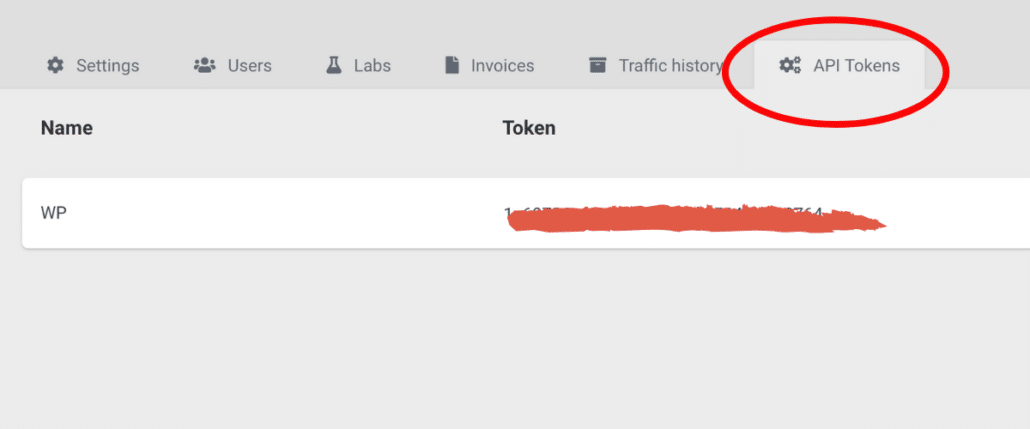 Integrations With Autoresponders
Landingi integrates with pretty much every autoresponder you can think of (about 30 different ones) so if you're using anything that's even slightly mainstream, you'll be fine.
It also has a built-in autoresponder that is extremely simple so we aren't even going to go over it. We recommend you get an autoresponder, but if you really don't need one because you are just calling the leads that you get from your Landingi landing page or something like that, then you can have Landingi automatically email every lead that comes in.
Tracking
Another cool thing that we love about Landingi is the tracking. After you've published your landing page, you can click into it and it will show you the tracking stats, including visits, leads, and conversion rate. This is extremely useful information that we suggest you access on a regular basis.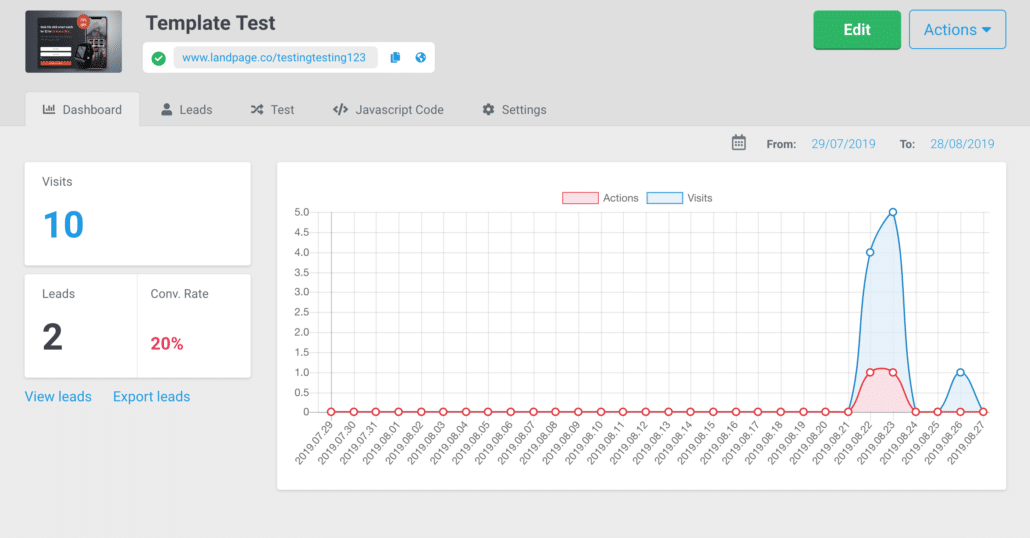 Split Testing
You can also run split tests with Landingi, which is super useful and they make it easy. You simply copy a landing page and then make a variant by making some minor adjustments, such as the headline or an image or something like that.
It will show you which page is performing better, and you can even adjust the settings so that it will do the math for you and automatically choose which page is best after a set amount of time.
You can also have two totally different landing pages that are up against each other and test it that way instead of just testing one small element at a time.

This feature is really well thought out. Plus, we've tested the stats and they seem really reliable, which is good since some software doesn't have the most reliable tracking.
Scripts
Landingi also allows you to easily add scripts (tracking scripts, conversion pixels, and stuff like that) to your pages. You'll just go to Landing Pages and click into one that you have built, and then click on the Javascript Code tab.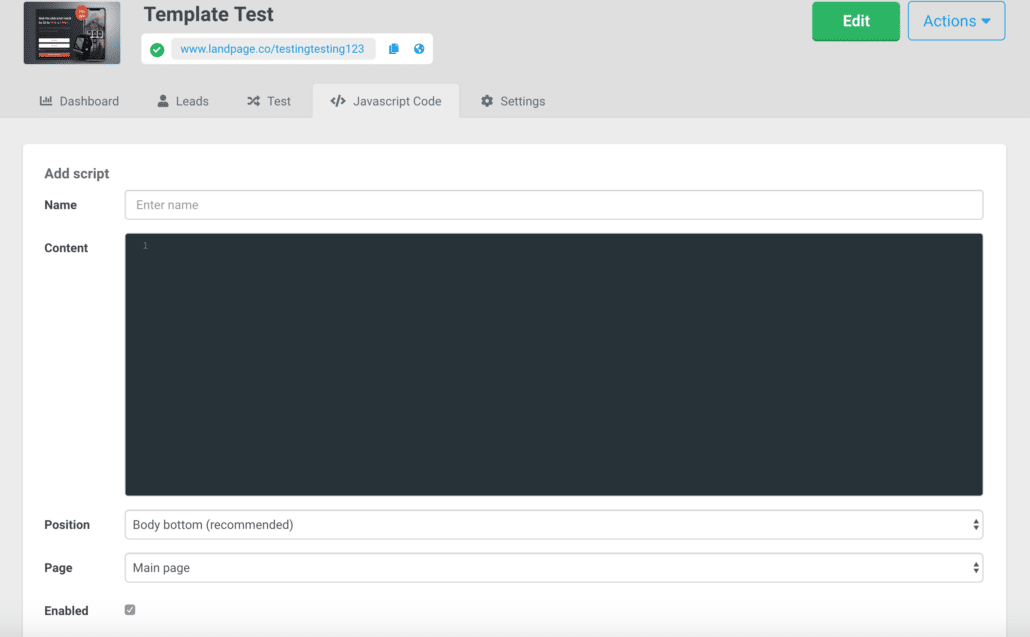 Landing Pages & Popups
It's important to note that although Landingi is a landing page builder, you can also create opt in popups and embed them into your WordPress site.
Speed
Pages need to load fast these days, not only to hold people's attention but also to satisfy Google and improve your rankings. I've done speed tests on Landingi, and it loads landing pages in about 1.5 seconds on a page with a lot of images, so that's pretty good.
Landingi vs Leadpages
GetApp did a pretty nice comparison of Landingi and Leadpages, which is useful to look at in this Landingi review since they are similar products. There, you can see that Landingi's ratings are slightly better, but we are only talking about a half a star.
The pricing of both Landingi and Leadpages is comparable. They both start around $25 and have several options that go up to $200. Both offer 14-day free trials, but with Landingi, you aren't even required to enter in a credit card to get the free trial.
These two pieces of software have similar features with some differences. Landingi has the autoresponder feature, while Leadpages does not, although like we said, getting a real autoresponder is the better way to go for most people since Landingi's is so basic.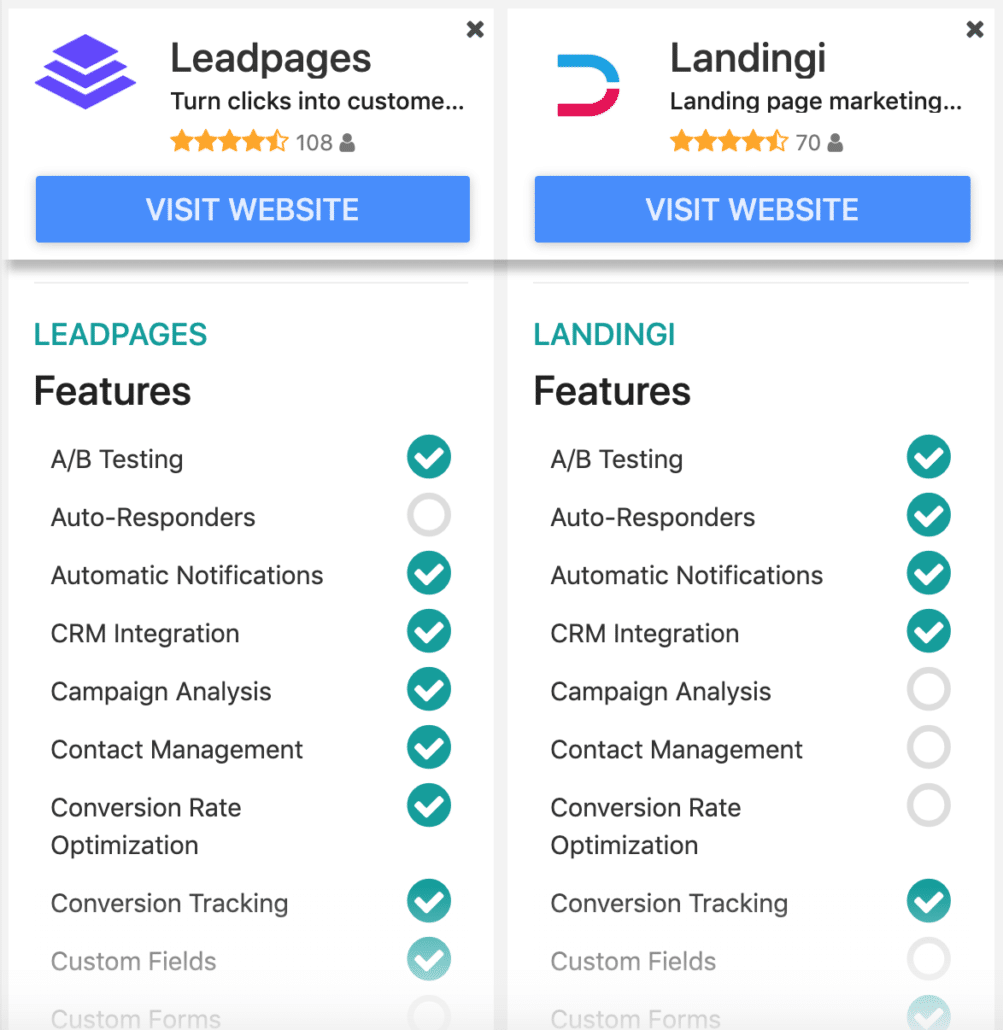 Leadpages has some features that Landingi does not, including Campaign Analysis, Contact Management, Conversion Rate Optimization, Custom Fields, Custom Landing Pages, Engagement Analytics, Real Time Analytics, SEO Management, SMS Integration & Marketing, and Widgets.
There are also some differences in terms of what each company offers in regards to integrations, so check those out before you make your decision.
Overall, though, Landingi is a little bit simpler and easier to use than Leadpages, so if that is what you are looking for, it'll benefit you to go with Landingi. If you want a little more functionality, such as the features we listed above, then Leadpages would be the way to go.
>> For a Full Leadpage Review, click here <<
Landingi Pricing
Part of what makes Landingi so cool is that they have some really cheap pricing options. If you're using a really expensive landing page builder because it builds landing pages and does everything else on planet earth but you're only using it for landing pages, then you can simplify and save money by switching to Landingi.
Free Trial
Landingi offers a 14-day free trial, which is an awesome way to get in there and try it out to see if it meets your needs. You don't even have to enter in a credit card to get the trial.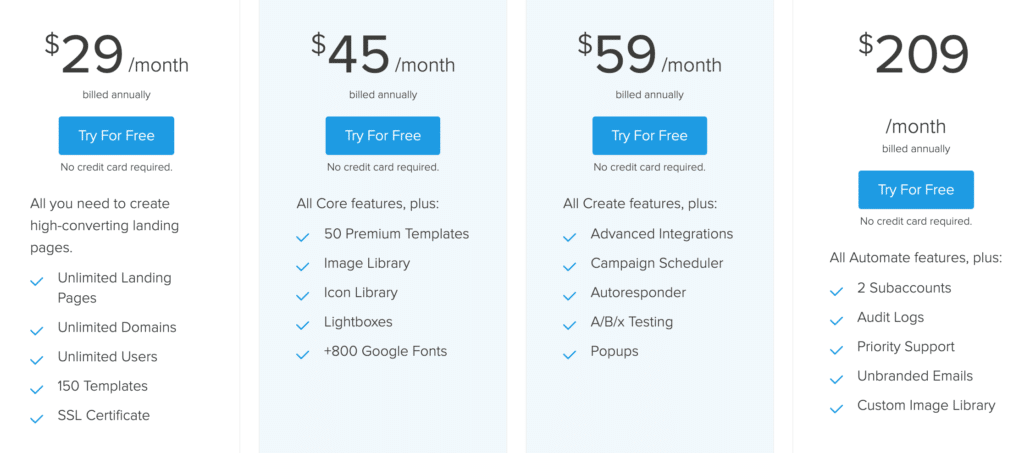 Basic Plan That Will Work for Most People
Landingi's basic plan costs $29/month, and almost everything I've shown you in this article was done on that plan. It gives you unlimited landing pages, unlimited domains, unlimited users, 150 templates, and an SSL certificate.
Upgrades Available
For $45/month, you can add 50 premium templates, an image library, an icon library, lightboxes, and 800 more Google fonts.
For $59/month, you'll add additional advanced integrations, a campaign scheduler, the autoresponder, the A/B/x testing, and the Popups.
Then, with a big jump up to $209/month, you'll add 2 subaccounts, audit logs, priority support, unbranded emails, and a custom image library.
Like What You've Seen?
If you like what you saw in this Landingi Review, you can sign up for Landingi here.
Full disclosure, I am an affiliate of Landingi, but that does not sway my opinion. I genuinely like Landingi. Like I said, I came into this thinking I probably wasn't going to give it that good of a review, but here I am giving it a really good review because they pick a small thing and they do it really well. It is well thought out and simple, yet it allows you to create some pretty killer landing pages.