Often, when someone is brand new to the idea of making extra money online, they're drawn to sites like Swagbucks.
Which, I get.
Swagbucks is a legit way to earn a bit of extra cash and gift cards.
It isn't going to replace anyone's day job or build a business, but IT IS fun, easy, and not an illegal way to earn.
If you're looking for sites like Swagbucks, check out these twelve similar options.
Sites Like Swagbucks that Pay Cash in 2021
1. Prize Rebel
2. Fusion Cash
3. Rakuten
4. Harris Poll Online
5. SuperPay.me
6. Pinecone Research
7. InstaGC
8. My Points
9. InboxDollars
10. Opinion Outpost
11. Points Club
12. Survey Junkie
1. Prize Rebel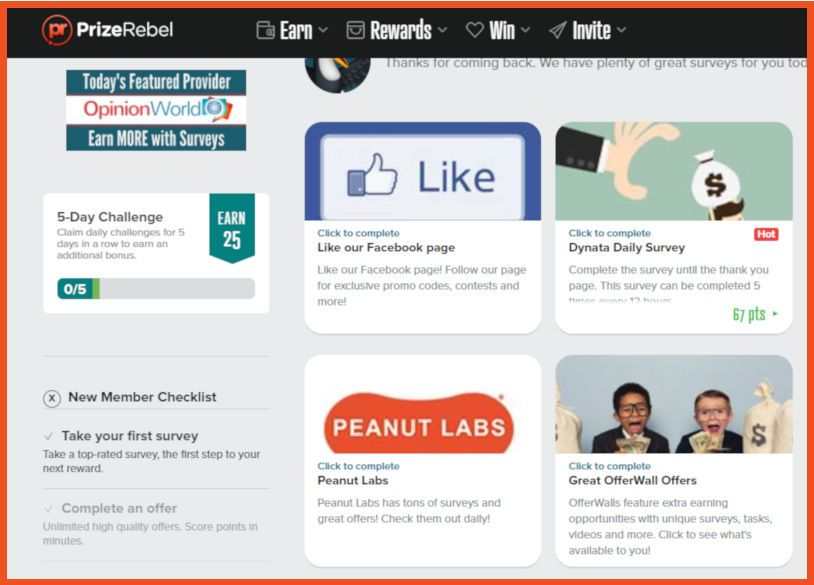 Prize Rebel is a rewards site with an emphasis on surveys. 
To get started, you'll need to go to the survey sections of the site and fill out your basic information. The information they ask for includes your name, birthday, job, income level, address, children's ages, mobile phone brand, and language.
After your profile is complete, you'll be able to access surveys from OpenWorld, Peanut Labs, Your Surveys, Gold, and Yuno.
Each survey is worth a specified amount of points that you can see before starting. Based on what they offered me, it looks like most surveys are worth 50-100 points.
Aside from completing surveys, you can earn points by taking advantage of special offers, referring friends, or watching videos. They also have raffles you can enter.
A $5 Amazon gift card or $5 in Paypal cash only takes 500 points.
They have dozens of different rewards you can cash out for.
2. Fusion Cash
Have you ever used Inbox Dollars? It's been around for over 20 years and is almost as popular as Swagbucks.
Well, if you have, that seems to be what Fusion Cash is modeled off of.
Fusion Cash is a rewards site that will pay you for reading emails, taking surveys, completing offers, watching videos, and clicking on sponsored ads.
They give new users a $5 bonus just for signing up.
Here's an idea of the earning potential with Fusion Cash:
You'll earn $0.02 per day for "reading" their daily email

You can earn $0.15 per day for spending 2.5 minutes on their sponsor's websites

For videos, you'll earn $0.01-$0.02 for watching the video and clicking the ad
The referral rewards are a little better, though. For every new member you refer, you'll earn $1 when they sign up, $2 if they complete a special offer, and $5 every time they cash out, for life.
To cash out, you'll need to have at least $25 in your account, with less than $15 of that amount being from referral bonuses. You can cash out for Paypal cash, a mailed check, or direct deposit.
3. Rakuten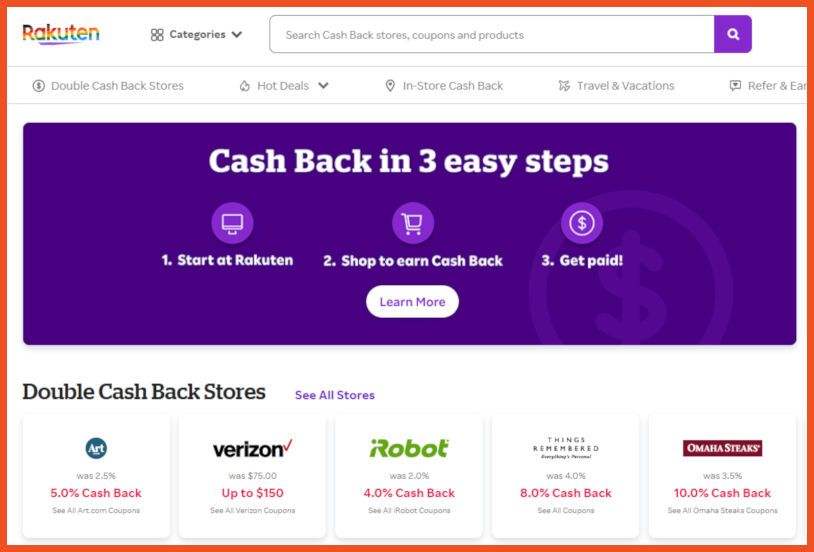 Rakuten is not entirely the same as Swagbucks but is still useful. This is especially true if you use the "shop" feature in Swagbucks, as you'll earn far better rewards through Rakuten.
Rakuten is a cashback site that has browser extensions and a mobile app.
They have a "hot deals" section that shows which stores have gifts when you buy certain products, those that have free shipping, and BOGO offers.
You'll receive a $10 welcome bonus when you spend $25 at a qualifying store within the first 90 days of being a Rakuten member. They also have special refer-a-friend bonuses that allow you to earn up to $30 for every friend you refer.
They send cashback payments every three months as long as your account has accrued at least $5. Payments are made either by Paypal or check.
4. Harris Poll Online
Harris Poll is a well-known market research company that rewards its users with "HIpoints" for completing surveys.
When you sign up for Harris Poll Online, you'll complete your profile by filling out some basic information about yourself. Then, when Harris Poll thinks they have a survey you'd be a good fit for, they will email you pre-screener questions.
These pre screener surveys take a couple of minutes to complete and determine whether you qualify to complete the actual survey.
When you complete a survey, they'll reward you with points within 24 hours of completion. You can redeem your points for many different gift cards.
5. SuperPay.me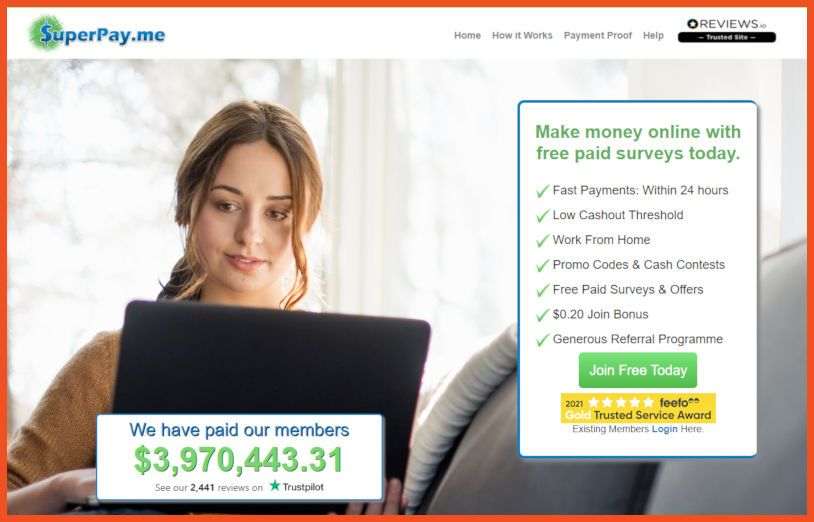 SuperPay.me is a rewards site where you, as a user, can get paid for taking surveys, completing special offers, and referring friends.
They reward their users with points. One point is the equivalent of $0.01. 
In addition to surveys and offers, you can earn points for referring friends. If you make successful referrals, you'll earn 25% of your referrals earnings for life. 
Payments are made via Bitcoin, Skrill, or Paypal. If you prefer to receive payments via gift card instead of cash, they have options from popular retailers, including Amazon. You can withdraw from your account as soon as your balance reaches $1.00.
6. Pinecone Research
Pinecone Research is a market research company that conducts surveys and product testing for companies and brands.
Here's how it works:
Sign up and fill out profile information

Receive an email when there's a survey you qualify for

Earn points for every completed survey
There won't always be surveys that you qualify for. Making sure your profile is complete and accurate is the best way to get matched with opportunities.
As a Pinecone Research member, you can cash in your points for prizes or cash.
7. InstaGC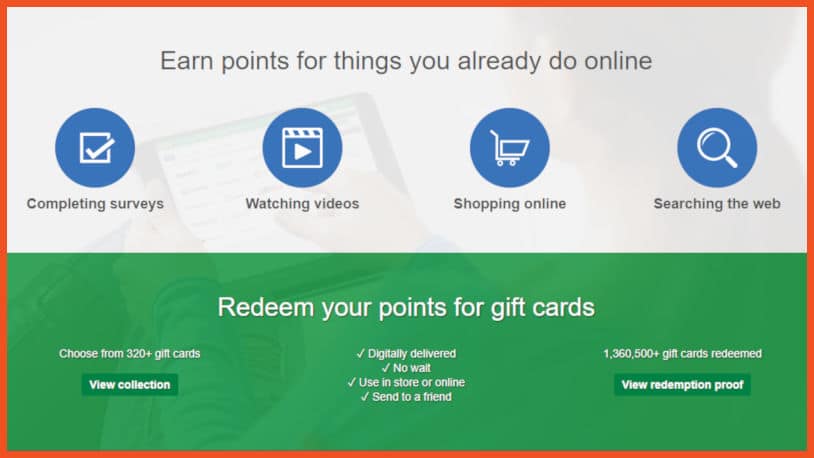 If you're looking for sites like Swagbucks, InstaGC is pretty darn close.
With InstaGC, there are a ton of ways to earn points – almost all the same as Swagbucks. As a user, you can earn points by searching the web, completing offers, taking surveys, watching videos, referring friends, and more.
You can redeem points for various prizes, including gift cards, bitcoin, Paypal cash, and direct deposit. Different payment options require different minimum balances. For instance, you can get a $1 Amazon gift card for 100 points.
However, if you're interested in an Abercrombie gift card, the lowest option is a $25 card which costs 2,500 points.
The big downside to InstaGC is that the user interface is nowhere near as easy to use as Swagbucks. In fact, in some areas, it's just straight-up confusing.
8. My Points
MyPoints has been around for a while and works very similarly to Swagbucks.
MyPoints users can earn points by watching videos, completing offers, shopping, using coupons, and completing surveys.
They offer new users a $10 welcome bonus via an Amazon or Visa gift card if a user spends $20 on any shop merchant within the first 30 days of membership.
Here's a look at the earning potential with My Points:
Earn 2-3 points for each video watched

Surveys are 5-10 points 

Games are 8 points
For reference, a $5 Amazon gift card is 790 points.
9. InboxDollars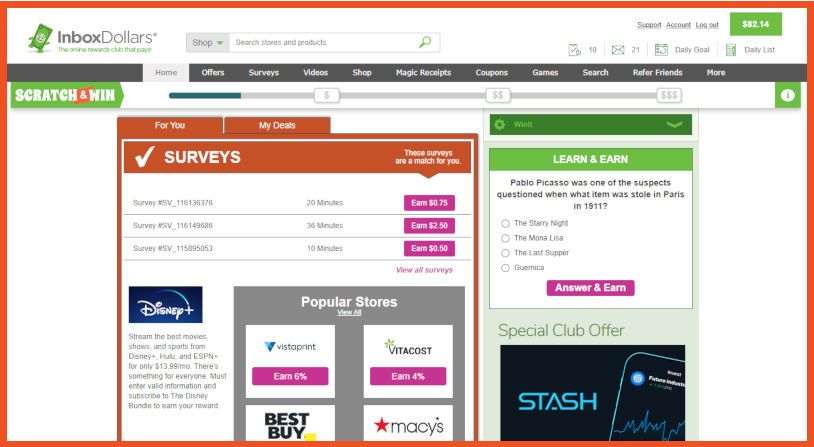 This list wouldn't be complete without adding InboxDollars.
InboxDollars is a 20+-year-old rewards site that works very similarly to Swagbucks. 
As an InboxDollars member, you can earn money from reading emails, searching the web, completing special offers, and taking surveys. In addition, you can cash out for a gift card once your balance reaches $30.
InboxDollars has 43 different gift cards to choose from, including Amazon.
This site offers a $5 bonus just for signing up.
10. Opinion Outpost
Opinion Outpost is a market research company that conducts surveys and product testing on behalf of brands.
As an Opinion Outpost user, there are four ways to earn points:
Take surveys

Test Products

Watch Advertisements

Go on "Missions"
As a user, you'll earn points for each task you successfully complete. You can redeem points for Visa gift cards, Paypal cash, or Amazon gift cards.
11. Point Club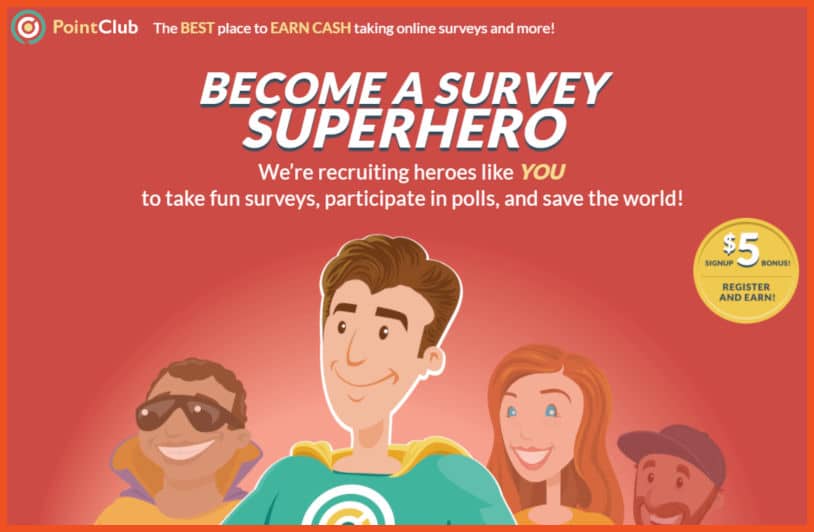 Point Club is a rewards site that looks much more modern than any of the others we've covered.
When you first sign up, they'll direct you to fill out your profile. After completing your profile, Point Club will present you with several "missions" and the point value for completing them. (These missions are surveys.)
They also have an offer board that gives you more opportunities to take surveys or complete special offers.  
You can redeem points for Paypal cash or gift cards. However, you'll need to accrue at least 25,000 points before cashing out. This is equal to $25.
12. Survey Junkie
Survey Junkie is a market research company that conducts surveys on behalf of companies. They reward their users with points for each survey completed. You can redeem those points for Paypal cash or gift cards.
Survey Junkie has a second community called SJ Pulse that allows users to participate in behavioral market research – i.e., sharing digital browsing activity. They claim that users who join SJ Pulse will have access to more earning activities.
Conclusion
If you're looking for sites like Swagbucks, there are many to choose from.
Signing up with several of these sites can help you earn more gift cards or Paypal cash. However, if you're looking for a more profitable side hustle, check out our list that has over 95 ideas.
These side hustle ideas could turn into full-time income streams if that's something you desire and want to work toward.
Looking for more ways to earn money?
Check out the video below to learn how I went from $0 to $3,000,000: