If you're a freelance writer or are trying to break into the field, you've probably heard of Textbroker.
It's a site that hires freelancers to produce content for businesses.
And for a new freelance writer, it sounds like a pretty good deal – sign up, submit a sample, and have a steady flow of writing work coming to you.
Only, it doesn't usually quite work like that.
The truth is, the pay at Textbroker can be painfully low, and the topics obscure.
Luckily, there are some worthwhile Textbroker alternatives that might pay a little better. Here's what you should know.
What is Textbroker?
Textbroker is an online content brokerage often referred to as a "content mill." It allows business owners to order articles and hires freelance writers to produce them.
Textbroker has a long-standing reputation with freelance writers as being bottom-of-the-barrel work simply because of how low the pay is.
Here's how it works:
As a writer, you sign up and submit a writing sample. You are then awarded a rating, up to five stars, based on this. (You'll only be rated four stars or below when first starting, regardless of how good your sample is.)
Once approved and rated, you can access the job board and choose from available jobs.
Here's what you'll earn based on how you are rated: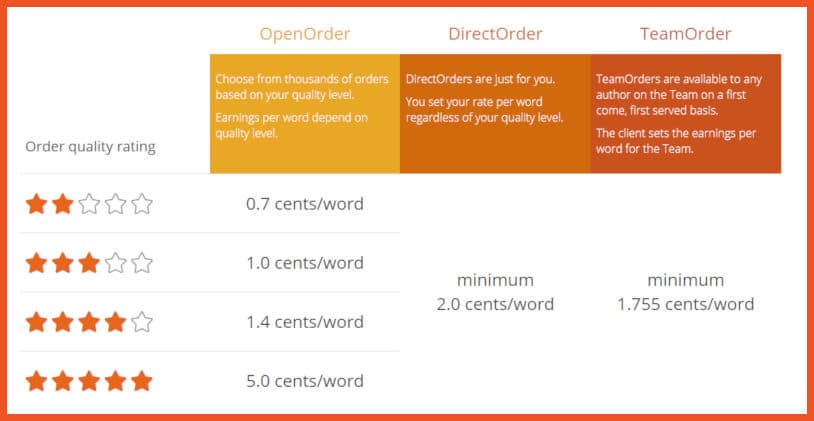 As you can see, the pay is low. Unfortunately, the only decent pay is at the five-star rating, which could take years to get to.
If you're like the average four-star-rated writer and need to earn $2,500 per month, you'd have to write over 175,000 words, which is insane. (And super hard to do.)
If you're a new writer, don't put all of your eggs into this one basket. Instead, be sure to check out these sites like Textbroker and consider securing a few private clients as well.
10 Sites Like Textbroker
1. ContentFly
2. Writer's Access
3. Crowd Content
4. Scripted
5. OneSpace
6. Zerys
7. The Content Authority
8. Verblio
9. iWriter
10. WordAgents
1. ContentFly

ContentFly is a content agency that pays its writers well, has reasonable deadlines, and has a structured system.
It works on the same premise as Textbroker – sign up, submit your samples, and if approved, you can start claiming work off the job board.
The only difference is ContentFly pays at least $0.05 per word for ALL writing assignments. Another benefit? The article requests aren't nearly as obscure as they are at Textbroker.
Plus, the deadlines are reasonable and usually 2-7 days long. Article requests that have fast deadlines pay more.
To get paid, you simply submit an invoice every Tuesday evening. Payments are made within two business days via direct deposit.
2. Writer's Access

Writer's Access works a little more like a client matching service than a regular job board. To get started, writers need to fill out a profile, create a portfolio, and submit samples. Writer's Access will then give each writing a rating.
Based on a writer's quality level and skills, they'll be matched up with possible clients. 
3. Crowd Content


Crowd Content is a company that provides numerous content writing jobs to freelance writers.
To get started with Crowd Content, you'll need to fill out and submit an application. If approved, you'll be given access to the dashboard and can apply for even more types of work.
Some of the work you'll find at Crowd Content includes writing product descriptions, ebooks, meta descriptions, blog posts, white papers, Tweets, Facebook posts, and more.
You can even apply to write product descriptions for companies like QVC, and other retails sites.
The pay for Crowd Content varies by job. For example, you can earn 1.2 – 6.6 cents per word for custom content orders while Tweets pay $0.70 – $1.20 and metadata pays $0.90 – $1.45.
4. Scripted
Pay:

You set your rates

Pay Info:

Payments made via Stripe

Sign Up Link: Become a Scripted Writer
As a writer, when you join Scripted, you're given a chance to create a profile and portfolio. Your portfolio is what potential clients will see when searching for a writer and increases your chances of finding work.
You also can bid on jobs and pitch your own ideas. In addition, you can set your rates based on your level of experience and expertise in specific subjects.
5. OneSpace


OneSpace (formerly CrowdSource) is a company that hires freelancers to perform many different tasks for their clients. One of those tasks is writing.
To get started, you'll need to create an account and take the qualifications assessment for any areas you are interested in. As a writer, this means passing an English comprehension test, basic English assessment, and possibly more.
6. Zerys
Zerys is a site similar to Textbroker that has three ways for writers to earn money. First, Zerys will put a writer on a basic job board based on her rating, language, and expertise from which she can choose jobs.
Secondly, there are "favorites" job boards writers can be added to by clients. And lastly, clients can issue direct orders to writers they want to work with.
Zerys states that payment is dependent upon the client. From what I've found, pay ranges from $0.01 to $0.10 per word, depending on a writer's rating.
7. The Content Authority


The Content Authority makes it on our "sites like Textbroker" list since they work very similarly.
If you want to be a writer for The Content Authority, you'll need to sign up and submit a writing sample. If approved, you'll automatically start as a level 1 writer. 
There are three levels for writers, and over time your level can increase based on the quality of your work. 
Once you're an approved writer, you'll have access to the job board and will be able to claim any available job. There's no limit to the number of articles you can write.
Payment is made every other Monday via Paypal as long as your account has at least $25 of earnings in it.
8. Verblio
Verblio is a content subscription service that hires freelance writers to crank out the content for their clients.
This agency pays much better than Textbroker but is harder to get hired by.
To get started writing for Verblio, you'll need to fill out an application, submit a sample, and pass a grammar and plagiarism training module.
If accepted, you'll be able to start taking jobs.
Verblio pays writers $10.50 for a 300-400 word article. This comes out to a starting pay of about $0.03 per word.
Articles can range from 300-3,000 words. However, in the beginning, new writers only have access to simple jobs.
9. iWriter


I was going to say that iWriter was just like Textbroker until I figured the payment amount. Per their website, "Standard" rated writers can earn as little as $2.15 per 500 words, which comes out to less than half a cent per word.
Yikes.
If you can manage to get hired as an "Elite" writer, you can do reasonably well. However, if you receive standard writing, I'd save this site for a last resort.
The good news is that the application process looks very simple. All you have to do is fill in your basic info and provide two short, 200-word samples to qualify.
10. WordAgents
WordAgents hires freelance writers to write blog posts, website content, listicles, and more. 
New writers start at $0.03 per word, much better than some of these other Textbroker alternatives. As a new writer, you'd need to submit a minimum of 5,000 words per week.
After a 90-day probationary period, you can increase to 7,500 or 10,000 words per week.
Other Textbroker Alternatives: Freelance Marketplace Sites


If you're a beginner writer, you don't need to limit yourself to only the sites above. You can also create profiles on freelance marketplace sites.
These sites allow potential clients to find and hire you. They may also give you the chance to bid on work.
Here are two marketplace-type sites you can sign up for as a writer.
1. Upwork
Upwork is one of the longest-standing freelance marketplace sites. It allows freelancers of ALL types to create profiles and bid on work. And, of course, any business owner can come to UpWork to find the help they need.
The pros of creating a profile on Upwork include:
Access to hundreds of jobs

No specific skills requirement

Set your rates
The downside to using Upwork is that you're often competing with people who charge meager rates. And since you have to bid on work, you can get caught up in the bidding and then stuck with a job that pays far below what you usually charge.
2. Fiverr
I like Fiverr for writers. Simply because if you do a quick search, you can see that many writers earn VERY good rates. 
(You'll also find writers earning pennies. But it's nice to see both sides on Fiverr.)
Fiverr allows freelancers to create a profile and bundle up services to sell. For example, as a new writer, you can create a profile and offer 500-word articles for $35 with a five-day turnaround time. Then, you could up-sell and charge $50 for that same article with a 24 hour turnaround time.
The more ratings you can get on Fiverr, the more work you'll be able to secure.
You most likely won't pull in a full-time income from work on one of these sites, but they can be good backup forms of work.
Best Job Boards for New Freelance Writers


If you have writing samples, you can (and should!) apply for private jobs on writing jobs boards. These jobs usually pay a lot more than content mill sites.
And if you're ready to build a sustainable writing career, it's essential to have at least a couple of regular clients.
You can start finding clients by applying to job boards when you see relevant positions. Here are some job boards to check out:
ProBlogger is one of the most active job boards for writers. This is where many bloggers and businesses come, looking to attract writers for long-term positions. I recommend checking this job board daily.
This site rounds up the best writing job postings across the web daily. Each day you'll find a breakdown of different types of jobs, including editing, journalism, blogging jobs, and more.
FlexJobs is a paid job board that caters to higher-paying jobs from higher-end clients. If you have some writing experience and good samples, you might consider a FlexJobs subscription.
Conclusion
If you're a new writer and looking for sites like Textbroker, there are plenty.
Your best bet is to put in applications with higher-paying sites. If you don't get accepted or those sites don't provide enough work for you to hit your income goal, start applying to some of the lower-paying sites.
You can also create your profile on freelance marketplaces and start applying to job board work.
In the end, finding your own clients and applying to job boards takes more work but will help you build a long-lasting career that pays the bills.
Looking for more ways to earn money?
Check out the video below to learn how I went from $0 to $3,000,000: