3 Ways To Make Money Online
You've probably heard the claim before – start a blog, and in a year, you'll be able to quit your day job.
Or maybe you've read income reports from bloggers making seven figures per year, and you want to know if you, too, can really make a living blogging.
The short answer is "yes." It's not all smoke and mirrors. There is serious money to be made.
The long answer is that to earn a full-time income from a blog, you have to put in a ton of hard work and unpaid time, and even then, success isn't guaranteed.
If you think you have what it takes and you're ready to get started on your blogging journey, here are the top ways to make a living blogging.
Ways to Make a Living from Blogging
1. Affiliate Marketing
2. Ad Networks
3. Product Sales
4. Sponsorships
5. Sell Services
1. Affiliate Marketing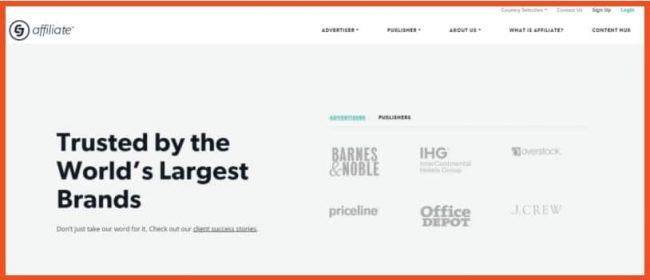 If you're familiar with direct sales, affiliate marketing is kind of like that, only for bloggers.
Here's how it works:
You sign up to be an affiliate for a product you love, use, and think would be a big hit with your blog readers. After approving you as an affiliate, the company you signed up with gives you a unique tracking link. 
You place this tracking in your blog posts when relevant. When a reader clicks your link and makes a purchase on the affiliate's website, you receive a commission.
Affiliate marketing is one of the best ways to make a living blogging. This is because it doesn't matter what niche your blog is in; you can find affiliate offers to promote.
You're also not limited to promoting only one affiliate offer – you can sign up for as many as you'd like. 
Here is a look at some affiliate programs you can sign up for based on the type of blog you run:
Or you can check out my list of high paying affiliate programs.
No matter the niche of your blog, you can find an affiliate program to promote.
2. Ad Networks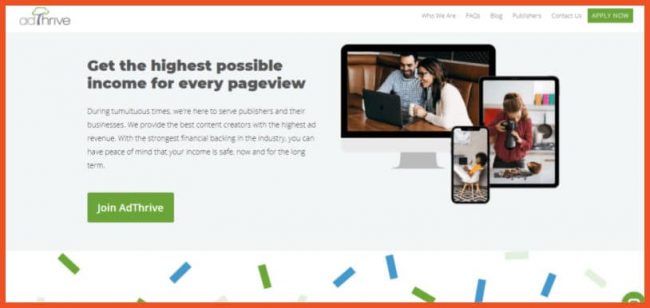 You see ads on just about every website you visit. And those ads are one way that the website owner earns an income.
Ad networks generally pay less than a smart affiliate marketing strategy would. However, since they are "set it and forget it," many bloggers still choose to use them.
The amount of money you earn from ad networks will depend upon your blog's niche and the amount of traffic you receive.
Ad networks can pay in two different ways: CPC or CPM.
CPC stands for cost per click. With this type of setup, you're paid a set amount every time a reader clicks on an ad.
CPM stands for cost per thousand. With this type of setup, you're paid for every thousand impressions an ad has.
Some ad networks will use a combination of CPC and CPM to pay their publishers.
Here are some of the top ad networks for bloggers to check out:
Google Adsense

– Best for beginners, no traffic minimum.

Mediavine

– Best for intermediate bloggers, you need at least 50,000 monthly pageviews to qualify.
AdThrive – Best for advanced bloggers, you need at least 100,000 page views to qualify.
3. Product Sales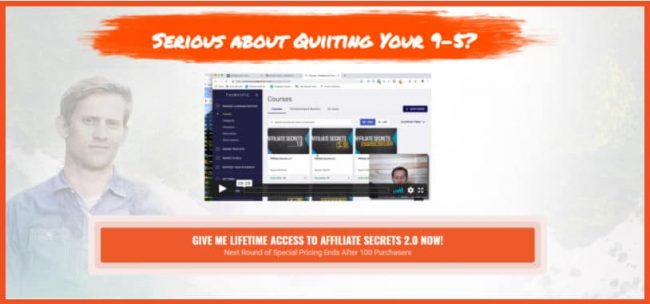 Do you know stuff other people want to know?
If so, you can create your own product.
Some popular products bloggers have success with are courses, ebooks, and challenges.
The cool thing about product sales is that you can create $5 ebooks up to $2,000 courses, depending on what you're teaching. 
A good product paired with a strong marketing plan can help you pull in a full-time income from blogging, even with a relatively small audience.
In general, the more mainstream a topic is, the less expensive your products will need to be priced, and the more you'll need to sell to earn a reliable income.
4. Sponsorships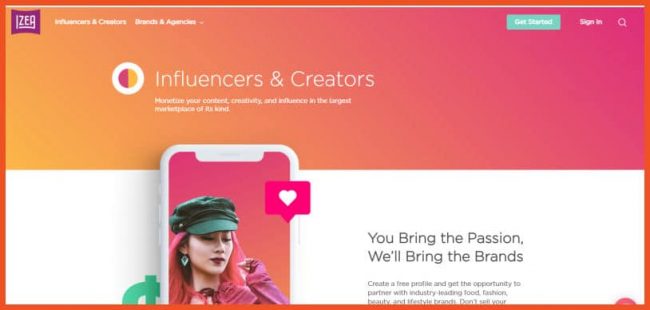 Sponsorships are when a company wants to work with a blogger to help promote its brand.
This could look like you, as the blogger, writing a blog post about a product, using the product on Insta stories, or doing social media, or email shoutouts. 
Sponsorships are a form of influencer marketing and can be done in many different ways.
If you're interested in sponsorships you can sign up with programs like Izea or you can reach out directly to the companies you're interested in working with. It's important though, that you build up a solid reader base before doing this.
5. Sell Services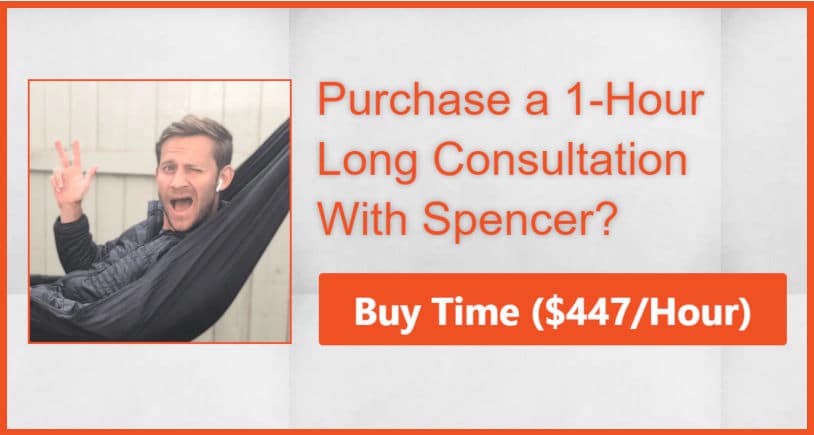 Your blog doesn't have to earn money in the traditional affiliate sales and ad network way. In fact, the fastest way for you to make a living blogging is to use your blog as a marketing tool for the services you provide.
Here are some popular services you can offer:
Freelance Writing – A blog is a great way to show off your writing chops. Your blog posts can act as writing samples, and if you're good at drawing in traffic, you can bring clients to you. Freelance writers can make a full-time living, so if you're looking to build your own business, this is a viable choice.
Design Services – If you're good with photo editors, you can provide design services that range from editing personal photos to creating social media photos for businesses.
Website SetUp – If you're interested in selling website setup services, you can start a blog aimed at brand new bloggers or business owners who need help. This blog can be your bridge to getting clients.
Coaching – Regardless of the type of coaching you offer, a strong blog can act as your platform. You can spread your message in your blog posts and use them as a way to attract your dream clients.
The bottom line is that no matter the service you want to offer, you can use a blog to help you showcase your work and draw in your ideal clients. And if you want to make money quickly, selling a service is your best bet.
How to Generate Traffic to Your Blog
Now that you know the most popular ways to earn money from blogging, your next step will be generating traffic to your blog. After all, if nobody reads your blog, there will be nobody to click on your affiliate links, purchase your products, and no companies will want to sponsor you.
So, before you go monetization crazy, let's build traffic. 
Here's how.
Write Blog Posts Consistently
Running a successful blog requires writing blog posts consistently. While you don't need to write a new post every day, you will need at least 1-2 per week to build momentum.
In the first few months of blogging, your primary focus needs to be creating killer content.
Take Advantage of Social Media
Social media can be massive for blog growth – but first, you have to figure out which social media networks are worth putting effort into.
TikTok 
At the time of this blog post, TikTok is still relatively new and not as competitive as other social networks. I did a TikTok challenge last year and grew my account to over 100,000 followers in only 60 days.
TikTok also helped me grow my blog traffic and increase YouTube and email subscribers..by a lot. 
If you're not afraid of making videos and can commit, TikTok can be a great traffic source for your blog. (You can watch my YouTube video about TikTok growth here.)
Pinterest
Pinterest isn't as easy to crack as it once was but is still one of the best ways for new bloggers to get traffic quickly. Here's how:
Sign up for a business account and apply for rich pins

Create boards that are highly relevant to your blog

Give each board a description using targeted keywords

Create pins for each blog post that are 1,000 x 1,500 pixels

Give each pin a keyword-rich description
After doing this, you'll pin your blog posts to all of your most relevant boards.
Pinterest values new content, so by making several different Pinterest images for each of your blog posts, you'll increase your Pinterest distribution.
With an intelligent strategy and consistency, you can reach your first 1,000 blog readers with Pinterest fairly quickly.
Instagram
A highly targeted Instagram account can help you bring in blog traffic and affiliate commissions. It can take a while to grow on Instagram, but you'll start to build a following if you consistently create compelling posts and stories.
Write Guest Posts for Others
Writing guest posts is a tried and true strategy for growing a blog. It helps you gain traffic, network with your peers and is beneficial for SEO.
The best way to find guest posting opportunities is by reaching out to other bloggers in your niche.
Play the Long Game with SEO
SEO stands for search engine optimization – it's what helps search engines like Google know what you're writing about so they can send users your way. 
The best SEO strategy is one that avoids gimmicks, quick wins and paying for links (which can get you banned from Google search results.)
If you want to get an edge over your competitors, you can use a keyword research tool like Ahrefs or UberSuggest to develop blog post ideas.
These tools can help you discover the best keywords that aren't highly competitive. As a new blogger, you'll be far more likely to see results from these low competition keywords.
If you want to up your SEO game, read our How to Start a Blog guide – it has a detailed section on coming up with an SEO strategy.
Other Helpful Tips for Beginner Bloggers
Choose Your Niche Wisely
Your niche is the topic or subject of your blog. You must choose a niche that's profitable and one that you can create content on for years to come.
When you're first getting started, focus on a narrow niche. As you grow, you can slowly expand the topics that you cover.
Don't Expect Instant Results
Anyone who claims that you can quickly make a ton of money blogging is lying. 
The truth is, there's a ton of money to be made, but it only comes after you put in the hard work and time required to see results. 
Commit to blogging for at least six months before calling it a wash. It takes a lot of unpaid time in the beginning, but that work usually pays off.
Experiment
Different blogs will find success with different monetization and traffic strategies. What works for your favorite blogger might not work for you.
Don't be afraid to experiment. Test out different ways to make money from your blog and adapt those methods as you grow.
Start an Email List from the Beginning
As a blogger, you have no control over outside forces like Google or social media platforms like Facebook or Pinterest. They can cut off traffic to you at any time for any reason.
The one thing you do have control over, though, is your email list.
When you have an email list, you can make money without constantly worrying about traffic. To get started, check out our 5 ways to catapult your email list growth.
Final Words on Making a Living Blogging
You can make a living blogging. 
In the beginning, you're not going to see a lot of rewards for your effort. It takes time and dedication to start bringing in an income. 
You'll have to experiment to find which combination of income streams works for you and your niche.
It's probably best to keep your day job and blog on the side until you get to the point where you can turn your blog into your full-time gig.
Learn affiliate marketing secrets. Click here to get started