Do you like the idea of flipping items for profit?
If so, I don't blame you. It's a proven business model with lots of potential.
But when getting started, knowing what to sell can be difficult.
After all, the options are pretty much limitless. 
This is why you need to focus on three areas – 1) what you know, 2) what sells quickly, and 3) what sells for a decent profit.
Here are the top things to look for at a thrift store to resell for profit.
Things to Look for at Thrift Stores to Resell
1. High-End Clothing
2. Vintage Furniture
3. Textbooks
4. Vintage Pyrex
5. Vintage Board Games (In Excellent Condition)
6. Home Decor
7. Anything with Tags
8. Vintage Toys
1. High-End Clothing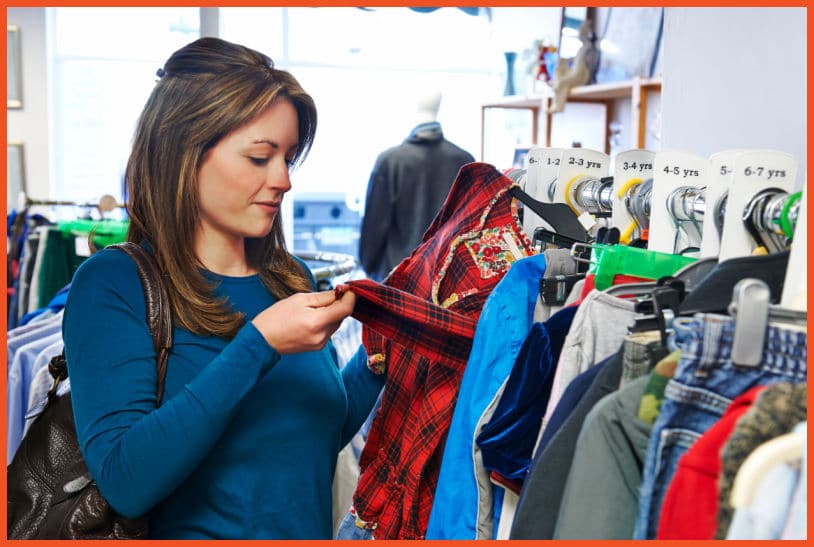 When we're talking about high-end clothing, we don't mean brands like Nike or American Eagle. (Although you could certainly sell those items for a profit.)
But instead, designer clothing that can sell for up to hundreds of dollars, even on the used market.
The great thing about searching for high-end clothing is that the average person isn't familiar with many of the brands, so these clothes are often left behind.
So, if you're interested in digging for high-end treasure at the thrift store, you need to start by familiarizing yourself with the brands of clothes that sell well and for a lot.
Apps you can research include eBay, ThredUp, Poshmark, and Bonanza.
Since there are so many different types of clothing, it's best to narrow them down. Start with a category like jeans. Get good at finding the brands and styles that resell and then add another category.
2. Vintage Furniture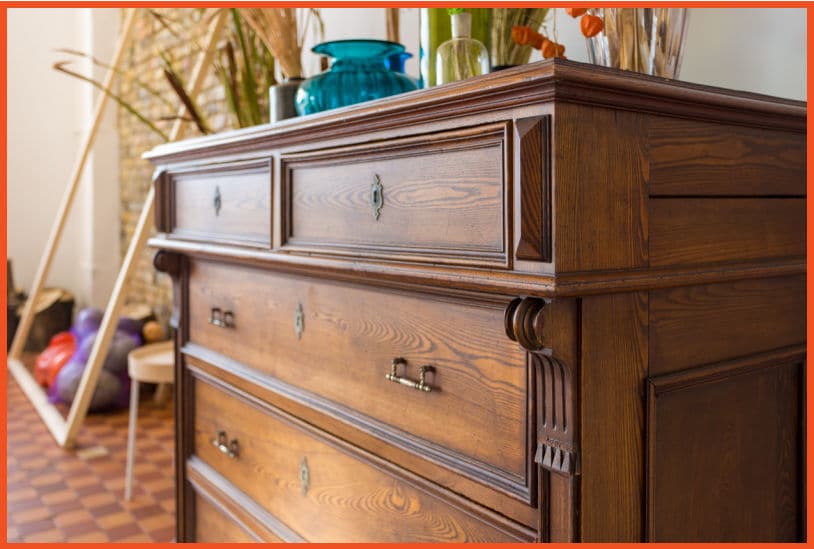 Vintage furniture made of solid wood will always be in demand, especially if you live in a trendy or upper-scale area. (Or can market to a trendy neighborhood.)
However, as good as profit can be, there are a couple of downsides we should cover.
First, you need to have a bit of knowledge on which furniture is actually worth your money.
Secondly, you need the ability to transport and store your finds. Third, you may need to make minor repairs to the furniture you find.
If none of that is a problem for you, flipping high-quality furniture has a huge profit margin in it. 
To get started, purchase one or two pieces to flip and work your way up as you gain more confidence in what sells.
3. Textbooks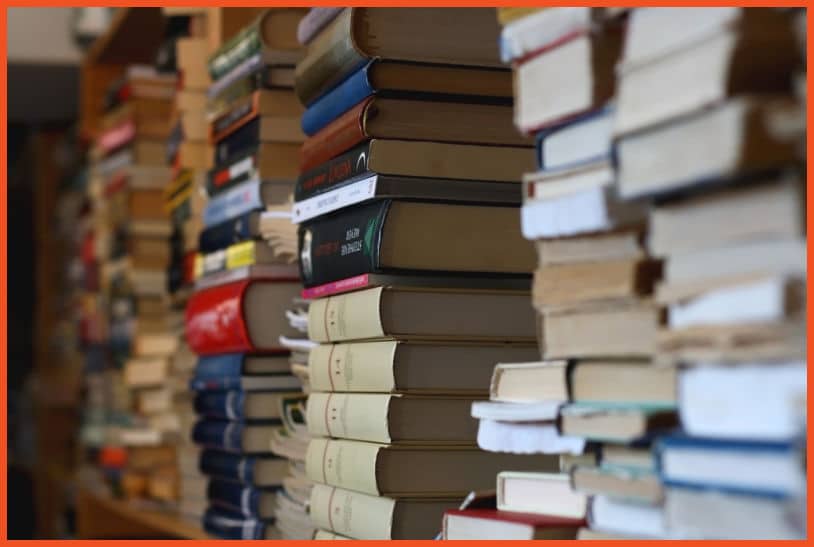 Textbooks will always be a hot item simply because brand new they are SOOO expensive.
And the cool thing about flipping textbooks is that you can find out if they're profitable before you buy. All you need to do is download the BookScouter app.
This app allows you to scan books and then lists which book stores will buy them from you and for how much.
Based on this info, you can easily see what the potential profit is.
This is an excellent side hustle for college students.
4. Vintage Pyrex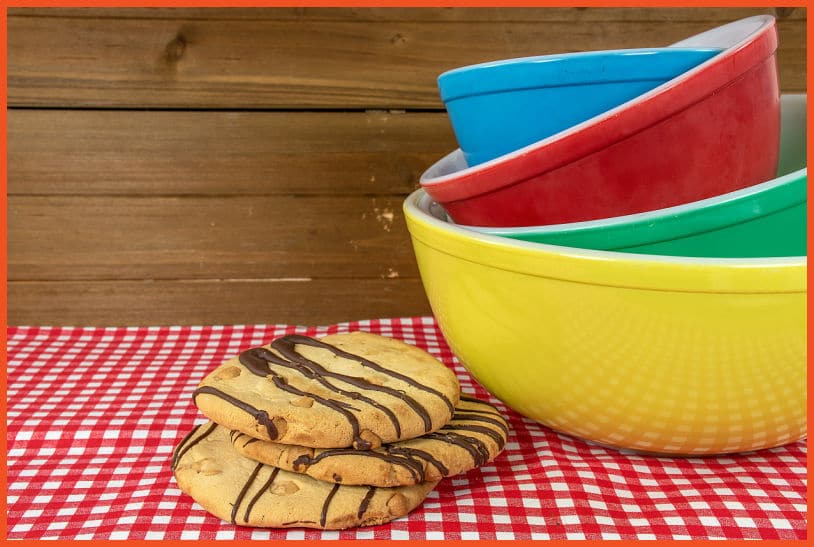 Yes, Pyrex is a company that still makes high-quality kitchen gear. However, it's the older Pyrex bowls and dishes that are making a comeback.
If you come across any older-looking Pyrex cookware at a thrift store, buy it. Even one dish can earn you $20-$30. A set of 5? You're looking at making over $100.
You can check a site like Pyrex Love to familiarize yourself with the various vintage patterns.
5. Vintage Board Games (In Excellent Condition)


Sometimes you need to ride the wave of what's popular. And right now, vintage board games check that box.
However, not just any board game will do. The game needs to be in excellent condition, have all the pieces, and the box shouldn't have any rips or stains.
Here are some of the top games to look for:
Clue

Monopoly

Checkers

Parcheesi

Life
Of course, you can grab up any vintage game you see in excellent condition if it's low priced.
6. Home Decor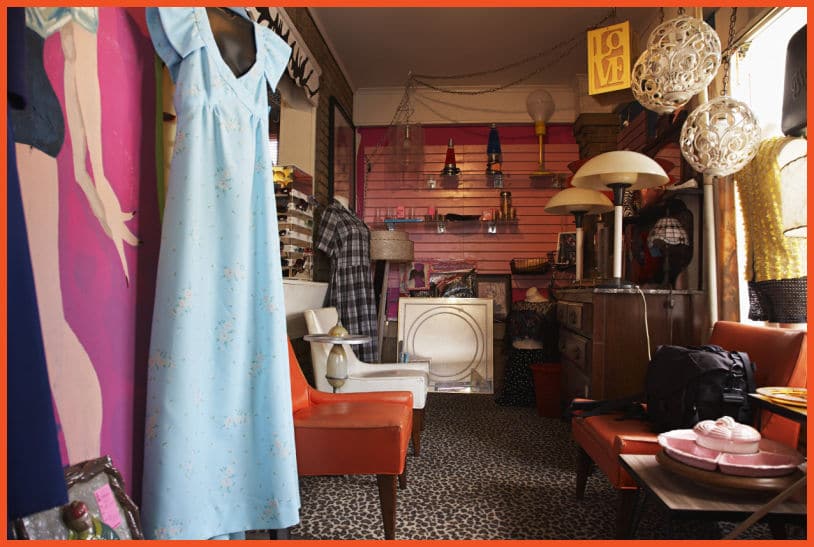 Home Decor is a great item to resell on sites like eBay or even as "lots" on Facebook. However, this category is usually best suited for a person interested in interior design or home decor.
If that sounds like you, there are several different directions you can go.
You can resell farmhouse decor, mid-century modern items, seasonal decor, vintage decor, and more.
The options are endless.
7. Anything with Tags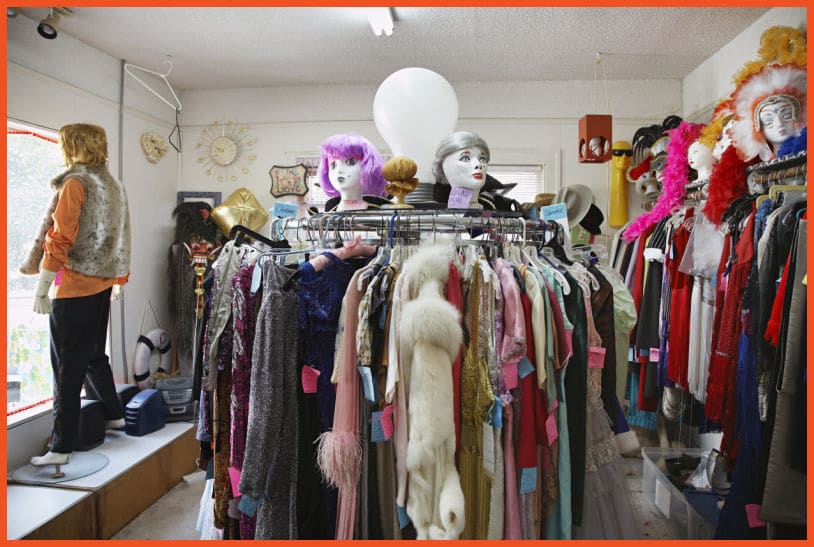 If you come across merchandise that still has the tags, it deserves a quick search to see what it's selling for.
All you need to do is search on eBay to see what the item has sold for. This will give you an idea of whether the item is worth picking up.
8. Vintage Toys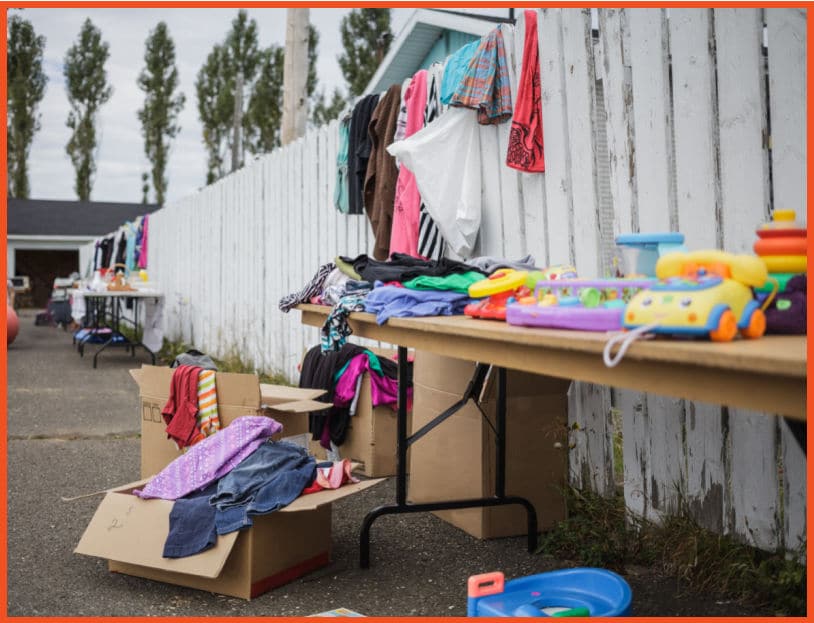 Here are some toys to be on the lookout for:
Little Pet Shop

My Little Pony

American Girl Doll

Toy Story

Thomas the Train

Cabbage Patch Kids
Tips for Buying Things at a Thrift Store


Once you have an idea of what you want to resell, you'll be ready to hit up the thrift stores, garage sales, and flea markets.
However, you don't want to get too ahead of yourself and start recklessly purchasing. Instead, follow these tips so that you make smart purchases.
Start with What You Know (Most Important!!!)
Want to be successful? Start by looking for and reselling items you're familiar with.
For example, if you've been playing video games your entire life and come across a rare game, other gamers would snatch up in a minute for top dollar, buy it.
That's your "lane." 
You know what to look for. You know what will sell and what won't.
If you try to start by selling women's jeans and you're a man who has never once looked at a label, you probably won't do well.
Start with what you're already an expert in. Gain experience. Broaden your horizons.
Check Resale Prices Before Buying
Once you've found an item worth flipping, check the current sale prices before you buy it. Because let's be honest, sometimes thrift stores prices are far more than they should be, and you need to make a profit off of whatever you're purchasing.
You should have the apps you need to check installed on your phone before you ever step foot in the store. This way, price checking will be effortless.
If you want your flipping items side hustle to be profitable, you need to buy your items as inexpensively as possible.
Stay on Top of Trends
Items within each niche that sell well change as trends come and go. Staying on top of trends in your niche will help you find those winning items.
Take Shipping Into Account
Remember, the heavier the item, the more it's going to cost to ship.
You are not Amazon. You cannot offer customers free 2-day shipping. If you think the shipping costs would scare away a buyer, the item might not be worth it.
Where to List Items for Resale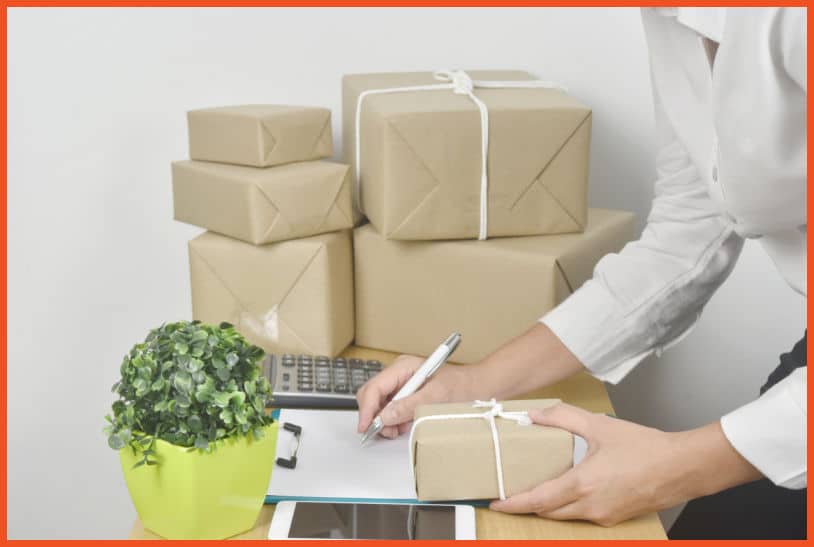 There are many places to sell your thrift store finds. However, the places you'll have the most success with will depend on what you're selling.
Here's where to list items for resale:
Poshmark
Poshmark is an app that lets users buy and sell high-end clothing, shoes, jewelry, and accessories. 
As a seller, once you download the app, you'll be able to begin listing items. Poshmark provides prepaid shipping labels for all items sold and offers the buyers payment protection.
The fees are very straightforward. For items under $15, they keep $2.95. For items over $15, they take a 20% commission.
Poshmark does not charge listing fees.
eBay
The best thing about eBay? You can sell anything you can ship. 
In addition, eBay is well-known and trusted by buyers, which makes it a no-brainer for selling online.
The downside to selling with eBay is that their fees are a bit confusing. For example, depending on your account type, listing fees will be anywhere from free to $0.30 per item.
And then you have the commission fees, which are all over the place depending on what item you're selling. (Take a look at the varying fees here.)
In a nutshell, eBay's fees range from 0-14.55%.
Facebook Groups and Marketplace
Facebook remains a great place to sell large items like furniture and "lots" of items like baby stuff, kid's clothing, or books.
There are two ways to sell on Facebook: groups or the marketplace.
If you want to sell shippable items to areas outside your geographical location, you can do so through Facebook Marketplace.
Facebook Marketplace doesn't charge any seller fees for doing so.
If you're trying to sell to locals, your best bet is joining local garage sales, yard sales, and buy/sell/trade pages.
You'll be able to list your items on these pages, and your listing will be distributed to locals who are also in these groups.
Once you have an interested buyer, you can make payment and pickup arrangements.
Mercari
Mercari works very similarly to eBay, only they put more focus on their app.
As a seller, you can sell clothing, shoes, home decor, beauty, and electronic items.
Mercari makes selling easy. There are no listing fees, and getting your items listed is quick and easy. They'll even provide a USPS label that you can print after selling an item.
Mercari takes a 10% commission on your completed sales. 
Craigslist
Craigslist has to make this list for one reason: furniture.
If you're into purchasing and reselling furniture, you can't discount Craigslist.
And what's funny about this site is that certain buyers, especially high-end buyers, will sometimes only look at furniture for sale in their price range.
That means you could find a $100 vintage furniture piece, turn around and list it for $350, and potentially sell it—all without doing anything.
Will that happen every time? No.
But I casually know someone who has done this very thing a couple of times.
Bonanza
Let me be honest, Bonanza is pretty weird and a little off-putting at first. I mean, they sell everything from used women's clothes to new dietary supplements.
But they are highly trafficked and seller-friendly, which means they're probably worth trying out. 
Plus, they only take a 3.5% commission of final sales. This is a lower commission rate than any other online marketplace. (Besides Facebook or Craigslist.)
Chairish
If you're selling high-end, high-priced home decor, this is a site you need to check out.
Chairish sells gently used antique and vintage home decor.
Some of their categories include lamps, wall art, lighting, and rugs.
For a basic account, you can list up to 9 items for free. However, they do take a very high 30% commission.
 If you have success, you can upgrade to a paid account, allowing you to list more items. In addition, with a paid account, Chairish lowers their commission fees to 20%.
Swappa
If you're sitting on electronics that are still in working condition, Swappa is your site.
It's a marketplace for buyers looking for gently used tablets, phones, and wearables.
You can view what electronics typically sell for here.
As a seller, you list your items and then ship them to the buyer. 
Swappa fees vary based on the amount of the sale. For instance, sales of $101-$300 are a flat $10 fee. Sales of $501-$700 are a $20 fee.
Conclusion
If you need things to look for at a thrift store to resell for profit, this list should give you some ideas. If it doesn't, you need to start with what you know best.
When you start thrifting for items you already know a lot about, you'll be much more likely to spot good deals and make a profit. Plus, the entire process will be far more enjoyable.
Once you find some success, consider branching out to a new area. 
With time, smart shopping, and hard work, you can turn thrift store flipping into an excellent source of income.
Looking for more ways to earn money?
Check out the video below to learn how I went from $0 to $3,000,000: