How many text messages do you send per day?
Probably quite a few, right? 
Texting is something we all do but hardly think about. So, wouldn't it be cool if you could turn it into a job?
It turns out you can—kind of.
If you're looking for ways to get paid to text or chat, surprisingly, you have a few different options.
Some of these opportunities allow you to text and earn right from your phone, while other jobs require you to download software to get started.
Here are all the different ways you can get paid to text.
Get Paid to Receive Texts
If you're okay with having advertising texts sent to you, some companies will pay you for the chance to do so.
It's not a lot of money – and nowhere close to equating to a full-time job.
Still, it's easy and may earn you a couple of hundred bucks over the course of a year.
Here are companies that will pay you to receive texts.

1. 1Q
2. I SPY PLATES
3. McMoney
4. IMGR
5. Money SMS
1. 1Q


1Q is a market research company. Their "get paid to text" program involves users answering questions from businesses.
Here's a breakdown of how it works:
Download the app.

Businesses will send you market research questions via the app or text.

Answer the questions, and they will credit your account.
Payouts are via Paypal. You can also earn $0.25 per referral.
2. I SPY PLATES


I SPY PLATES allows users to receive texts and enables various businesses to send marketing messages to those users.
For this program, there are no texts to reply to. Instead, you simply receive the texts and read them.
You earn a little bit of money for every text you read.
You can learn more about the program here.
3. McMoney


The McMoney App tests the deliverability of text messages on behalf of businesses.
To get started with McMoney, you'll need to download the app and set up an account. You'll then receive occasional text messages. They'll pay you for each one you read.
They also have a referral program you can use to boost your earnings.
When you reach the minimum account balance, you can cash out via Paypal.
Right now, the McMoney app is only available for Android.
4. IMGR


IMGR is an instant messaging app that incorporates advertisements into texts between friends.
Here's how it works:
You download the app and invite your friends.

Starting chatting with your friends via the app.

IMGR will insert branded messages in your chat threads.

You'll earn 1 point for each branded message you read.
You can also earn points for sending branded messages.
When you reach the minimum account threshold, you can cash-in your points for Google Play cash, iTunes gift cards, or withdraw through Paypal.
5. Money SMS


Money SMS is very similar to the McMoney App, allowing businesses to test the deliverability of their text messages.
As a user, to get started, you'll download the app and register for an account.
You'll occasionally receive text messages which are worth $0.02 EUR per message. Money SMS will credit your account every time you view a new message.
When your account hits $2 EUR, you can cash out via Paypal, Skrill, Bitcoin, or one of the many other options.
Money SMS is currently only available for Android users.
Get Paid to Text as an Entrepreneur/Professional/Coach

If you're an entrepreneur, professional, or coach and have clients who want extra time from you, you can charge for chats.
Depending on your expertise, you could build a full-blown career off of this.
Here are a few companies that will help you charge for chat sessions.

1. Premium.chat
2. Just Answer
3. Fibler
4. Hummr App
1. Premium.chat


Premium.chat enables users to charge a flat, per minute fee for phone calls, video calls, and text-based chatting.
For text-based chat, you can charge $1 to $5.99 per minute. If you'd rather charge a flat fee, they'll allow you to charge $5-$50 per chat session.
Premium.chat will collect the money for you and then you pay on the 10th of every month for the previous month's chats.
2. Just Answer


If you're an expert in a certain area and have the credentials to back it up, you can earn extra money answering questions on Just Answer.
If approved as an expert, you'll be able to answer customer questions in your area of expertise. You can work as much as you'd like and choose which questions you'd like to answer.
The average expert earns $2,000 to $7,000 per month.
3. Fibler


Fibler is a cross between Premium.chat and Just Answer. 
Here's how it works:
Create an account and apply to be an expert.

If approved as an expert, you set availability and fees.

You can then invite clients to schedule appointments with you.
This app will let you offer group coaching, video calls, and chat. They'll even collect payments on your behalf.
You can apply to be an expert with Fibler here.
4. Hummr App


The Hummr app connects users with professionals who offer consultations and answer questions.
If you're an expert in ANY field, you can create an account on this app and get paid to text. All you need to do is download the app to get started. You can then set up your availability and rates for chatting.
Users of the app will be able to search for experts like you to chat with about their questions or concerns.  
You can also invite your own clients to chat with you on the app.
Get Paid to Chat with Customer Service Jobs

This next section is slightly different. Instead of getting paid to text on your phone, you're getting paid to chat on the computer.
The good news is that these jobs are more consistent and can help you earn a full or part-time income.
1. Apple
Apple often hires at-home advisors for their chat jobs.
These jobs involve helping customers troubleshoot problems with their Apple devices or accounts. 
The nice thing about these positions is that Apple offers paid training and fair pay.
The bad news is that these jobs are very competitive, so when you see one listed, you need to be quick to apply.
2. Working Solutions
Working Solutions is a work-at-home job agency that hires independent contractors for sales and customer service roles.
Some (not all) of these jobs are customer service chat support. In addition, some of the positions may require phone support and email support.
You'll need to fill out an application, take assessments, and become approved as an agent to get started. Once approved, you'll be able to accept jobs.
Agents can set their own hours but must work the hours they select. Pay ranges anywhere from $9 to $30 per hour but may be paid via talk/chat minute instead of hourly.
3. The Chat Shop
The Chat Shop hires live chat agents to assist customers in various businesses. These jobs include customer service, technical, and sales support.
You must have excellent grammar skills if you want to apply for a job with The Chat Shop.
This company only wants to hire the best, so the application process is a bit rigorous. First, you'll submit an application and resume. With it, they'll require you to take a typing speed test and an internet speed test.
After that, The Chat Shop issues a sales skills test and aptitude test.
If you pass all of those, you'll be set up for a live chat interview and then a phone interview. If hired, you'll go to training before being put on a job.
The Chat Shop is currently hiring in the following US states: Georgia, Florida, Texas, and Tennessee.
4. Ginger.io
Ginger.io offers on-demand mental health services through its app.
This company has chat positions for mental health professionals as well as customer support positions.
For the support positions, you need at least one year of experience in customer service and familiarity with health records. 
Duties include offering support to Ginger.io customers and clinicians via live chat, email, and phone.
5. Gubagoo
Gubagoo hires live chat agents for auto dealers. Chat agents assist customers with auto-related questions, finance, and billing queries.
To qualify, you must have basic computer skills and be able to type at least 35 wpm.
Gubagoo often has live chat agent jobs listed on Indeed.
6. Amazon
Have you ever used the customer support chat box on Amazon?
If so, you were probably chatting with an at-home worker. 
Amazon routinely hires work at home customer support agents for chat and phone support. These jobs are usually more prevalent around Christmas.
Since these jobs are competitive, you'll need to apply as soon as you see one you're interested in listed on their jobs page.
Get Paid to Text and Chat as Virtual Assistant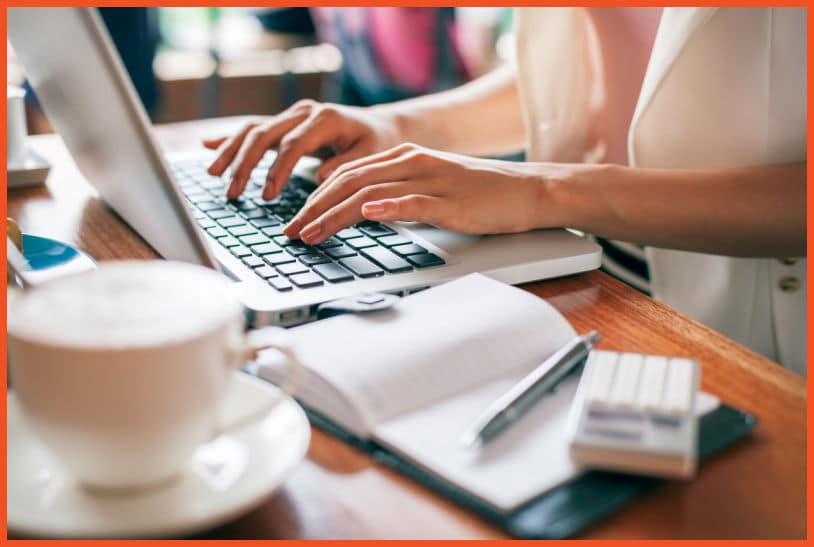 Another way to get paid to text is to become a virtual assistant.
Virtual assistants help business owners remotely. They can offer a broad range of services or narrow down and offer a specific service to many different clients.
One popular service virtual assistants offer is handling customer service questions and complaints via chat, text, and email.
This is a service that every online business with a product needs.
If you want to start a virtual assistant business offering text and chat services, here's what to do.
Build Your Website
The first thing you need to do is build your website. 
A website lets potential clients know that you're professional, you're a real business, and it gives you somewhere to link to when pitching.
Your website doesn't have to be fancy. A basic website that has an "about you" and "services" page is all you need.
(You can go back later and add customer testimonials.)
You should be able to get a basic website up quickly and cheaply.
Start Pitching Clients
Once your website is up it's time to find clients.
Start by making a list of small businesses that would need your services. These businesses can include local businesses, your favorite bloggers, and people you know.
After you have your list, craft an email for each of these businesses explaining the services you offer.
The email should be personalized, short, and to the point. Link back to your website at the end of the email.
In all likelihood, you'll need to send several emails before you find someone who's ready to hire you. So, keep up on the pitching and keep tweaking your pitches until your client roster is full.
List Your Services on Freelancer Sites
In addition to pitching businesses, you can list your services on freelance websites to increase your odds of being hired.
Some freelance websites to consider include:
On Fiverr, you can create a profile and a list of services that businesses can buy directly from you. On the other two sites, you can browse and bid on jobs after creating your account.
Deliver on Your Work
Once you land your first client you need to deliver on the work by promptly and thoughtfully handling their customer service chat and text needs.
By doing a good job you're far more likely to receive referrals and grow your business.
Conclusion
If you want to get paid to text, there are a few different paths you can go down.
The easiest way to earn money through texting is receiving and answering advertising texts from businesses. 
If you're a professional, you can cash in your knowledge and charge for chat sessions.
This is an excellent way to grow or add to a consulting or coaching career.
If you like the idea of getting paid to listen to text, here are a few more side hustles you can check out:
And lastly, if you're looking for a part-time or full-time income, you can apply to be an online chat agent or become a virtual assistant. While this will require you to have a computer to chat from, these jobs can provide you regular hours and a reliable source of income.
Looking for more ways to earn money?
Check out the video below to learn how I went from $0 to $3,000,000: