YouTube is one of the best ways to promote affiliate products.
In fact, every day, people watch 1 billion hours of videos on YouTube, and 9 out of 10 people say they discover new products and brands on YouTube.
For these reasons and many more, YouTube is my favorite way to make money online. I'll go into more detail in the list of pros below.
But first, let's look at how to do affiliate marketing on YouTube.
How Does Affiliate Marketing on YouTube Work?
It's pretty simple… You create videos and then you put affiliate links in the description or by several other means, which I'll get into in more detail later.

If you're already a content creator on YouTube, adding affiliate marketing into the mix is easy and can start making you money extremely quickly.
If you're new to all of this, you're likely to find that affiliate marketing is the fastest way to have success as an online marketer and as a beginner affiliate marketer.
You don't have to focus on anything except doing the marketing and making videos. Trust me, creating products, support teams, funnels, etc. is not something you want to be thinking about when you're just starting on YouTube.
Pros & Cons of Affiliate Marketing on YouTube
While the pros certainly outweigh the cons when it comes to YouTube affiliate marketing, there are definitely some of each…
Pros
2nd Largest Search Engine – YouTube is huge, and that means you can access a large audience of people from which to promote your affiliate products.
Less Competition Than Blogs – If you haven't noticed, every business known to man now has a blog because it is such an essential part of SEO (search engine optimization), but not many businesses are creating YouTube videos.
Promotion of Affiliate Offers is Allowed – There are many platforms, such as Facebook, that don't allow the promotion of affiliate offers, but it's no problem at all on YouTube. Plus, it is really easy to do it in a non-spammy way.
Algorithm More Stable Than Facebook – If you've been marketing on Facebook, you know that they are constantly changing their algorithms and it's hard to keep up. YouTube, however, has remained pretty consistent.
Relatively Easy to Get Ranked – This is the part that I love the most about YouTube. You don't have to jump through any fancy hoops and spend months and months pumping out content to see results. Yes, you have to work at it and do it smartly, but it's a whole heck of a lot easier to rank than on other platforms.
Evergreen content. This means that you can make videos today to bring in affiliate commissions for years and years
Cons
Have To Be Good on Screen – For the most part, you'll need to be comfortable talking on screen and you need to be able to engage your audience. Sure, you can make videos that do not involve you talking on screen, but you'll need to have good editing skills to make them engaging.
Need to Have Skills You Can Teach – You can't expect to just throw some videos together and make a living. You'll need to actually be skilled in something that you can teach. People will see through you if you're trying to pull one over on them.
More Difficult Than Blogs – While YouTube has less competition than blogs, it is more difficult to create good videos. That's because it's visual and people need to relate to you instead of just your content. If you mess up you have to start over.
Types of Videos for Affiliate Marketing on YouTube
To know how to use YouTube for affiliate marketing, you'll need to understand the types of videos that will get an affiliate the best results. Here are my favorite types of videos to create for affiliate marketing.
1. Product Reviews & Demos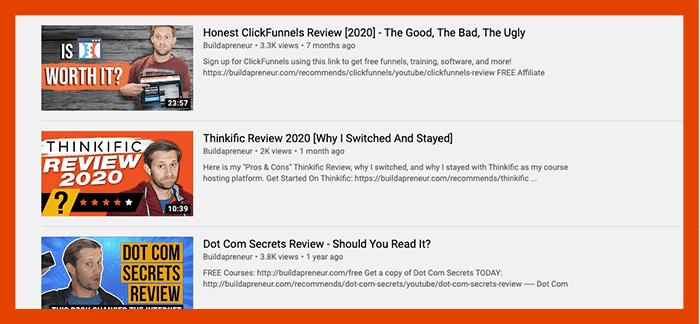 Product reviews are one of the most popular ways to do affiliate marketing with YouTube. They are the fastest way to make commissions. Strangely, I have found these keywords easier to rank for than non-review keywords.
For these videos, you'll need to choose an affiliate product that people are actually searching for on Google or YouTube.
Do some keyword research on software like Ubersuggest to see if your product is a good candidate and then create a video speaking to those who are considering purchasing the product about everything they would want to know before making a purchase.
Try to be honest in these reviews. People will start to see pretty quickly if you're not telling the truth and you'll stop making affiliate sales.
2. Product Comparisons

Product comparison videos are also a great way to go. There are a couple different ways you can go about this one:
Simple Comparison Videos – Compare two or more similar affiliate products so that people can choose the one they want to purchase.
"Best of" Videos – Pick a category and create a video of the 10 best products in that category. This is like a listicle in video format.
The way I work these is I pick one product that I want to promote. Then I go find all the competitors and make comparisons. Every video promotes the first product that I actually loved though.
The downside of comparisons is they are hard. You have to give in depth looks at different products, some of which you are probably not very familiar with.
But that actually is an upside. Because they are hard, very few channels do them, and the competition is low. A high-quality comparison is pretty easy to rank.
3. Tutorials
Tutorials are one of my favorite ways to do YouTube affiliate marketing.
The concept is easy. Teach somebody how to do something or how to use a tool, and they will often click your link.
The example below is a Clickfunnels tutorial that I made one year ago. This video alone has brought almost $10,000 in affiliate commissions.
You could do tutorials on all kinds of things, just refer them somewhere in the tutorial to a product that will help simplify the process.
You'll be blown away by how many people watch the tutorial, and because of how much easier it is to go and buy the product through the link you provide, you'll make lots of commissions.

Tutorials are also a big win because they build subscribers quickly.
It is easier to rank for tutorials than harder keywords, and you can get a lot of subscribers that will then watch your reviews and give you direct affiliate commissions down the road.
4. Unboxings

Unboxings are a fun way to do affiliate marketing with YouTube. You can open up a new product that just came out or you can unbox one of those monthly subscription boxes.
Unboxings work well because people tend to be curious and want to see what is coming. They will watch a lot of your video, and YouTube loves that so they will show your video to more people.
5. Solution Videos
In these videos, you answer a problem with a solution that is your affiliate product. This is similar to a lot of tutorial videos, but instead of it being a tutorial, it can just be you talking about an issue that your audience has and a solution.
For instance, my video called, "Best Email Autoresponder for Affiliate Marketers" provides a solution for affiliate marketers who want to know what autoresponder they should use.

How to Get Your  YouTube Videos Seen
Once you start creating videos and learning how to use YouTube for affiliate marketing, you'll need to make sure they are picked up by the people who will love them.
Something that a lot of people don't think about is that you only want your videos to be seen by the people that are really interested.
If someone watches your video, doesn't like it, and leaves after 30 seconds, YouTube notes that. The algorithm begins to assume the video is not a good video.
So you absolutely don't want to go buy a bunch of views or send a bunch of random traffic to your video. It will hurt it.
1. Rank on YouTube
The awesome thing about YouTube is that it really isn't that hard to rank for lot of keywords. They have a simple algorithm, and if you work with it, you'll rank pretty quickly.
Here are some of my best YouTube algorithm tips…
Keywords – Use your keywords in your descriptions, tags, title, and in what you're saying in the video.
Thumbnails & Titles – Get creative with these to get people to click on your videos instead of others. This is one of the most undervalued parts of the algorithm.
Watch Time – This is the most important part of the algorithm. YouTube monitors the percentage of the video that is being watched. To increase your watch time, make your titles, thumbnails, and videos cohesive, keep your intros short, and know that the average YouTube video is 14 minutes (but never add fluff to make it that long).
Subscribers – YouTube wants to see that your subscribers are increasing, so always ask people to subscribe.
User Engagement – Strive for thumbs up, comments, embeds, favorites, saves, etc.
Bringing People Into YouTube From Other Platforms – YouTube loves this, so promote your videos in other places.
I teach this topic extensively in my YouTube Algorithm article, so go there to check it out.
2. Rank on Google
Google owns YouTube, so it's relatively easy to get your YouTube videos to rank on Google as well, which gives you double the results for your effort.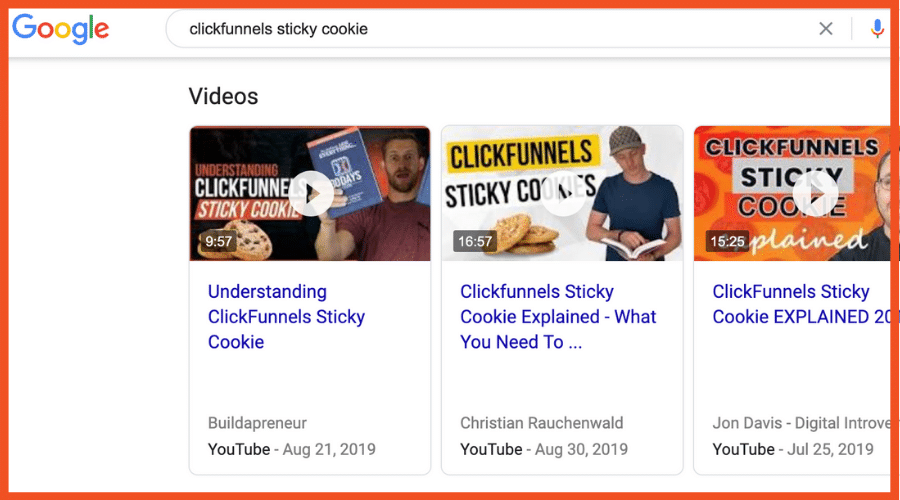 If you use Ahrefs, you can actually pull up all the searches in your niche where YouTube videos are present in Google, then focus on those.
This isn't always possible since YouTube's keywords can be different than Google's, but once it picks it up your traffic explodes.
3. Build Up Subscribers
The more subscribers you have, the more your videos will be viewed, so you want to always be striving to increase your subscribers. You can also use these subscribers to make money during an affiliate launch.
YouTube also has a piece of the algorithm called velocity. The more your video gets viewed in the first 48 hours the better. This is primarily your subscribers that will fuel these views.
Here is how to get more subs.
Remind Viewers to Subscribe & Tick the Bell – Would you believe it if I said you just need to ask them? Give them a reason to subscribe based on their desires. If someone's goal is to make money on YouTube, tell them to subscribe to learn how to make more money on YouTube. Easy.
Use a Special Link When Sharing Your Channel – There is a special URL that you can use when you are linking to your YouTube channel in your blogs, website, and on social media. When clicked, it will bring them to your YouTube channel and show a little popup window that asks them to subscribe. Just add "?sub_confirmation=1" (without the quotation marks) to the end of your channel URL.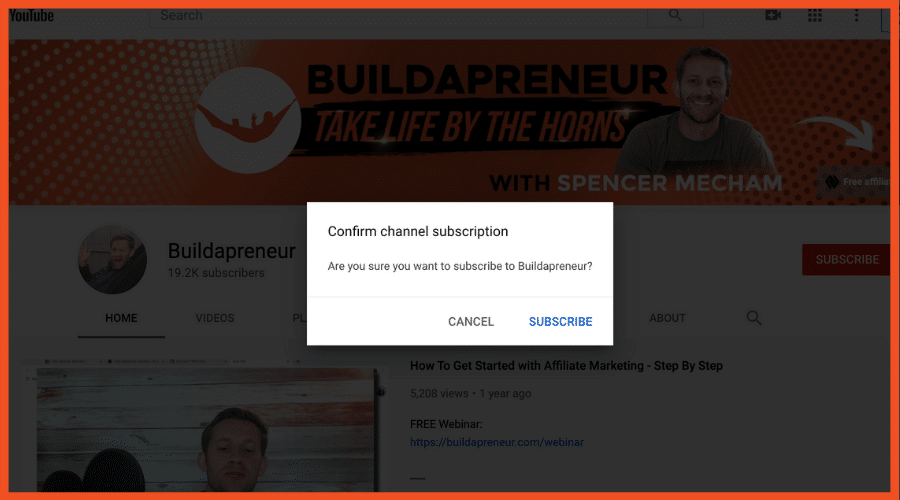 4. YouTube Related Videos
YouTube shows their users "related videos" that are similar to the types of videos they are watching, and of course, we want our videos to show up in those suggestions.
Here is a secret that a lot of people don't know.
YouTube has actually come out and said that almost 3/4 of all views come through related and suggested videos, not search.
Most people don't realize this. So here's a few ways to make that algorithm work in your favor.
Make your thumbnails incredibly clickable and eye catching. The suggested algorithm loves a thumbnail that gets a lot of clicks
5. Email
Try to capture the email addresses of all your subscribers. You do this by offering something for free in exchange for them putting in their email address in a form.
Then you can email them the instant you put out a new video or start pushing another affiliate produt.
Final Tips for Affiliate Marketing on YouTube
Now that you know about the pros and cons of affiliate marketing on YouTube, the different ways to make money on YouTube, the best types of videos to create when you're doing YouTube affiliate marketing, and how to get your videos to be seen, I want to top it off with some of my best YouTube affiliate marketing tips…
1. Quality Above Everything
When you are doing affiliate marketing on YouTube, there is nothing more important than quality.
No one is going to sit through a crappy video and they certainly aren't going to click on your affiliate links if you aren't giving them a reason to.
Remember, you are an affiliate marketer, so you are basically a sales person. Presentation is key. If they don't trust you and like you they are not going to click your link.
Quality also means ensuring your videos are engaging, interesting, or fun. It doesn't have to be all of those things, but it needs to at least be one of them. .
2. Offer Bonuses
A surefire way to get people to not only want to click on your affiliate link but to actually make them beg to use your link to make their purchase is to offer them bonuses for purchasing through your link.

What could be better than getting some free stuff that relates to your purchase, right?
It pretty much ensures they won't forget to purchase through your link or go and buy through someone else's link. It might also give them enough icing on the cake to make them want to purchase the product if they were on the fence.
If you are promoting high ticket affiliate programs or ones that generate recurring commissions, bonuses should be a definite part of your strategy.
3. Upload Videos Consistently
To earn good money on YouTube through ad share, you'll need to be uploading at least one video per week to get any traction.
This also gives subscribers something to look forward to when they know what day to look out for your videos, and it gives you more opportunities to get people to click on your affiliate links.
4. Create Amazing Thumbnails
The thumbnails that you use for your videos need to be eye-catching, and ideally, they should have a consistent look.
Don't just upload your videos and let YouTube choose what thumbnail to show. Instead, create something in a program like Canva to make them pop.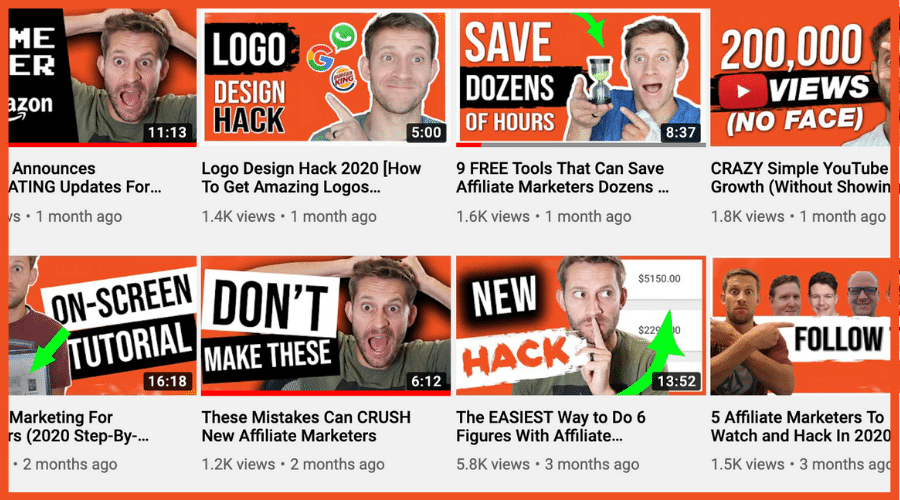 5. Use Playlists
Playlists are great for getting people to watch a lot of your videos. Obviously, the more of your videos they watch, the more they will grow to trust you and the more opportunities you have to get them to purchase your affiliate products.
You can also lead someone in with  video like "how to build a sales funnel" and then let the playlist promote an affiliate product video in the next.
A playlist is just what it sounds like: it's a list of related videos.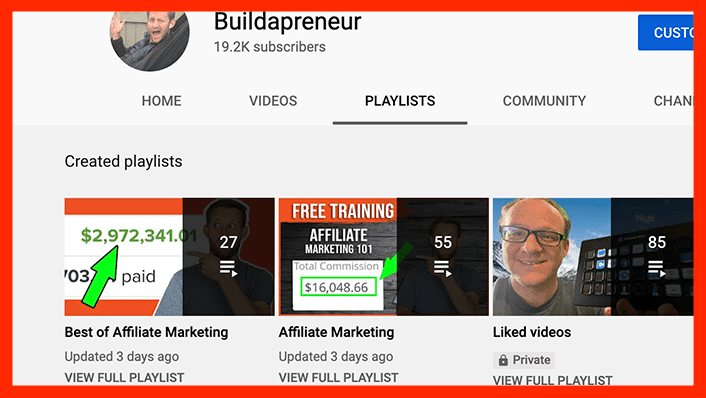 When you set up playlists on your channel and a person arrives at a video in a playlist, they will be automatically taken to the next video in the list when they finish a video.
Think of playlists as categories like you would have on a blog. Create the playlists and then each time you post a new video, add it into the most relevant playlist.
6. Use Cards
A card is a way of adding a link within your actual video.
It's a small box of text that shows up at the top of your video and when the user clicks it, it will take them to the link you provide. You can decide when the card will show up.
Most people use this feature to take people to other videos that they have created, however, you can get creative and add affiliate links here!
The trick is that YouTube will only allow you to use URLs from your website. So, you'll need to cloak your affiliate links or point to a page on your website.
7. Use End Screens
You can set up end screens to show up at the end of your videos. They show the thumbnails of some of your other videos and the user can click on them to be taken to those videos.

This is a great way to get your audience to keep watching your videos so that you can build rapport with them and provide them with more solutions and more potential for affiliate sales.
But the really cool part is that end screens can also direct people to your website if you are a member of the YouTube Partner Program.
You can learn more about end screens here.
8. Add Links in Video Descriptions
And last but not least, you want to of course add your relevant affiliate links in your video descriptions.
In this case, they don't need to be cloaked, although it tends to look nicer when they are (or at least when they are shortened).
Then, when you are talking in your video, you can refer to the link in the description to bring attention to it so that people know you have made it easy for them to access the product you are talking about.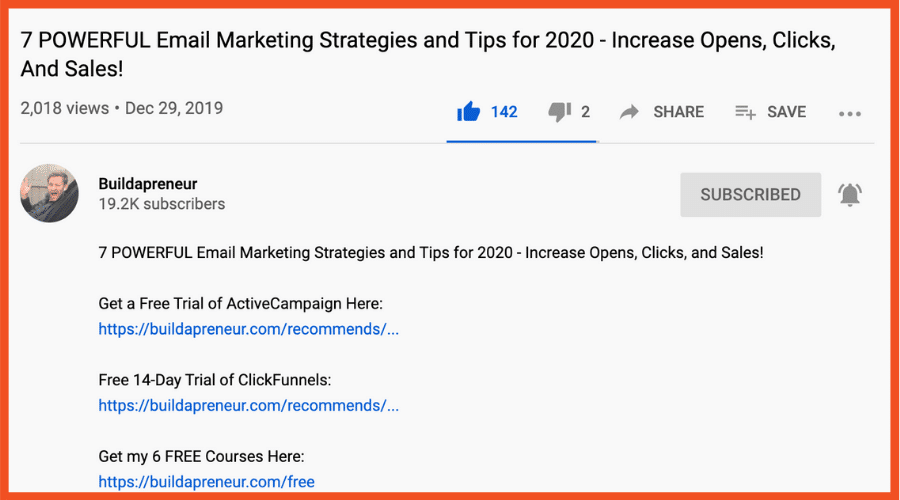 Other Ways to Make Money With YouTube 
There are many different ways to make money with affiliate marketing on YouTube. Here are my favorites, along with a few other simple methods for how to make money on YouTube since I assume that's what you're in the business of doing.
1. Email Marketing
Would it surprise you to hear that I make more money off of my email marketing than my actual YouTube channel?
Here's what I do.
At the bottom of each of my YouTube videos, I give a call to action where I offer them something for free if they are willing to give me their email address.
Like this…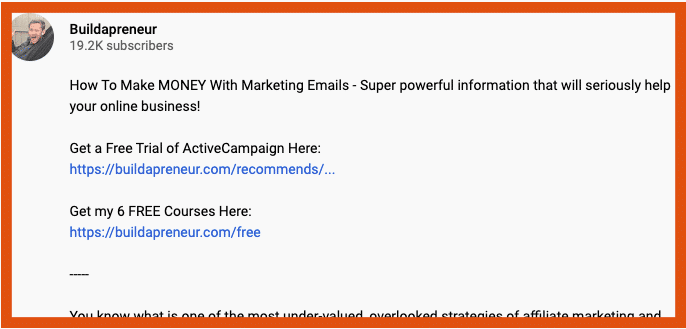 Now I have their email address. I can do so much with this and access them anytime I would like.
So now I put them through an automation that sends them affiliate offers every couple days. As long as they stay on my list, I continue to push affiliate offers. This dramatically increases how much I am making per each customer with affiliate commissions.
It looks like this…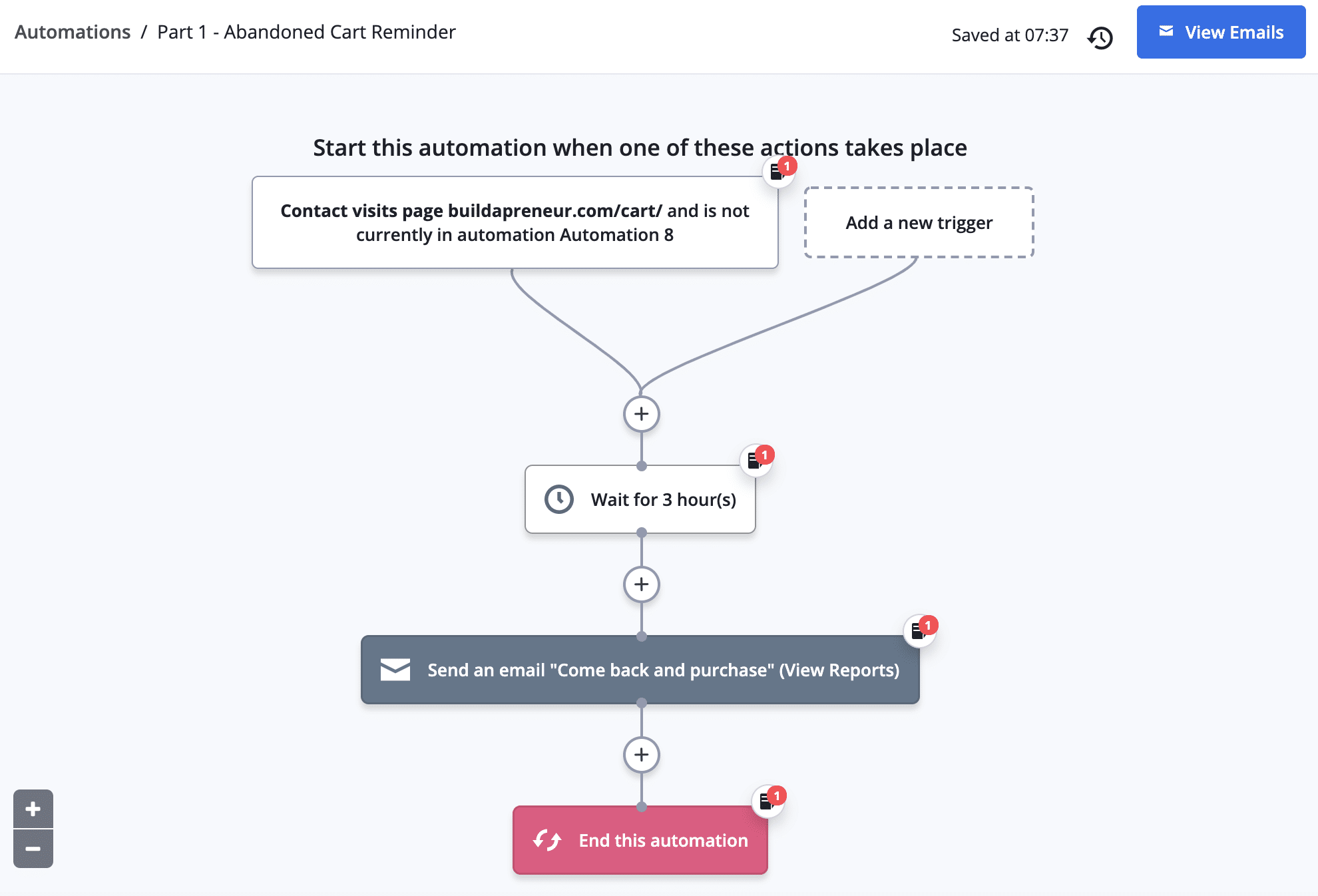 Whenever I find out about a new product I want to promote, I now have a large list to promote it to. All I have to do is type up an email, send the email, and reap the rewards.
2. Patreon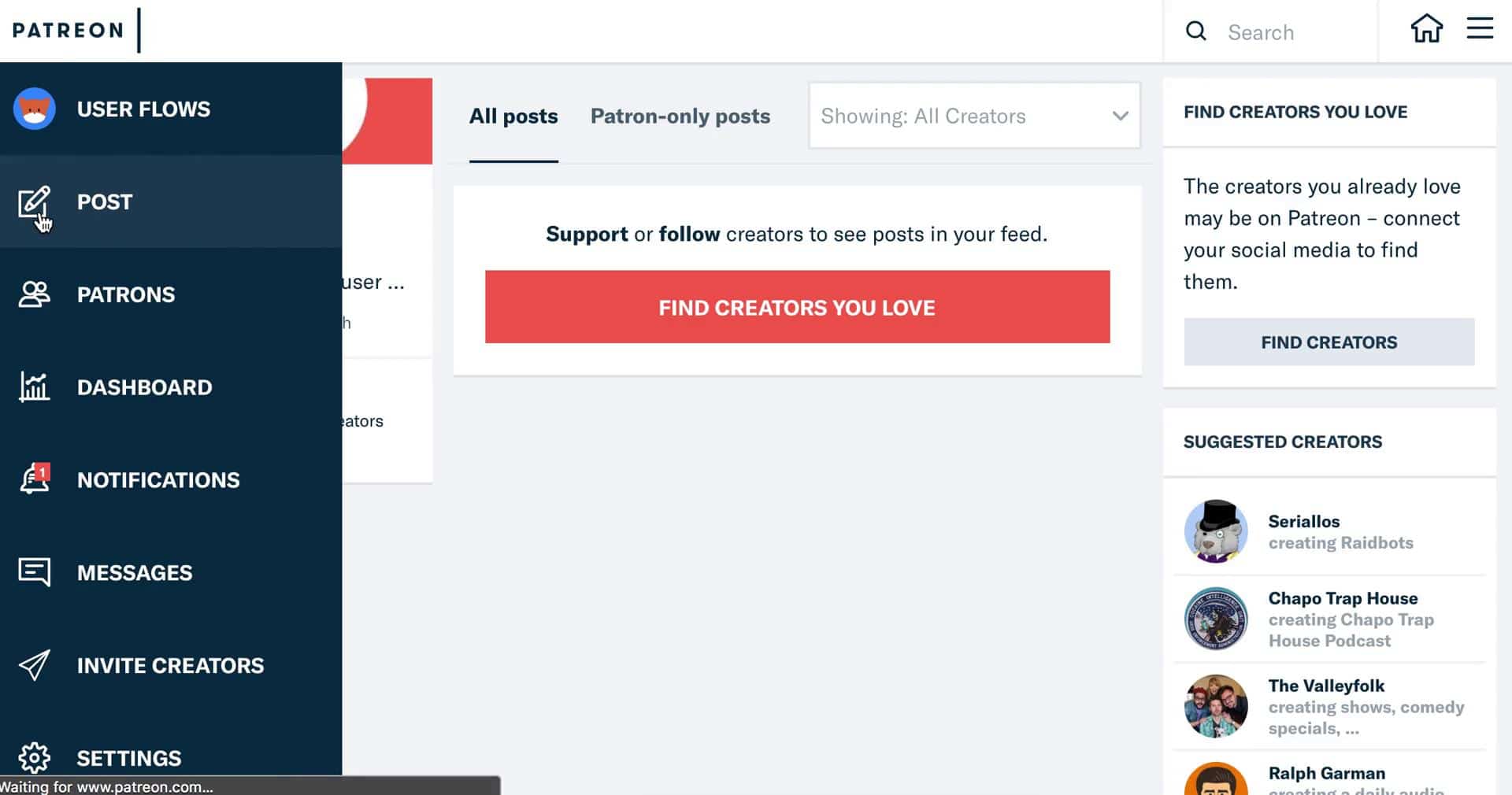 While YouTube pays you cents on the dollar for ad views on your videos, Patreon is a way for your biggest fans to pay you a small amount each month (or per video) to show their appreciation for your content.
The fans who do this are called patrons and many of them are happy to do it! It's a few bucks out of their pockets, but when you have enough of them, it's a steady stream of income for you.
Many creators even provide perks for their patrons, such as holding live chats or providing them with some extra content each month. You can have different levels of payment for different levels of perks.
It's not affiliate marketing and it definitely requires more work. But you can also make a crazy amount of money from a fairly small audience using this software.
You can learn more about Patreon here.
3. Super Chats
Super Chats are another way to earn from your YouTube channel. It's a way of letting your viewers purchase chat messages. Essentially, it pushes your question to the top of the comments and makes it stand out with colored "stickers."
It's mostly a way for people to make donations to you while also ensuring that you'll see their question.
My big problem with this is that I respond to everybody anyway. To have somebody pay just to have their question bumped to the top just doesn't jive with me. But if you like it, go for it.
You can learn more about Super Chats here.
4. Sponsorships
There are many companies that are willing to sponsor YouTube channels. As the creator, you'll receive sponsorship money from them, and in return, you'll advertise their products or services on your channel.
Nowadays, it's easier than ever to find sponsorships because you can use sites like Grapevine to help you find potential sponsors.
I can't tell you how many times people have reached out to me offering me straight money to promote their product.
There's no waiting for people to sign up and get affiliate commissions. You just make a video and get paid.
Get Started
Whatever way you choose to go about it, affiliate marketing with YouTube is an incredible way to earn a decent living and have a lot of fun while you're doing it.
If you're new to affiliate marketing or even if you've been around the block a little and haven't found a way to make it work, sign up for my free affiliate course. I promise, you'll gain a ton of valuable information.