3 Ways To Make Money Online
So, you've got your blog up and running, and you might even be starting to get some traffic. But what's the next step that will take your blog to the next level? According to the pros, it's knowing how to build an email list.
Knowing How to Build an Email List Will Do This for Your Blog…
Without a doubt, every blogger should know how to build an email list. It's the thing that can take your blogging business from non-existent or mediocre to killin' it. And here's why…
Having an Email List Increases Your Loyal Readers
Obviously, you want your blogs to be read and you want to create a following of readers who keep coming back to read more of your content.
Through email marketing, you can stay in touch with your visitors through email so that you can:
Help your readers get to know you
Entice them to come back and read more of your content
Turn cold traffic into warm leads
When You Have an Email List, Traffic Isn't as Important
Traffic will always be important, of course. But, when you know how to build an email list from the traffic you get, you can reach out to those people again and again. Instead of focusing on getting tons of new people to visit your blog, you can focus on building relationships with the people who do.
When You Have an Email List, You'll Make More Money
According to the Direct Marketing Association, there is a $32 return for every $1 spent on email marketing. Here's why…
Traffic that comes to your blog is generally cold traffic that doesn't know you and therefore doesn't fully trust you. An email list that you build when people come to your blog, however, is warm traffic. That means, they trust you more and are more willing to take a step toward purchasing from you.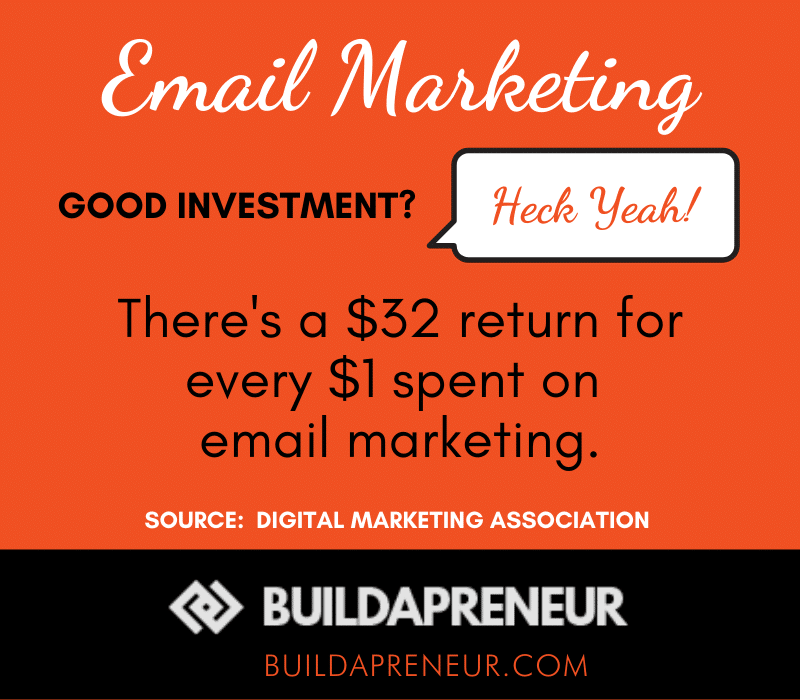 5 Pro Tips for How to Build an Email List for Your Blog
To put it in perspective, having an email list is the bomb! It's what sets apart the amateurs from the pros. If you're ready to move your blog up several notches and start getting better results from your efforts, follow these five tips for how to build an email list…
NOTE: You'll need email marketing software, such as Active Campaign or Mailchimp, to build an email list. It's sooo worth the investment!
Make Them Salivate Over Your Lead Magnet(s)
To get people to give you their email addresses, you have to give them a pretty darn good reason to. Think about yourself; you are probably pretty stingy when it comes to giving out your email address because you probably get way too much email as it is.
That's why you need to create something that they want so that they'll give you their email address in exchange for it. And, the content you use to get people to opt in has to be stellar. People need to be chomping at the bit for it.
But it doesn't have to be complicated. You need to know exactly what your niche wants and give it to them. Think of the problem you solve and come up with something that will really help them out that you could give them for free, such as an e-book, a tip sheet, a recording, etc.
Lead Magnets vs Content Upgrades
The content that you give away to get people to opt into your email list can fall into two categories:
Lead Magnets – This is something that could be given away no matter what page a visitor is on. If your blog is about parenting, it could be an e-book about how to improve the bond you have with your child.
Content Upgrade – This is a piece of content that is specific to the content on a certain page or post. Let's say someone is reading an article on your blog about how to break a child's bad habit. Your content upgrade for that article could be a printable sticker chart that they could use to encourage good behavior. You might choose to create separate content upgrades for your best blog posts.
It's always a good idea to create a few different lead magnets and/or content upgrades so that you can test them. There are no failures here. It's all just an experiment.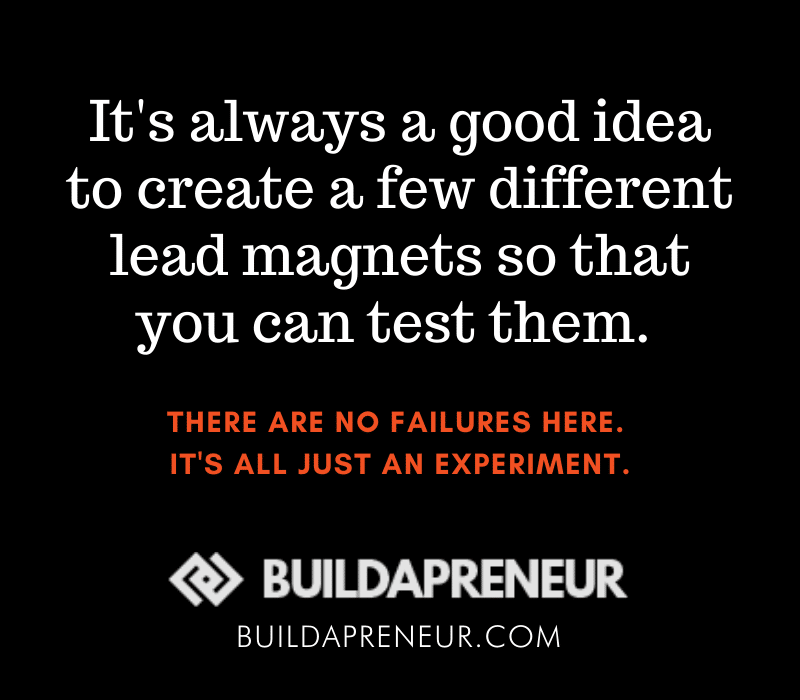 Create Online Quizzes for Fast Results
Lead magnets such as e-books can and do work when it comes to knowing how to build an email list, but lately, what is working even better is quizzes. You've probably either seen these floating around on Facebook or Pinterest or you've actually taken some yourself.
Quizzes are very attractive to people, especially on Facebook because they are there to have fun. We don't think about quizzes as opt ins. We just do them to have fun and see what results we get.
Why Quizzes Are So Effective
Higher Opt In Rates – Quizzes get a higher opt in rate because of the fact that they are fun.
Valuable Data – They allow us to obtain valuable information about our followers by giving us their answers to the questions. With that data, we can better create more of what our target market wants.
Improved Conversions – At the end of the quiz, you can direct them to one of your products or services based on their results. You can also put them into a specific email sequence depending on their result.
You can ad quiz opt ins to your home page, to a pop up in a blog post, pin them on Pinterest, run Facebook ads to the, etc. There are so many possibilities!
There are many companies that you can sign up with so that you can create quizzes, such as Interact, Riddle, and QuizMaker.
Do Paid Ads to Your Lead Magnets
Most people run ads to products or services, but not to lead magnets. Doing the latter can have incredible results for several reasons:
Converts Cold Traffic to Warm Leads – By running ads to a lead magnet instead of to something you are selling, you are able to turn cold traffic into warm leads that then leads to purchases. People are more likely to buy from you when they are warmed up.
More Cost Effective – These ads tend to be pretty cheap, so it doesn't cost as much as when you run ads to something you are selling. And when you look at the longterm benefits of having these leads on your list and being able to stay in touch with them, you can see how cost effective it is.
Facebook ads are certainly the most popular ads right now, and bloggers are having a lot of luck with them. You might also consider Pinterest ads or Instagram ads.
Build a Sales Funnel to Fund Your Ads
This is one of the coolest strategies for knowing how to build an email list because it allows you to make money while you are building your list.
When you go about list building in the normal way, it can take a while to make money because there is a nurturing process that needs to take place. With this strategy, however, day one is break even day because you'll make money right away.
What we are talking about here is creating a sales funnel instead of just an opt in page and a thank you page. You create a Lead Funnel that not only captures the lead but also gives people an opportunity to purchase from you right then and there.
Spencer outlines this strategy beautifully in the following video (If you don't want to watch, just keep reading below because I go over it there as well)…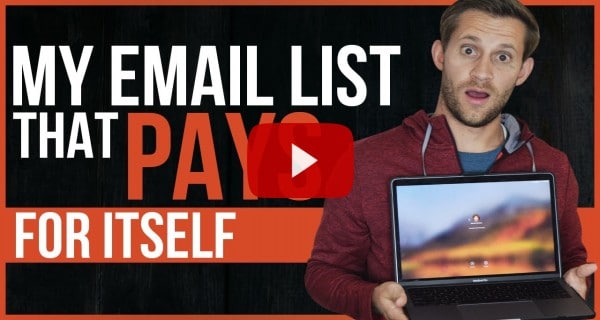 The way it works is that after the opt in, you'll give them an immediate offer. For example, you might say, "Instead of having to learn how to do this on your own, you can get my whole system and save yourself hours of work for just $19!"
If they say yes to that, you can then offer them an order bump by saying, "Want to make your life even easier? You can add the email sequences that go with this for just $11 so you don't have to write the emails yourself."
This is how you make money while you build your list. You can essentially make all the money back from your ad spend and keep dumping that money back in so that you can build your list a lot faster. That is one sure way to sling shot yourself into the big leagues!
The easiest way to do this is with ClickFunnels because it makes the whole process a snap. You can read my ClickFunnels Review to learn more about it here:
Set Up Automated Email Marketing to Retain Your Subscribers
Getting people onto your list is one thing, but it's certainly not the end. Now, it's time to wine and dine them. Show them all the reasons why they want to be associated with you and what you can offer them that will help them in their lives.
The way you do that is with an automated email sequence, which is a series of emails that you create in advance and set up to go out automatically over a period of time. Once someone is added to your list, it will trigger the sequence to start emailing them.
All you have to do is think about why they needed the lead magnet they opted in for and then ask yourself, what is the next step that they probably need?
Create content that they will eat up because it answers their questions or helps them or makes their lives easier in some way. Wow them, bedazzle them, and be generous to them. For example, you might include any of the following in your email sequence:
Free gifts
Exclusive deals
Tips and tricks
Valuable resources
In Summary
Knowing how to build an email list isn't rocket science, but it isn't that easy either. With tips like these, though, you can be well on your way to creating a warm list of people who are much more likely to buy from you and follow your content on a regular basis.
Free Training
A step-by-step training on how to create powerful email automations that create raving customers and increase profits.

Get Access Now