If you're in the online space or have ever thought of creating a website, you've probably heard of WordPress.
It's one of the most popular website creation platforms, with nearly 40% of website owners using it. 
As with anything popular, there comes a lot of opportunities to make money.
And fortunately, these opportunities are for a variety of different skill sets.
Here's how to make money with WordPress in 2023.
What is WordPress?
WordPress is free, open-source software you can use to run a website or blog. It's very customizable and easy to use.
If you've never used WordPress before, the most important thing you need to know is that WordPress.com and WordPress.org are two different things.
First, WordPress.com.


WordPress.com is a free blogging platform. It allows users to create blogs by either purchasing a domain name or using a free domain that looks like this – www.yoursite.wordpress.com.
The hosting is free, but there are some severe limitations. 
First, unless you upgrade to the business or pro plan, you are limited on the themes you can use, you can't install plugins, and your monetization methods are few.
(You can't use many of the popular ad networks with WordPress.com)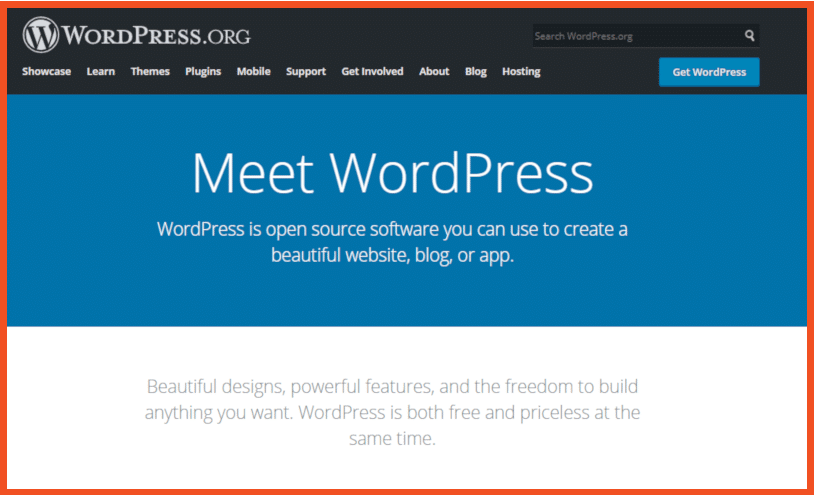 WordPress.org, on the other hand, enables you to use any theme you'd like. In addition, you can install any available plugins, and your monetization methods are limitless.
Basically, with WordPress.org, you are in complete control. Which, as a business owner, is what you want.
To use WordPress.org, you will need to purchase your own domain and hosting. This will run you about $50 – $200 per year to get started.
After creating your domain and purchasing hosting, you'll be able to set up your WordPress website all through your hosting account. (No need to visit WordPress.org)
Honestly, this probably sounds more confusing than it is. If you're a complete beginner, visit our blog setup page for a full, easy-to-follow tutorial.
How to Make Money with WordPress
1. Affiliate Marketing
2. Online Courses
3. ECommerce
4. Build Sites for Clients
5. Start a Blog
6. Build WordPress Themes
7. Create WordPress Plugins
8. Offer SEO Services
9. Sell WordPress Maintenance and Tech Support Service
10. "Flip" WordPress Websites
11. Create a Membership Site
12. Offer Freelance Writing Services
1. Affiliate Marketing


If you're not familiar, affiliate marketing is the practice of promoting someone else's product or service and receiving a commission for doing so.
It works like this:
You build a WordPress website around a specific niche.

You find the best products and services in the niche to recommend to your readers.

When you recommend the products, you link to them using your unique affiliate link.

When someone clicks through your link and makes a purchase, the business will credit you with a commission.
It's kind of like how door-to-door salesmen used to earn their living.
Only this way, your website brings you interested buyers, and you don't have to knock on any doors.
Which is pretty awesome.
It's how I built multiple streams of income that earn over $1,500 per day. It's, hands down, one of the best ways to create a full-time income online.
Here's a video to help you get started with affiliate marketing:
To get started, you'll need to pick a niche and build a WordPress blog. Then you'll need to produce a lot of content and work on SEO so that Google sends you to search traffic.
You can also gain traffic by making YouTube videos and posting them on social media.
And, of course, you'll want to look for the best affiliate commissions and terms you can find for products within your niche.
Getting started with an affiliate marketing business can feel a little overwhelming when you're starting from scratch. Luckily, we have tons of resources that can help you achieve success.
Here are some great resources to check out:
2. Online Courses


There's an online course for everything nowadays.
If you haven't taken an online course before, you've probably at least had one advertised to you through Facebook or Instagram.
And the cool thing about these courses? They can be on any topic. Literally, any topic.
I've seen people find success selling courses that cover affiliate marketing, knitting, puppy training, personal finance, how to make homemade cleaning supplies, and more.
If there's an area you're knowledgeable in, you can make a course about it and potentially sell that course.
To make a course with your WordPress website, you can use plugins like Memberpress or LearnDash. OR you can use an online course platform and use your website as a marketing tool to bring potential students through your sales funnel.
To successfully sell your course, you need an audience that trusts you and wants to learn from you. If this isn't something you already have, you'll need to work on building that audience.
3. ECommerce


(Fun Fact: Ripley's Believe it or Not! uses WordPress and WooCommerce for its online shop.)
Interested in starting an eCommerce store?
There are plenty of WordPress Plugins that can help you with that.
When it comes to running an eCommerce website, WooCommerce is one of the most popular plugins for selling digital and physical products. This plugin is free and very customizable.
Of course, to get started, you'll need to purchase a domain name, hosting, and an SSL certificate. After that, you can download the WooCommerce plugin and start customizing your store.
You'll need pictures of your products, ways to accept payments (i.e., Paypal and Stripe accounts,) and of course, if you're selling physical products, you'll need to have a shipping plan.
4. Build Sites for Clients


Honestly, WordPress websites aren't hard to build, especially since you can easily customize so many themes.
However, that doesn't mean that everyone is capable of or wants to learn how to set up a website – which makes this service a great way to make money with WordPress.
If this is something you enjoy and want to offer, you have a couple of options.
Set Up Basic WordPress Websites
If you don't have graphic design experience but are good at setting up WordPress sites and customizing themes, you can offer a basic WordPress site set up to local businesses.
A local business that needs a simple website that lists information about their organization is a prime candidate for your service. 
Offer Custom Website Design
If you are a graphic designer who can go beyond the basics of setting up a WordPress site, you can find private clients to design sites for.
Some potential prospects for your services include bloggers, business owners, news-type sites, and more.
If you're just getting started, one of the best ways to secure a roster of clients is to specialize. For instance, you could specialize in a type of design (feminine, minimal, etc.) or a specific type of client (personal finance blogger, online shops, etc.)
You can also reach out to personal connections to find your first few clients.
5. Start a Blog


One of the longest-standing ways to earn money through WordPress?
Blogging.
(And no, not the free WordPress.com blog but a blog that has its own domain name and is self-hosted.)
Blogging has come a long way. And, if you think it's only about documenting your life like a diary, you'd be wrong.
What you're reading right now is a blog post…on a blog.
You can start a blog about anything that you're interested in. In fact, your blog topic should be about something you're very interested in because you'll need to come up with hundreds of pieces of content to make it successful.
There's a lot to starting a blog – in fact, too much to list here. So, if you like this idea, check out our How to Set Up a Successful Blog in 6 Weeks article to get started.
Once you do, you can use these methods to make money with your new blog.
Monetize with Display Advertising
Display advertising is the ads you see when you click on practically any news or entertainment website. 
They look like this: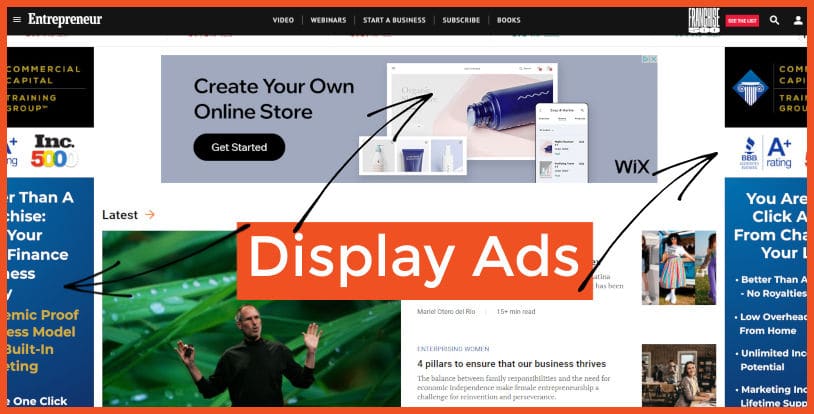 These ads work in a couple of different ways.
First, you have the CPC or cost per click method. With CPC ads, you get paid every time a reader clicks on one of the advertisements.
The amount you'll earn per click depends upon the niche you're in and the advertiser. This can range anywhere from $0.02 to $3+ per click. 
Next, you have the CPM method, which calculates how much you earn per 1,000 pageviews. This depends on the niche you're in and the number of ads you have on your blog.
The most popular ad network for beginner bloggers is Google Adsense. 
However, as your blog grows and gains more traffic, you can apply to networks like Mediavine (which requires 50,000 page views per month) or Ad Thrive (which requires 100,000 page views per month.)
These ad networks can help you achieve a higher CPM rate and ultimately, earn more money.
Sell Sponsorships
If you follow any type of "influencer" on Instagram, you're probably familiar with sponsorships.
Sponsorships are when a company pays to have its product featured. This can be on social media, email newsletters, or on a blog.
As a blogger, sponsorships often come in the form of product reviews or demonstrations.
The more engaged your audience, the more likely you'll be to secure sponsorships. Fortunately, there's no minimum traffic number you need to hit to start working with brands.
Use Affiliate Links
As we've covered above, affiliate links are special tracking links you can use when suggesting a product to your audience. 
(As long as that product has an affiliate program you can join, not all products do.)
Many new bloggers start their affiliate journey with Amazon simply because their program is easy to join and gives access to many products.
However, this isn't the best idea.
Amazon commissions are painfully low. You'd need to sell thousands and thousands of dollars worth of products to earn a full-time living.
Instead, the better idea is to look for high-paying affiliate programs within your niche.
Here are a few to check out:
(If none of these apply to you, simply look through our affiliate category to find a list of the top paying affiliate programs in your niche.)
Sell Digital Products
As a blogger, you're in a prime position to sell digital products. While we've already covered online courses, there are other, far easier products to get started with.
These include:
eBooks

Printable Worksheets and Cards

Digital Art
6. Build WordPress Themes


If you're a graphic designer and don't like working with individual clients or are simply looking for alternative income streams, you can build and sell WordPress themes.
Paid themes are very popular, and by selling these, you can create a semi-passive income stream.
Of course, there will always be customer service and tech issues you'll have to stay on top of, but by selling premium themes, you don't have to constantly find new clients or reinvent the wheel to earn money.
7. Create WordPress Plugins


If you're a developer wanting to earn money with WordPress, why not create premium plugins?
You'll need to be well-versed in coding and have a desire to experiment with new ideas to make this work.
If you do, the best ways to come up with ideas are a) to build a plugin you needed but couldn't find or b) browse through the WordPress Plugins and look for a gap in the market or plugins that simply don't do what they promised.
8. Offer SEO Services


SEO stands for search engine optimization. 
Good SEO is a set of practices that help bloggers, businesses, and website owners rank high in search engines.
These rankings lead to more traffic and sales, making SEO a service many businesses will pay for.
Of course, to sell SEO services, you need to know what you're doing. The best way to gain experience and knowledge is by hands-on learning.
You can take courses, but you should also apply what you learn to your blog or to a business website so that you have real-life experience.
Once you have some experience, sell your services to one or two clients. If you can provide results and enjoy the work, you can grow your clientele from there.
9. Sell WordPress Maintenance and Tech Support Service


Things like updates, security, and tech problems pop up from time to time for all website owners.
If you're technically inclined, you can offer support and maintenance services. And luckily, there are a couple of ways you can go about this.
Offer Services on a Retainer – One option is to find clients who will pay you a monthly retainer to keep up with updates and provide tech support. This is a great way to build monthly recurring revenue.
Offer Malware Removal and Security Services – If you're great at website security and know-how to remove malware, you can run a business providing these services. 
If you already know website owners, getting started with one of these businesses will be easier than starting from scratch.
10. "Flip" WordPress Websites


WordPress websites and blogs that consistently earn income can be sold for quite a bit – especially if that income is from affiliate marketing and ad networks.
According to Moz, most websites sell for 20-50x their average monthly profit over the last 12 months.
That means if you build a website that consistently profits $2,000 per month, you can sell it for $40,000 – $100,000.
Now, imagine being able to build several websites that reach that point of income. 
While this would take a lot of work and knowledge, you could earn a very high income from it.
Another option is to purchase undervalued websites, work to bring the revenue up, and resell them.
Two places you can look for websites to purchase are Flippa and Empire Flippers.
If this is a business idea you're interested in, here are a few tips for getting the most money out of your websites:
Focus on growing search engine traffic

Monetize with passive or semi-passive methods (ad networks and affiliate links)

Be smart with expenses
You'll also want your website to be "buyer ready." This means running the website is generally hands-off, and the content creation is either already outsourced or is something the buyer could easily outsource.
Websites or blogs dependent on the original owner will be much harder to sell.
11. Create a Membership Site


Have you always wanted to start a membership site where people could connect over a common interest or learn from you?
You can. This is a common way to make money with WordPress.
There are free and paid plugins that will turn your regular WordPress website into a full-on membership site.
Two of the most popular plugins are:
12. Offer Freelance Writing Services


It's no secret, starting a blog is a great way to showcase your writing skills.
And if you're interested in turning your writing into a career, you can do so by writing for WordPress blogs.
Unfortunately, starting a career as a freelance writer isn't as simple as throwing up a few blog posts and hoping potential clients notice you. Instead, you have to be intentional with the things you do.
Your first step is deciding what to write about.
Freelance writers who pick a specialty (or two) have an easier time finding clients because they know who to target and have writing samples for the niches they've chosen.
Once you've chosen the topics you'd like to write about, you need to write blog posts on them to use as samples.
You can then apply to relevant postings on job boards and pitch potential clients in your niche. It will take some effort to land your first few clients. Once you do, the whole process becomes much easier, and you can focus on writing.
If you're interested in using your WordPress blog to kick off your freelance writing career, you can learn how to do so here.
Frequently Asked Questions about How to Make Money with WordPress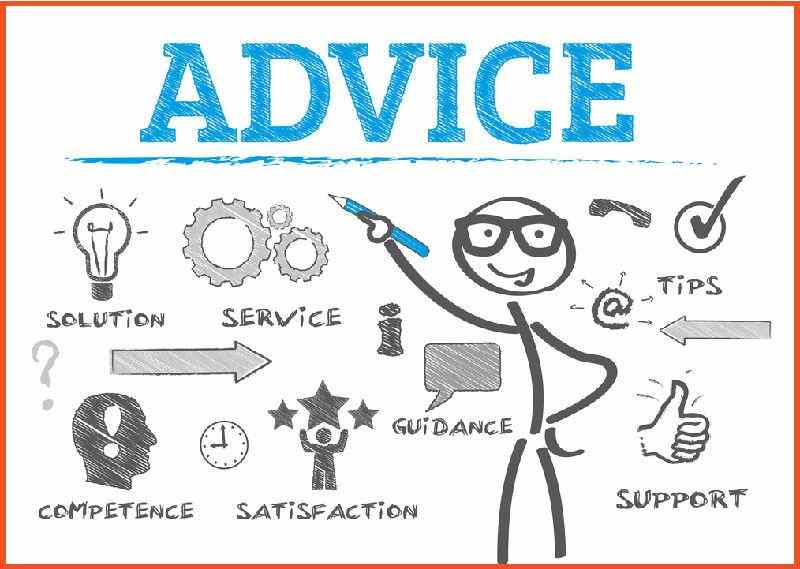 Can I make money with a free WordPress blog?
While making money with a free WordPress blog is possible, we recommend paying for your own domain name and hosting.
Free WordPress blogs come with limited themes, no ability to use plugins, and limited income potential. If you insist on using a free blog, at the very least, you need to pay for a custom domain name.
How much money can you make with WordPress?
There are several ways to earn money with WordPress. The amount you make will depend upon the service you offer or the business you build and how good you are at what you do.
For example, bloggers can earn anywhere from nothing to hundreds of thousands of dollars. WordPress developers or graphic designers can make $50 per hour more. 
The earning potential is there, but so many factors go into earnings that it's impossible to say what you could earn without putting in the work to see for yourself.
How many views do you need to make money with WordPress?
In general, to earn a full-time income off of display ads, your WordPress blog will need at least 100,00 page views per month. This number will vary depending on the niche you're in and how many ads you run on your blog.
Conclusion
The popularity of WordPress brings plenty of options for you to make money. No matter your skill or interests, there are ways to make money with WordPress this year.
If you're a complete beginner with no previous experience, you need to start a blog or website to understand how WordPress works. Then, once you have a bit of experience, you can decide which trajectory you'd like to go down.
If you're already a pro, your options are limitless. There are dozens of ways for you to turn your experience into cash. Pick an idea that best suits your goals or interest, and go for it.
Unless you try, you'll never know whether or not your idea would've worked.